A food revolution has snuck up on the capital making it a veritable haven for food lovers. While the city has a great collection of hat-awarded restaurants getting just about everything right—actually the highest rate of hatted restaurants per capita in Australia—it's not all about fine dining and crisp white cloths. Whatever your preferred style and budget, you'll find a wealth of ways to sate your hunger. From surprising finds in the suburbs to an upmarket food hall, casual bites to fancy fares, new kids on the block to the old hands, there's lot to make your taste buds sing.
Onzieme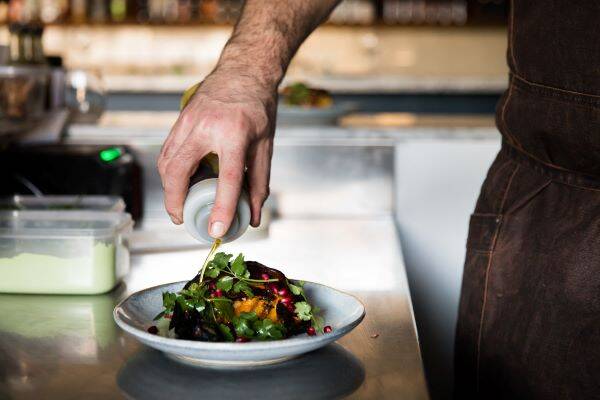 credit: Leann Timm
5/39 Kennedy Street, Kingston
On a corner in suburban old Kingston (that means, not on the foreshore), Onzieme has quickly made a name for itself since opening mid-pandemic, already securing its first hat in its first year. It's named for the 11th arrondissement in Paris, a place where chef and owner Louis Couttoupes worked and found inspiration. The menu changes often, like every other week, according to what's available and the mood of the chefs, but you'll likely find lots of small plates, interesting flavours and a fair bit of charring going using the wood-fired oven or one of three grills in the kitchen.
Onzieme takes sustainability seriously and favours a nose-to-tail approach to minimise waste always looking for alternative cuts and has a strong focus on vegetables. The wine list is ever changing, with interesting selections and favouring those with minimal interventions.
It's smallish and friendly, like your local, with a couple of spaces at the counter reserved for walk-ins and a pavement takeover outside. A cool 'wine cave' downstairs pumps out smart cocktails, wines and snacks with a laid-back gritty vibe. Tall patrons should be wary of low-slung pipes.
The Boat House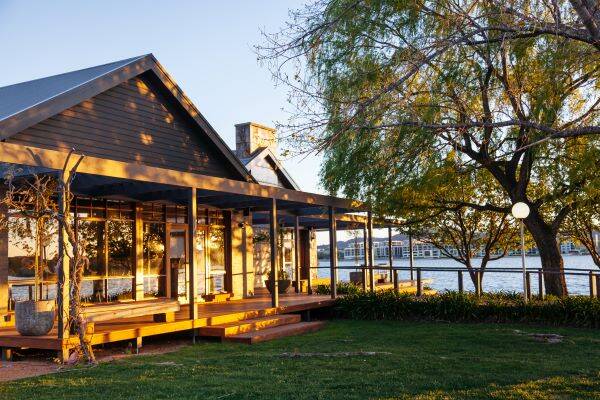 credit: The Boat House
Grevillea Park, Menindee Drive, Barton
A Canberra stalwart with nearly three decades of dining pedigree, The Boat House is ageing like a fine wine. Opened in 1993 with some of the best views in town, the restaurant is now in the capable hands of the original owners' son. While firmly rooted in tradition, a major makeover in recent years has added the modern, with a dark palette and timber decking bringing it into the now. The hand-built stone fireplace remains in pride of place in the entrance with another inside for winter glows, and those expansive glass windows stayed too, of course, to take advantage of the vistas across the Lake Burley Griffin to Kingston foreshore.
Dining is by way of set courses with options within—a 4-course dinner or a 2 or 3 course lunch—and the service is polished. Offerings may include Hiramasa kingfish with plum boshi (that's a Japanese-style gooseberry) and daikon or finger lime pavlova with basil mousse and yuzu ganache to finish.
Come spring, a festooned marquee pops up on the timber deck to become Armada Outdoor Bar for casual bites and drinks, with dreamy sunset vistas on top. Ever popular as a wedding venue, weekend seats can be hard to secure so mid-week is often a good option.
Pilot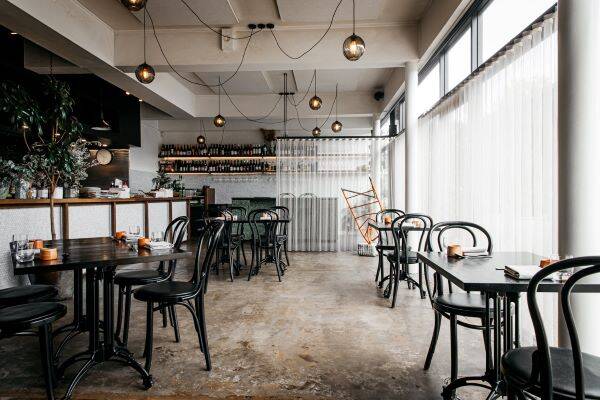 credit: Leann Timm
Shop 5/6 Wakefield Gardens, Ainslie
Having won awards left, right and centre for the last few years, Pilot has just topped it off with not one but two chef hats from the 2023 Good Food Awards as well as Canberra restaurant of the year. A small suburban establishment in inner-north Ainslie seating just 30, it's been pushing boundaries with creativity and confidence since 2019 and keeping diners happily sated. It's all-in here or not at all with the set 7-course degustation the only option, add beverage pairings if you'd like.
Pilot likes surprises so it's a bit of a mystery what will arrive as you place your faith and palate in the capable hands of the chefs, who serve a series of interesting small dishes with aplomb and detail. As they say: 'trust us'. The surprises might include broad bean minestrone with nasturtium and basil or barbeque quail with zucchini, mint and lime. Drink choices are equally considered but also a little hush hush until you go. Those with smaller tummies can opt for a shorter 4-course lunch menu on Fridays and Saturdays.
Keep your eyes peeled for Pilot's next venture, Such and Such, to open in the city early in 2023, an all-day eatery for snacks and laidback impromptu meals.
Verity Lane Market
credit: Verity Lane Market
50 Northbourne Avenue, Canberra
When you're not really sure what you feel like eating, Verity Lane Market might be the solution. Located in the Sydney Building, one of Canberra's most iconic and historic buildings in the heart of the city, it's a food hall like no other, and don't even dare think about shopping centres. The collection of chef-focussed restaurants sits around a central dining area with a sophisticated European-style bar, with snippets of the building's history proudly on display in the fit out, and there are choices to be made.
Italian style pizzas and fresh pastas from Pizza and Pasta Artigiana; fluffy bao buns packed with punch and Asian slaw from SuperBao; or South African spiced curries and handmade sausages from Tuck Shop. The latest addition to the family is Rasa Rosa, bringing Indonesian flavours and handmade spice pastes and sambals to the mix.
Out the back, a timber decks spills onto tree-lined Verity Lane, perfect for afternoon tipples and summer evenings. And if you like choices in where to drink, the building provides a handful of other bars. Upstairs Louie Louie serves up jazz, comedy and even political discussions, Dear Prudence transports you to a Spanish tapas bar and Capital Brew is all about the beers with 12 rotating craft brews on tap.
Bar Rochford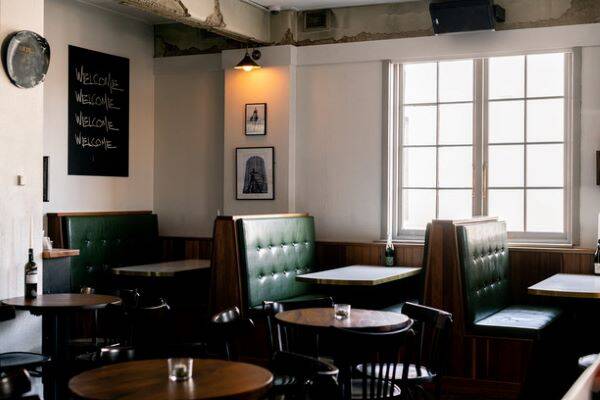 credit: Visit Canberra
First floor 65 London Circuit, Canberra
Across the road in the sister 'Melbourne' building, one of the city's oldest buildings, modern Bar Rochford is blending liquid and culinary delights and setting new standards for drinking holes in Canberra. Bursting onto the Canberra in 2016, it quickly racked up a slew of fans and awards, recently adding another hat to its tally.
The wine list is all about featuring exciting and interesting producers with a leaning towards natural wines and things a bit different. The wines change often, with handwritten notes on paper announcing the specials. And let's not forget about the considered curation of cocktails.
But it's not all about the drinks. The food also has a starring role and is of a calibre not expected in a bar. Braised fennel with citrus caramel and hazelnut or lamb ribs with caremelised yoghurt? It may well be possible but they change it up quite a lot.
The deep-green and timber booths give the bar sophistication and gravitas, offset by a youthful verve and the eclectic sounds from the vinyls spun inside. Make a beeline for the seats under the oversized arched window for views over the city or head to the recently opened balcony for open-air drinks.
Canteeen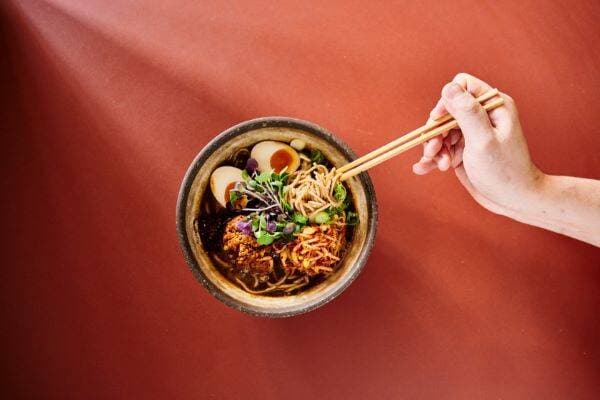 cr
credit: Pew Pew Studio
1 Dairy Road, Fyshwick
Canberra crowd favourite Ramen Daddy has just moved from the city to brand new digs in the transformed warehouse spaces of the funky precinct of Dairy Road at the edge of Fyshwick. Keeping things versatile, it's a coffee bar early, casual ramen bar by day and transforms into a chilled Izakaya bar/restaurant by night in a profusion of warm Australian timbers, metal and recycled building materials.
Tori-style ramen remains at the heart of the offerings, grounded by rye noodles handmade each day (take a peek at the noodle room and grain mill onsite) and slow-cooked chicken broth, mixing up Japanese culture with French training. A miso version is available for plant-based diners. But don't miss the tantalising array of snacks—perhaps ginger glazed leeks with spiced cauliflower, crispy fried mushrooms, or sandos (or are they 'sangos'?) with a difference, stuffed with Wagygu or spicy pork. There's only one dessert—a silky soft creme caramel—but it's the only one needed. It's Japanese street food done with finesse. Look out for the emerging outdoor garden space to become a sake bar or take home some Japanese brews from the pint-sized bottle shop.
Lamsheds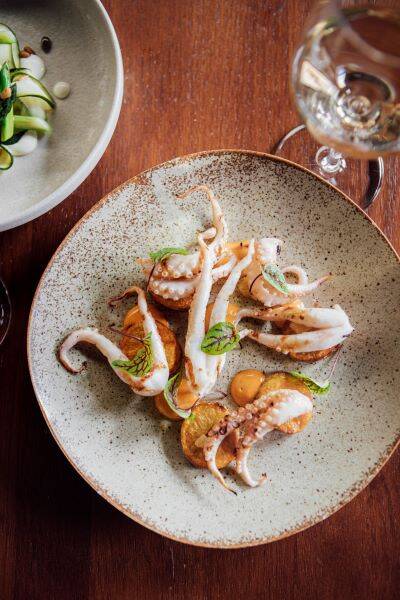 credit: Lamsheds
Unit 2/27 Bentham St, Yarralumla
Tucked down a corridor at the shops at inner-south Yarralumla, Lamsheds has become a firm hit with the locals over the last three years. Casual but smart, simple but cosy, it's a place to head for a quick bite or a lengthy hang out with friends for lunch, an early tipple and snack or a full blown dinner. With polished concrete floors, white walls, simple tables and bentwood chairs, there's a warmed up warehouse feel with the kitchen firmly on display.
Lamsheds dishes up consistently solid and well balanced dishes with no foam in sight. A bit like Mediterranean tapas style, but with bigger serves. Perhaps a pumpkin and pepita pangrattato with tahini yogurt or a hearty half chicken with creamed leeks with a light tempura eggplant on the side. You can choose your own food journey or opt for the 'feed me' option, a great way to sample a large chunk of the seasonal menu with a group. The wine list is varied and assured, featuring international varieties as well as local wines with an interesting variety or two on the by-the-glass list. Those with serious cellars can opt for BYO night on Thursdays. Keep your eyes out for suitably tarted up Sunday roasts in the winter months. This is a place to keep going back to.
Miss Van's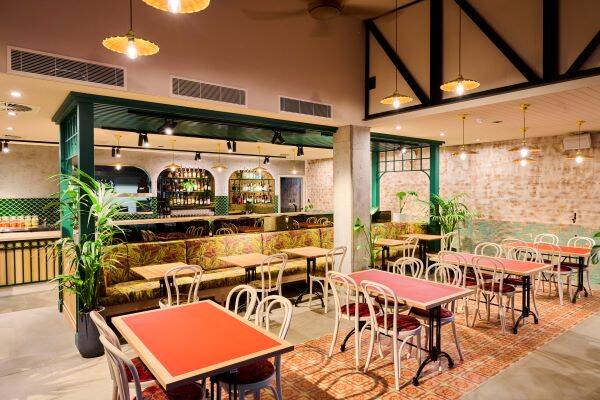 credit: Pew Pew Studio
113-119 Marcus Clarke Street, Canberra City
After starting life in a shipping container by the edge of Lake Burley Griffin, Miss Van's now has a permanent home in the city where it dishes out modern southeast Asian fare with style. In a cool but welcoming space, the blond Australian timbers and lotus-designed tiles underfoot are an indication of blended cultures.
The dishes offered are heavily inspired by Andrew Duong's family, embracing his Lao and Vietnamese heritage but also infusing tastes of Thailand, where his family resided for years in a refugee camp before coming to Australia. Family influence is strong here: the restaurant is named for his mother and pictures of his grandmother are on display.
Family influence is present in the cuisine as well. Dishes to look out for include a traditional Vietnamese cauliflower curry using Andrew's grandmother's recipe ( of course with a paste made from scratch) that she's been using for longer than he's been alive and an authentic, flavour-packed Lao/northern Thai spiced sausage embracing galangal, kaffir, chilli and coriander. It's food which shows there's a lot of complexity behind the simplicity and so much more than street food. There's also a lot of thought in the cocktails and the no-alcohol drinks selection.
Monster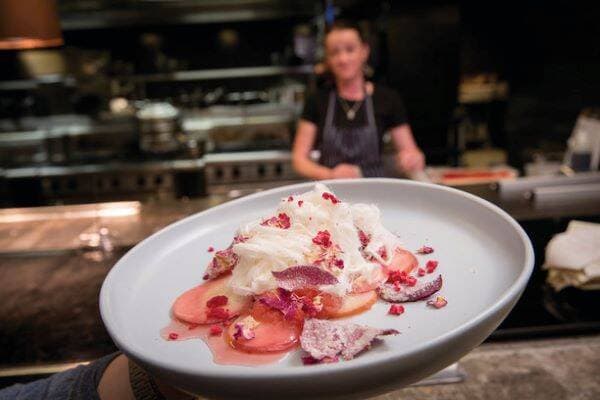 credit: Visit Canberra
25 Edinburgh Avenue, Canberra
Plant-based eaters have been thrilled to find that innovative Monster Kitchen and Bar in NewActon is now firmly in their camp, providing an all-vegetarian menu that's pushing boundaries and making their tummies happy. Located in the lobby of the thoroughly modern Ovolo Nishi Hotel, Monster is embracing the hotel group's 'Veg Pledge', their bold move to serve up all plant-based menus across their restaurants and bars to be kinder to the planet. The menu aims to not only please vegetarians, but enlighten omnivores and even convert carnivores.
With an emphasis on shared plates, there's a lot to choose between. Butternut squash katsu with black rice, spring onions and curry sauce or shitake or sweet soy dumplings, by way of example. Vegans and the gluten intolerant will delight in the salted caramel sorbet and miso caramel topped with cookie crumb.
As if the menu choices aren't enough, multiple spaces abound: lounging spots between concrete forms, the Mosaic room under a giant artwork, or inside the salon and dining room among warm timbers and earthy textures set with a central fireplace. Perfect for a special dinner out or even to grab a drink and snack before heading to the movies below, it's even open for breakfast, adjusting its mood with the time of day.
Inka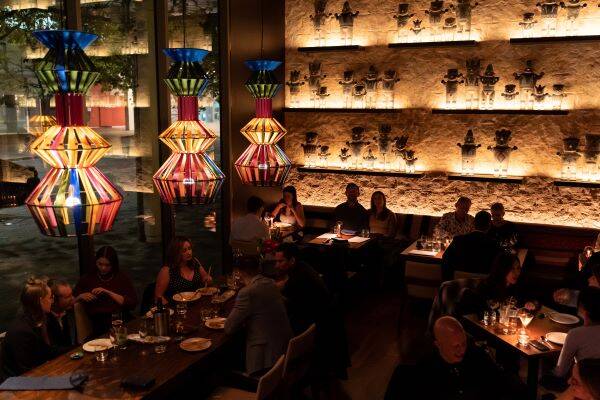 credit: Lightbulb for Visit Canberra
Shop B12/ 148 Bunda Street, Canberra City
Contemporary Inka in the middle of city is combining the flavours of Japan and Peru. At first glance this might seem a little confusing but there's actually a logic to it. It's a Nikkei-style restaurant, which means using Peruvian ingredients shaped by Japanese flavours and techniques. This fusion cuisine came about because of the sizeable Japanese population in Peru, and both cultures seem to love cooking over coals.
The menu is divided into clear sections with ceviche, sashimi a feature early on, followed by dishes grilled over charcoal—octopus or Patagonian toothfish—with sesame glazed cauliflower or crispy brussel sprouts on the side. The 21-days aged Angus is an indulgence. You can probably squeeze in the yuzu and maracuya (like passionfruit) curd tart with meringue for dessert no matter how full you are.
Spread over two levels, Inka is a striking and bold venue, dotted with bright colours and oversized cultural artworks and a massive cloth installation hanging in the stairwell. But it doesn't shout at you: it's subdued cleverly by the subtly-lit space around it. There's a lot to absorb in the décor. Downstairs says Peru while upstairs has a more Japanese vibe with wooden screens and circular leather booths. Service is sleek and even the cocktails combine the flavours of two countries.