In recent years Canberra has rightfully gained a reputation as an exciting place brimming with experiences for any type of traveller, all wrapped up in an easy-going pace and seemingly endless green spaces. Want to sleep with lions, paddle a lake under your own steam, wander a mid-city rainforest or float over the city at dawn? Canberra has you covered.
Float on the lake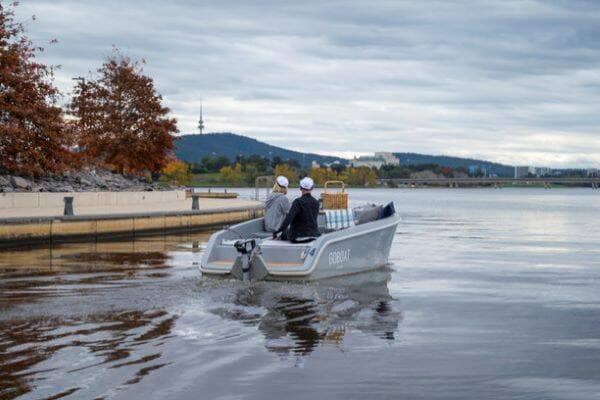 Photo by: Tourism Australia
Surely no visit to Canberra is complete unless you somehow encounter Lake Burley Griffin, the city's sparkling centrepiece. For those who like to cruise and picnic simultaneously, Canberra GoBoat provides an easy way to explore the lake with friends, though the picnic is optional, supplied or BYO. The quiet electric boats seat up to eight and you can even take your pooch. Watch out for the daily spouting of the Captain Cook Memorial Jet from 11am to 2pm, sure to elicit squeals of delight from unsuspecting children, or adults. The boats leave from 8 Trevillian Quay on Kingston Foreshore with prices from $129 to $269 for one to three hours hire. Bookings advisable.
After a long absence, the brightly coloured paddle boats of Capital Paddle are back, allowing paddlers to take in the sights and get some exercise at the same time. Weekend hire is available, with more availability during holidays, $30 for 30 minutes or $40 per hour per two-seater boat—but watch the weather. The boats are located at the bottom of Regatta Point, next to the jetty. No bookings required and dogs welcome.
If you're averse to water, you can always stroll or cycle the perimeter 'Bridge to Bridge', or even the whole perimeter, and make like a local.
Meet the animals at the zoo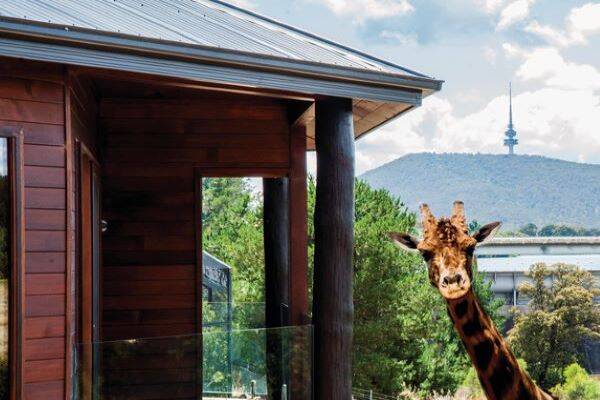 Photo by: Visit Canberra
Animal lovers take note on how to get up close and personal with an array of animals at the National Zoo and Aquarium. You can opt for a standard visit, or really level up your animal game by becoming a zoo keeper for a day, as long as you're over 14. It's the ultimate way to up your understanding of the animal kingdom and conservation education, and meet gorgeous animals too. Among other things, the 7-hour day includes meeting the otters, feeding lions and tigers and bears oh my, patting a cheetah and designing food puzzles for the primates. Prices from $685 per person.
For something truly special, you can indulge in an all-inclusive overnight experience at Jamala Wildlife Lodge and even snuggle next to a bear, lion or tiger overnight. Of course there's a pane of glass separating you, just to be safe. Luxury accommodation, gourmet meals and drinks and zoo tours included, and feeling quite like you're in Africa. Prices from $1495 per room/couple.
Take a foodie adventure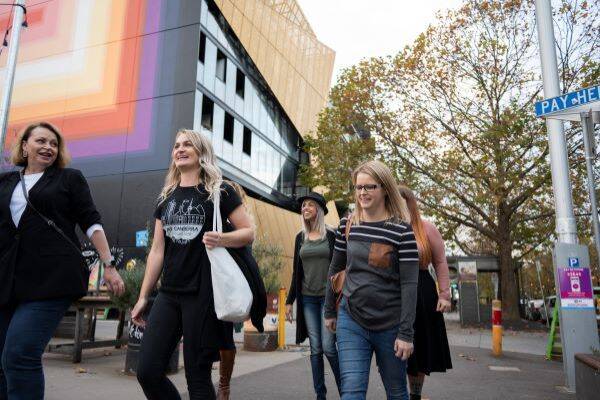 Photo by: Eat Canberra Food Tours
Canberra has more restaurants per capita than other place in Australia (that's why we had to write about them elsewhere) and it helps to know where to get the best food. So who better to help you uncover the culinary highlights than a local foodie? Eat Canberra has the lowdown and leads a range of food and beverage adventures in Canberra.
On the 'Taste of Braddon' tour, you'll explore this hip and happening inner-city suburb, one of Canberra's foodie hubs, on foot, seeking out hidden gems and focussing on local and family-owned businesses. Over four hours, for example, you'll discover flavours of Asia, sample award-winning craft beers, and get a little slice of Sicily at an authentic Italian deli. And there will be sweet treats too and perhaps a nibble on handmade truffles. There are stories along the way and the chance to meet some of the makers.
The Braddon tour costs $165 per person including food and drinks with a non-drinking option. Other food and private tours are also available.
Go up, up and away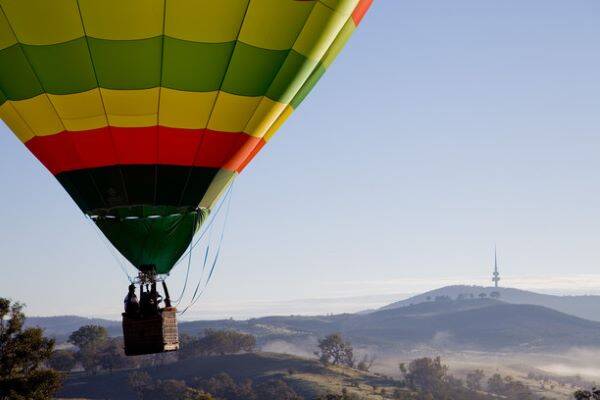 Photo by: Visit Canberra
Early risers can take to the skies in a hot air balloon to drift over Canberra just as the dawn breaks with spectacular views over city, lake, mountains and bushland. It's the perfect vantage point to appreciate the design of the capital, planned for a purpose by American architect Walter Burley Griffin, with his wife Marion who brought his vision to life with her drawings. The lines of design symmetry are striking as are the geometric shapes of the parliamentary triangle and the patchwork of the arboretum's emerging forests.
In March each year, the Canberra Balloon Spectacular sees a flotilla of around 30 balloons fill the morning sky for 10 days (depending on the weather—remember it always depends on that) in a kaleidoscope of colour and fiery 'whooshes'.
With nearly 70 years of combined experience piloting in Canberra, Balloon Aloft and Dawn Drifters offer flights from $310 per adult, leaving from various sites depending on the weather conditions.
Get outdoors at Tidbinbilla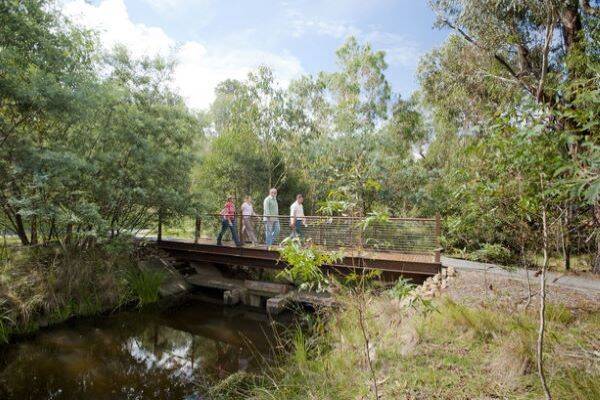 Photo by: VisitCanberra
With 70% of the city dedicated to nature parks, it's no wonder Canberra is called the "Bush Capital". This is a city with green spaces and gardens on steroids. Tidbinbilla Nature Reserve, around 40 minutes from the city, provides a veritable who's who of Aussie animal icons: koalas, potoroos and wallabies, earless dragons and bandicoots for starters. You might even spot a platypus.
With 22 trails offering walks from an easy 15-minutes stroll to a 7-hour slog, there's no shortage of routes to discover the sub-alpine forests or hills to clamber. Grab a map from the visitors centre so you don't get lost. Don't miss The Sanctuary, a large wetlands ecosystem with predator-proof fence that's been protecting native wildlife for 40 years. The 2.1 kilometre accessible pathway past interconnected ponds makes it easy to get around. Located at Paddy's River, the reserve is open in summer from 7.30am to 6pm. Entry is $14.50 per vehicle for a day pass.
Uncover the nation's stories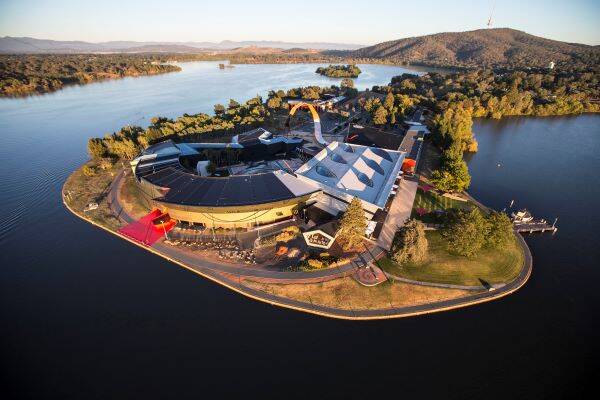 Photo by: Visit Canberra
The National Museum of Australia cuts a striking figure at the edge of the lake on Acton peninsula, its bold and bright architecture daring you to take notice of it and come inside. It tells the stories of our land and people through compelling objects, ideas and events.
Even the building itself has tales to tell, discoverable on twice-daily architecture tours revealing hidden meanings in the design and landscape. There you'll learn about the secret messages spelt out in Braille on the building's exterior and why the trees in the garden lean.
Newly minted is the Tim and Gina Fairfax Discovery Centre, an immersive play space for 0-6 year olds to romp, climb ropes and dress up as bunyips by the billagongbillabong. Kids can also explore the surprising outdoor Garden of Australian Dreams. Also new is the (free) Great Southern Land gallery with multi-sensory experiences. The latest exhibition, Feared and Revered, explores how goddesses, demons, spirits and saints have shaped our understanding of the world.
General museum admission is free, special exhibitions and events are ticketed.
Discover your inner child at Questacon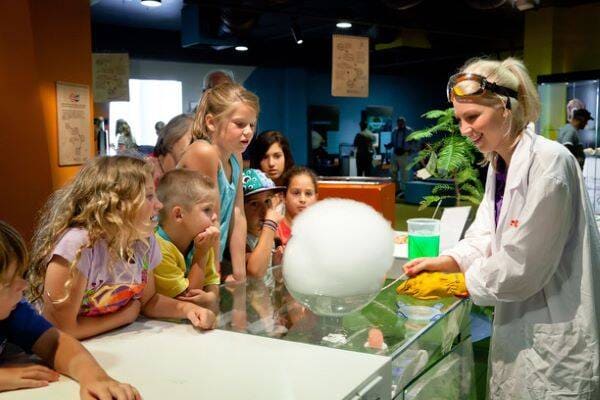 Photo by: VisitCanberra
Questacon, the national science museum, is a kid's heaven on a stick, where touching everything is not only allowed, it's positively encouraged and science is a lot of fun. With innovative exhibitions and shows appearing regularly as well as old favourites, there's always something new. Experience an earthquake, travel to the centre of a beehive, marvel at the moon or go head to head with a robot in a game of air hockey. Hands-on activities with everyday items are available for all ages and Mini Q provides a safe place for 0-6 year olds to clamber and explore.
Big kids aren't forgotten with special adults-only after dark SciNights, returning after a long hiatus. It's a chance for many to relive childhood memories, and maybe finally conquer that Free Fall. Strictly no kids allowed. Open daily King Edward Terrace, Parkes. General admission tickets from $18.90, SciNight tickets from $23.
Head to the hills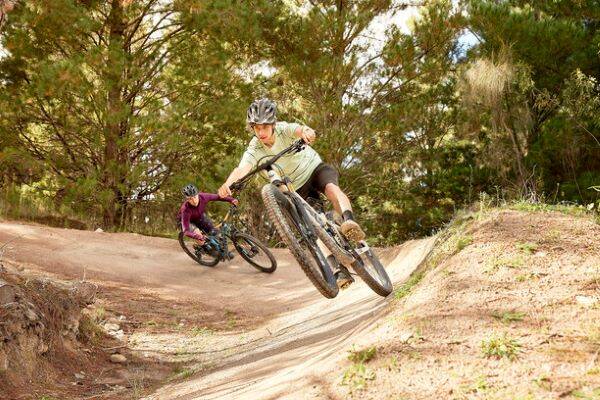 Photo by: Lightbulb for VisitCanberra
Pack your walking shoes or even your boots. Canberra is built between hills so it's not surprising there are quite a few to climb. Options close to the city include Black Mountain, home of Telstra Tower and 60 species of orchids (that's more than in the whole of Britain), Redhill with a cafe on top, and Mount Ainslie for iconic Canberra views that take in highlight the design of the capital. Mount Majura, boasting the highest peak in Canberra metro area, will have you really believing you've left the city.
Adrenalin junkies and those with excess energy levels and can head to Stromlo Forest Park where you can run, cycle, ride horses or mountain bike to your heart's content across 1200 hectares. Just 15 minutes from the city in the heart of Molonglo Valley, it has 50 kilometres of world-class bike tracks and trails and jumps, great for pros and rookies alike. Be prepared to get dirty.
Get your culture at the National Gallery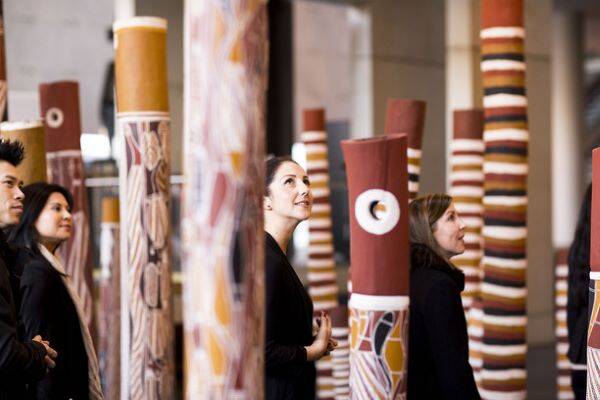 Photo by: VisitCanberra
With an amazing array of world-class galleries, museums and archives, Canberra is a cultural paradise. One gallery not to miss is the National Gallery of Australia, a dramatic concrete structure housing an impressive collection of Australian and international art including over 7500 pieces of Indigenous art works. Don't miss Blue Poles or the mesmerising Yayoi Kusama Infinity Room, a profusion of mirrored black and yellow. Outside get your Instagram game on at James Turrell's intriguing 'Skyspace'.
The current blockbuster exhibition is the first to feature a living artist or a woman, Cressida Campbell, who works with painting and printmaking and captures the beauty of the everyday. Featuring more than 140 of her woodcut prints and paintings, the exhibition is largely autobiographical allowing a window into her life. Add on an exhibition-themed light lunch overlooking the sculpture garden or join in a workshop to learn the process of woodblock printing yourself. The exhibition runs until 19 February 2023, adult tickets $22, lunch $35. Free entry into the gallery at Parkes Place East, Parkes.
Take high tea at Parliament house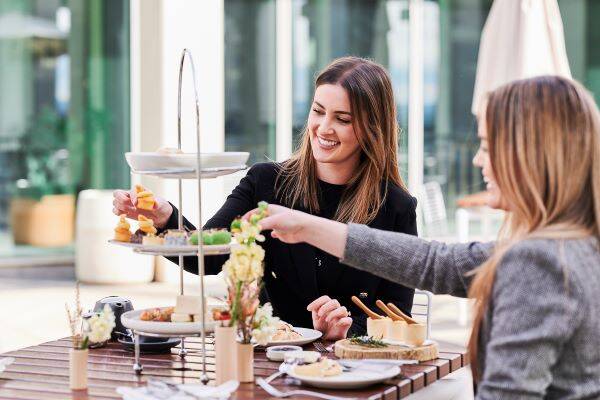 Photo by: Pew Pew Studio
Parliament House is not just all about politicians—it contains a lot of surprises as well. One of those is a fancy high tea held on weekends with tantalising sweet and savoury treats—perhaps a mushroom tart with feta and confit Campari or a cherry berry slice. You might even get something featuring the raw honey from Parliament House's very own native and honey bee hives. The bees aren't local to Canberra so they take an annual trip to Sydney in winter when the temperatures dip too low in Canberra. Travelling bees. High tea is $55 or $65 with a glass of sparkling.
While you're there, why not explore the rest of this remarkable building completed in 1988: take a tour, wander the native gardens (30 hectares of them) and admire the artworks, not all of which are on the walls. Don't miss the spectacular floor-to-ceiling tapestry in the Great Hall. One of the largest in the world measuring 20 x 9 metres, it was designed by artist Arthur Boyd based on his painting and brings the bush to the city. The tapestry took 14 full time weavers two years to complete. Spot the cockatoo and comet. Parliament House is free to enter for all with free guided or ticketed tours.
Sample craft brews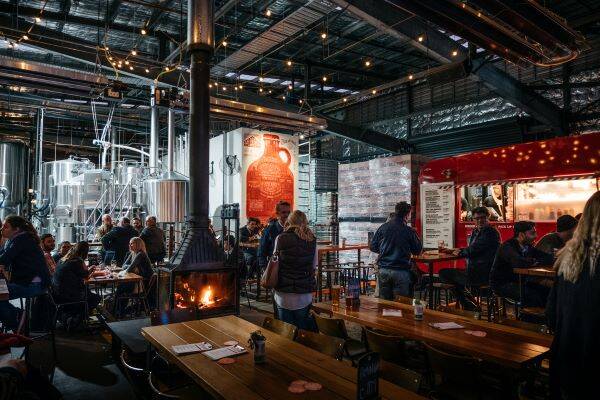 Photo by: Capital Brewing Co
Pay attention beer lovers. Capital Brewing Co is all about good brews and good times, and at their location at the cutting-edge 1 Dairy Road precinct in Fyshwick, you can sample their beers right where they're created. Launched in 2016, Capital Brewing is now one of the largest independent craft breweries in Australia. There's a core range as well as seasonal releases and of course paddles and rotating taps.
There's plenty of room inside the taproom where the beer magic happens or outside in the courtyard when the sun is shining, with kids and dogs welcome. You'll also find Canberra's most famous burgers here, being pumped out by Brodburger from their onsite red van.
Capital Brewing has recently become the first brewery in Australia to receive carbon neutral certification for their whole organisation and all their products. Look out for their recently launched non-alcoholic Pacific Ale, two years in the making. For those who want to delve deeper, behind-the-scenes tours are available. Drive there or hit the bike trails to arrive via the wetlands next door.
Wander the city forests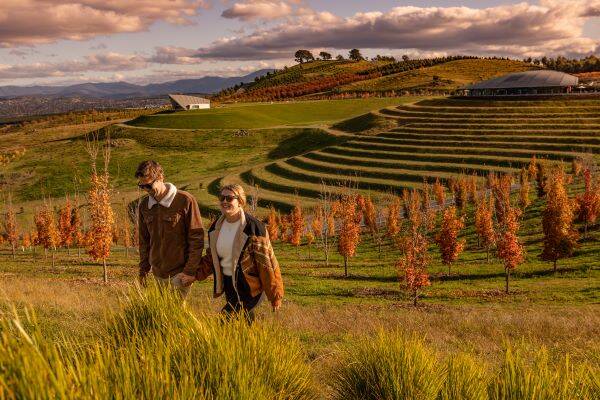 Photo by: Richard Poulton for VisitCanberra
With sweeping views of city and mountains, the National Arboretum is a relatively new addition to the Canberra landscape. On an area that was badly burnt in the 2003 bushfires, it's been replanted with 44,000 trees and is now home to 94 rare, endangered and symbolic trees from Australia and around the world. This includes the largest cultivated collection of living Wollemi pines, and a cork oak and Himalayan cedar forest, two of the few forests that survived the fires. Visitors can explore over 20 kilometres of walking and cycling tracks independently or join free walks with volunteers. The arboretum is a popular spot with local photographers for shooting sunrises and sunsets and the kids will love the innovative acorn-themed playground. It's also the perfect place to fly a kite high on a hill with spectacular views to boot.
If it's a rainforest you prefer, head to the National Botanic Gardens at the foot of Black Mountain in Acton. Feel the temperature drop as you stroll through the Rainforest Gully. Time it right and you may be shrouded in mist, a favourite with the kids. The gardens feature nothing but natives and boast plants from around 4,300 species, about a fifth of Australian plant species. Free 45-minute guided tours run twice daily. Both venues are free with cafes on site.