There's now a lush new way to explore the iconic Great Barrier Reef (GBR) – and the tropical marine life that call it home. Say hello to Reefsuites, Australia's first underwater accommodation. You'll find these premium suites below the newly reconstructed and revamped Reefworld pontoon – which was seriously damaged during 2017's Cyclone Debbie – on GBR's Hardy Reef.
Say hello to Australia's newest hotel suites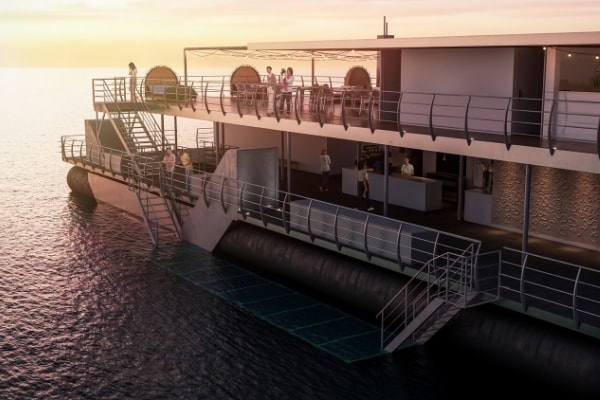 The impressive exterior of the Reefsleep pontoon, floating atop the Great Barrier Reef: credit Reefsleep
Sitting four metres below the surface, the two suites – fittingly named 'Coral' and 'Pacific' – each feature a plush queen-sized bed, en-suite, and a floor-to-ceiling glass wall that separates you and the coral-scape outside. Queensland grouper, trevally and, if you're lucky, sea turtles, all swim inches away from the glass. The floor is also partially glass-bottomed, so you have the chance to spot marine life beneath your feet, too. There's even a UV light that you can temporarily switch on at night that illuminates the nocturna marine life swimming around the room. All-inclusive stays – which include chef-cooked and locally-sourced meals, drinks (yes, including booze), snorkelling and a guided semi-submersible submarine tour – start from $799 per person per night.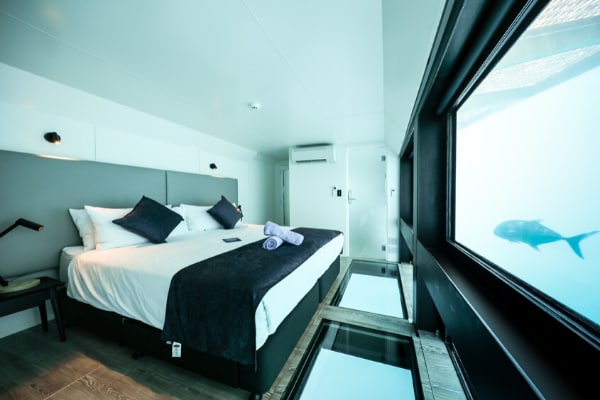 Inside Reefsleep's new underwater suite, Whitsundays, Great Barrier Reef: credit Reefsleep
If that's not within your budget, then head to the top deck. There you'll find 12 Reefsleepers, where all-inclusive glamping stays start from $525 per person per night. You can sleep under the stars on a queen-sized waterproof bed that comes equipped with USB ports, storage for your luggage and two covers – one that blocks out light and the other that allows you to stargaze (minus the mozzies and flies). What you won't find is phone signal or Wi-Fi on Reefworld, which encourages guests to unplug, switch off and spend their stay exploring the UNESCO World Heritage site.
Exploring the rest of the Reefsleep experience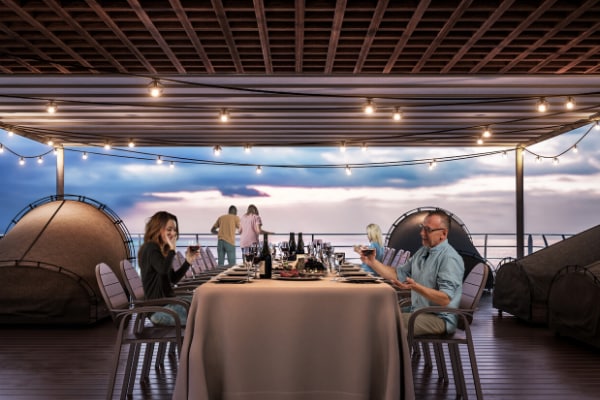 Dining on the top deck at Reefsleep. See one of the 'Reefsleepers' on the left of this image? Credit Reefsleep
Sunny days are best spent discovering the reef, whether you want to get wet or stay dry. If you're a confident swimmer then snorkelling is for you. All the necessary gear is provided on board and there are marker buoys and ropes clearly indicating the areas that you are free to explore on your own. First-time snorkellers should opt for the Snorkel Safari, a guided snorkelling tour. The guide will talk you through the experience and teach you about the diverse and complex ecosystem of the reef, and the underwater creatures that call it home. Experienced swimmers can learn to scuba dive. Fully certified instructors will take you through the training and even hold your hand through a guided swim if need be. Long days in the water can be finished off with a muscle-relaxing visit to the on-board masseuse.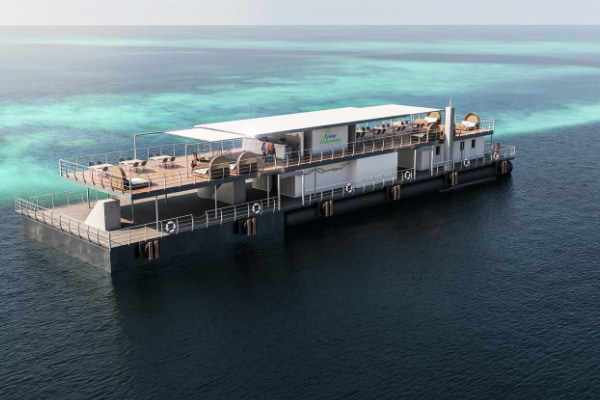 Reefsleep at a distance: credit Reefsleep
Scuba dive and stay dry
If you're more of a land creature, there's still ways for you to marvel at the incredibly abundant sea life surrounding you without so much as dipping a toe in the water. Reefworld's underwater observatory sits beneath the pontoon. The room is fitted with full-length windows that schools of colourful fish swim past. If you want to stay dry but explore more of the reef, then the semi submarine is for you. Seated a metre or so underwater you get to experience a diver's view of the reef thanks to the large viewing windows.
Underwater observatory, Reefsleep, Whitsundays credit Reefsleep
Finally, if you really want to indulge, then take to the air for the Heli-scenic tour. The GBR is greater in size than Tasmania and Victoria together, and from up high you can (sort of) begin to appreciate its size and scope. You'll also get to get a bird's eye view of the gorgeously photogenic Heart Reef. Don't forget your camera.

Words by Constantina Demos; published Tuesday 24 December.