There's never been a better time for you to visit Broome than with Virgin Australia's WA dream sale. Specials are available for travel right up to the end of October.
During the late 1800s, Broome experienced a pearling boom that attracted divers from around the world seeking fortune in its abundant waters. The pearling industry became the lifeblood of the town, shaping its character and cultural fabric. Today, remnants of Broome's pearling heritage can be seen in the beautifully preserved Japanese and Chinese cemeteries, as well as in the lively Chinatown precinct, which exudes a fusion of Asian and Australian influences.
When considering the best time to visit Broome, it's important to take into account the region's climate and seasonal variations. The dry season, typically running from May to October, is the peak tourist season when visitors flock to Broome to enjoy warm temperatures, clear skies, and the chance to engage in outdoor activities such as swimming, fishing, and exploring the stunning natural attractions.
Alternatively, the wet season, which spans from November to April, brings tropical downpours and a vibrant burst of life to the region. While some activities may be limited during this time, the wet season offers its own unique charm. Witnessing the Staircase to the Moon, a natural phenomenon where the full moon's reflection creates an illusion of steps across the mudflats, is a highlight of this season. The wet season also offers a quieter and more intimate experience, with fewer crowds and the opportunity to witness the lush transformation of the landscape.
In this guide we will help you determine the best time for your trip to Broome - whether you're seeking adventure, cultural immersion, or simply a tranquil retreat in nature,
TABLE OF CONTENTS:
Broome Weather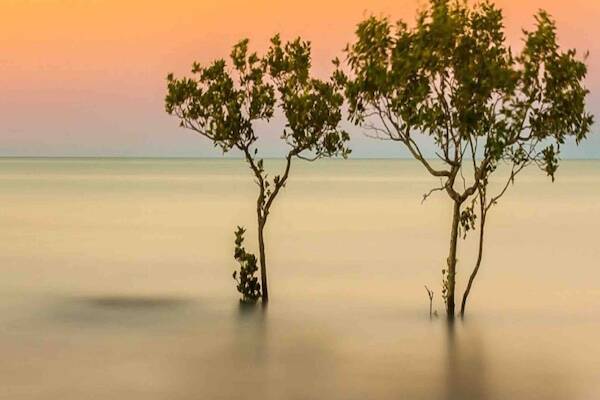 Photo Credit: Tom Dsouza
Broome Climate
Situated on the Indian Ocean coast in sparsely populated north-western Australia, Broome experiences a hot to semi-arid tropical climate defined by a distinct dry season and wet season. Average temperatures in Broome range between 17°C and 34°C depending on the season, although temperatures can reach as high as 37°C in the wet season and as low as 15°C in the dry season. Broome experiences sunny days all year round, but the weather and climate vary significantly between the wet and dry seasons. The dry season months tend to be sunny with no humidity. The wet season months are hot and humid with heavy showers mostly in the late afternoon or evening. Understanding the seasonality of each and the effects of the monsoon rains on Broome's activities is essential to ensuring a fantastic holiday weather-wise. From the idyllic warm, sunny, humid less days of the dry season to the short, heavy thunderstorms with dazzling lightning shows storms and lush verdant surroundings of the wet season, Broome has something for everyone to enjoy.
Broome Dry Season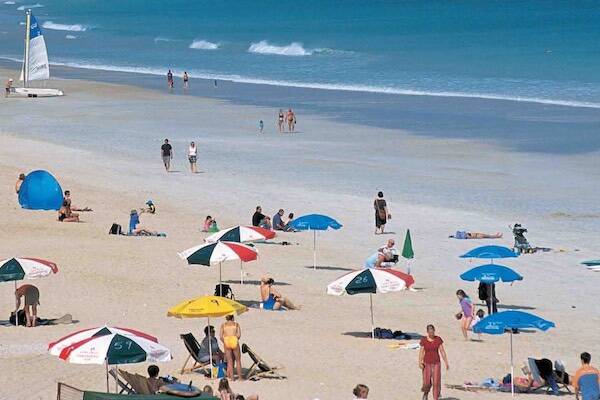 Broome's dry season is from May to October, when the region experiences warm, sunny days, cloudless blue skies and low humidity. Daily temperatures in Broome range from 18-30°C. Broome's sea water is generally cool, with an average temperature of 23°C - ideal for swimming. The most popular time to visit Broome is the dry season when there is no rain, and a full range of tours are offered. From mid-June to July is the busiest period in Broome, as it is school holiday time and winter in the southern Australian states.
Broome Wet Season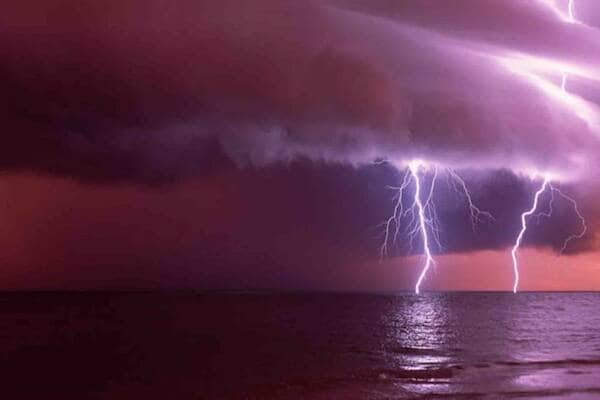 Photo Credit: Yane Sotiroski
Broome's wet season runs from November to April. In this period, Broome tends to experience short, heavy downpours (mainly in the afternoon or late afternoons) rather than constant rains. Before mid-December, Broome experiences little to no rainfall; however, the days are hot and humid all month, with average temperatures ranging between 25-34°C. November is the hottest month of the year in Broome, with high humidity levels (96%), even at night. Broome's monsoon season runs from January to March. Heavy rains may cause flooded roads during this time, and cyclones can make some attractions inaccessible. The average rainfall during these months is 470mm, with noisy thunderstorms and often spectacular lightning displays. Although water temperatures are warmer (30°C) in the wet season, swimming is not advised as the waters also attract deadly stingers (box jellyfish and Irukandji).
Best Time to Visit Broome For Weather
The best time to visit Broome weatherwise is May to October – which is dry season – when Broome's skies are clear and blue, the days are warm and sunny, there's little humidity, and the nights are balmy and star-studded. Broome's dry season is the perfect time to enjoy a tropical holiday and a host of water and outdoor activities like diving, whale watching and full or half-day tours into The Kimberley. The dry season is the most popular time for travellers wanting to escape southern Australia's cold, damp winter. May is an excellent month to visit Broome to enjoy the sunny, humid-less days and avoid peak travellers. Accommodation and flights are cheaper, and as the first month of the dry season, everything around Broome is still lush and green from the wet season rains. September is also a good value month to visit Broome without the crowds, but it can be warmer.
Best months to visit Broome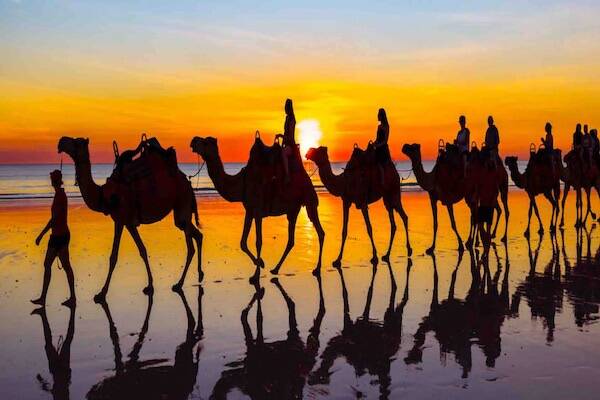 January
January is the beginning of monsoon season in Broome, with an average of 160 mm of rainfall. Whilst January is Broome's wettest month, showers come in short, heavy downpours - usually in the afternoon or late evening. Daily temperatures tend to stay between 27-32°C, though it can get as hot as 35°C on some days. The heat and humidity in Broome can sometimes be uncomfortable, but air conditioning and swimming pools are common in most accommodations. Pack a small umbrella and wear casual, light, breathable clothing and sandals.
February
Broome's weather in February is hot and humid, with heavy monsoonal rains averaging 152mm for the month. Showers fall mainly in the afternoon or late evenings, often with spectacular lightning covering the skies. Broome's daily temperatures tend to stay between 27-32°C, but some days can get as hot as 36°C. Light casual clothing is best. February is a slow month in Broome and ideal for relaxing poolside, shopping or enjoying the many cafes, bars and restaurants. February is an off-peak season with reasonable value accommodation and flights on offer.
March
March in Broome remains hot and humid, with monsoonal rains beginning to ease, only averaging 78mm for the month. Showers around Broome occur primarily in the afternoon or late evenings, often with spectacular lightning shows. Broome's daily temperatures range from 26-32°C, but some days can reach as high as 34°C. While the surrounding countryside is picturesque and lush, many roads flood, causing tour closures. For those looking to celebrate, Broome's Pride Mardi Gras occurs early in the month. March is also a good time for cheaper flights and accommodation.
April
April is the final month of Broome's wet season. Rain quickly drops to around 20mm monthly, but some monsoonal activity can occur. Daily temperatures in Broome average 25-33°C, and the surrounding countryside is colourful and lush. Most tours begin on 1 April, so book early to secure your spot. April is a peak month with Easter and school holidays in Australia, so accommodation and flights are at a premium.
May
May is officially the first month of Broome's dry season, with rain dropping to just 17mm for the month, along with the humidity. The days are mostly sunny, with daily temperatures a pleasant 21-31°C. Broome in May is a tranquil respite for honeymooners, couples and solo travellers. The surrounding countryside is verdant, with most tours operating, including the renowned Broome Beach Polo matches on Cable Beach. Although May is an off-peak month and good value for flights and accommodation, it is still wise to pre-book your activities like the famous sunset camel ride along Cable Beach and Kimberley excursions.
June
June is one of the best months of the year in Broome, with its sunny, virtually cloudless days and comfortable temperatures ranging from 18-28°C. Additionally, sea water temperatures hover around 25°C in June, making it the ideal time for a refreshing swim, without any concerns about stingers. Visitors can also enjoy popular events like the Broome Fringe Festival and Staircase to the Moon in early June. However, it's worth noting that Iate June (and July) are school holidays in Australia, and it is winter in the southern Australian states. Therefore, it's advisable to book in advance if you want to visit Broome during this time since prices are at their peak during this period.
July
July is the coldest month in Broome, with daily temperatures ranging from 15-29°C and water temperatures averaging 23°C. Visitors to Broome in July can expect perfect days endless blue skies, warm sunshine and stunning sunsets. The evenings offer a refreshing coolness, so it might be worth donning a shawl on the way to explore the night markets. July is also an excellent time to see the pearling operations, check out the nearby Kimberley region, run in the Broome Marathon or join popular fishing event, the Billfish Classic. Broome is renowned for being spectacular in July, and families make the most of school holidays, so plan your visit early.
August
Broome in August remains idyllic with minimal rain and low humidity. The days tend to be sunny, and the evenings remain cool and refreshing. Daily temperatures range between 18-29°C, making it the perfect time to enjoy safe, stinger-free swimming in sea water temperatures averaging 23°C. Broome hosts an array of events in August – dress up for Ladies Day horse race day, enjoy a flutter at the Broome Cup, or savour the Tastes of Broome and Shinju Matsuri Festivals. Broome Night Markets offer a chance to purchase local handcrafted works, while the Cable Beach Triathlon will test your muscle. Broome in August is perfect for honeymooners, couples and solo travellers with fewer crowds.
September
In September, visitors to Broome can expect little to no rain, with some clouds and slightly higher temperatures ranging from 21-31°C. The water temperatures average 25°C, making it an ideal time for swimming and diving in Broome's outer reefs with perfect visibility. September is also a month of celebration in Broome, with an array of Shinju Matsuri events to enjoy until September 10th, as well as the exciting Broome Marlin Cup taking place from September 20th to 25th. Visitors in September can also take advantage of off-peak bargains in and around Broome, making it an excellent time to plan a budget-friendly trip.
October
October is the last month of the dry season in Broome. Temperatures range between 24-33°C, with little rain in sight. The warm nights are ideal for enjoying CinefestOz under the stars at Broome's outdoor cinema and the final Staircase to the Moon, both towards the end of the month. The waters in October are clear – ideal for enjoying reef diving and fishing. October is a great time to travel to Broome given off-peak prices for flights and accommodation.
November
Although November is officially the first month of the wet season in Broome, there is very little rain, around 6mm. However, temperatures in Broome are hot (26-34°C), with the humidity rising, averaging 85%. Everything in Broome slows down in November making it the ideal time to enjoy a peaceful and quiet holiday alongside locals enjoying their 'Broome Time'. Whilst November is an excellent time for bargain off-peak flights and accommodation in Broome, be aware some tours won't operate without minimum numbers.
December
Mid-December heralds the rains in Broome, with around 85mm falling during the month. The short, heavy showers usually occur late afternoon and evening. When it's not raining, the days are hot and humid, with daily temperatures between 27-34°C. Even though December is a school holiday month and Christmas time, Broome is not overly crowded. Bargain flights and value-priced accommodation can be found around Broome in December, but some tours won't operate without minimum numbers.
Best Time to Go to Broome for Specific Activities:
Snorkelling & Diving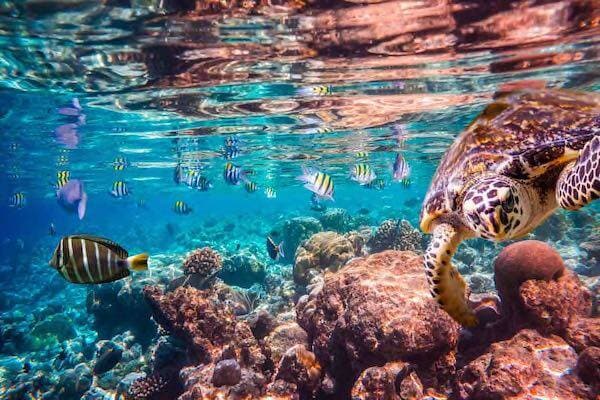 While diving is good from May to December, the best time to dive in Broome is from September to December when water visibility is clearest. There are few decent diving or snorkelling areas close to town, so investing in an expert charter tour operator will be rewarding. Enjoy remote marine wilderness at Rowley Shoals Marine Park, 300 kilometres from Broome – consisting of three reefs, coral gardens, turtles, sharks and fish. This is an excellent location to drift dive the vertical walls of the widest continental shelves in the world, and for the experienced diver, explore the wreck of the Lively.
Surfing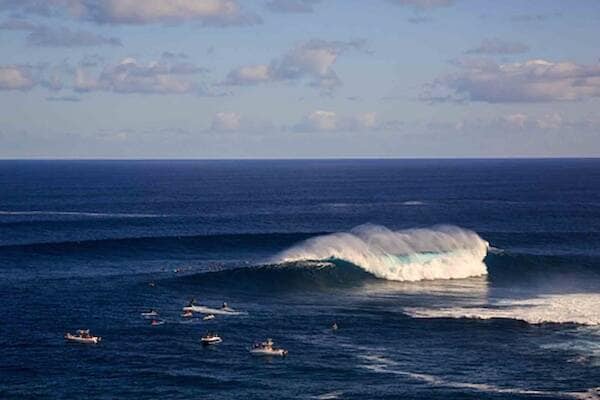 Broome is not generally considered a surf town. However, Cable Beach has breaks, and the surfing conditions are most suitable during the monsoon months of January to March. February is the best month to surf in Broome, with consistent, clean surfable waves and a rideable swell with light offshore winds. There are never any crowds in the water but be aware that the warm waters during the wet season are home to potentially dangerous jellyfish, and wearing a wetsuit is advisable for any water activities. For the daily surf forecast, visit https://www.surf-forecast.com/breaks/Cable-Beach-Broome. Swimming is best during the dry months of June to September when the waters are calm, temperate, and clear of jellyfish.
Fishing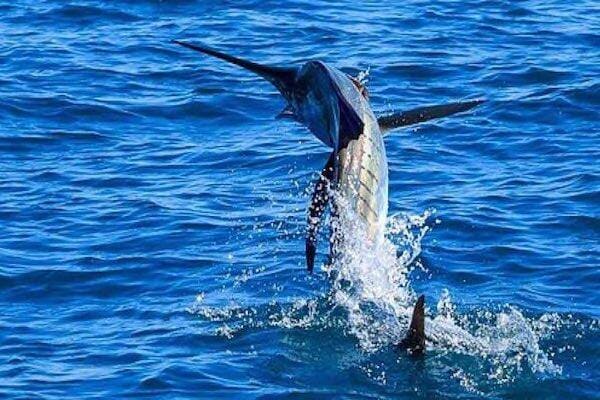 Broome fishing is world-famous, with something for every angler. The best time for fishing around Broome is December to March, when the barramundi and mangrove jack are more active in the creeks, and sailfish, threadfin salmon, and jewfish abound offshore and the reefs. Fishing for bream, flathead, whiting, trevally and queenfish is abundant year-round.
Whale Watching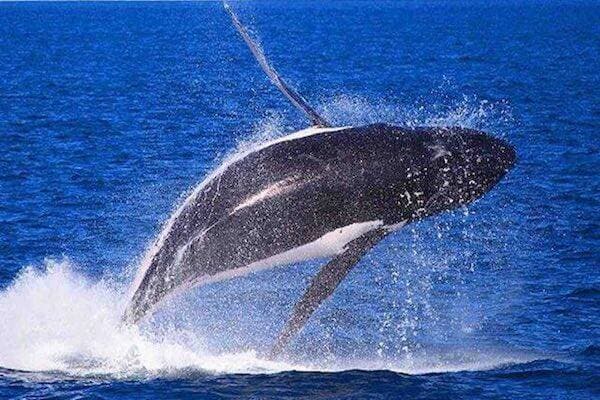 Whale watching season in Broome's northern Australian waters runs from June to September, offering visitors the chance to witness over 35,000 humpback whales migrating along the Western Australia coast and engaging in mating, calving, and nursing activities. The best time to go on a close-up whale-watching tour from Broome is either between 1-4pm or 3-6pm with a sunset. In addition to whale watching, visitors can also enjoy viewing the vast marine life during balmy afternoons. For a unique experience, join a morning cruise to Broome's Roebuck Bay between March and December, where you can witness the rare Australian Snubfin Dolphins – the only place in the world where they can be seen. Bottlenose dolphins are also a common sight in Broome's waters, and depending on the season, you may observe turtles and graceful manta rays swimming around as well.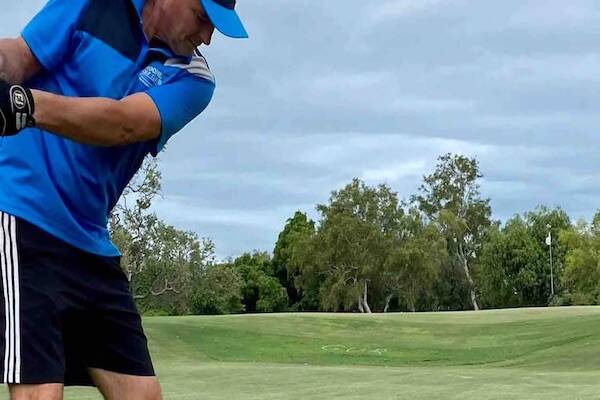 Golfing is a year-round activity at Broome's 18-hole Golf Club, considered the best sports club in the region. Located on the peninsula end of Broome, the recently reconstructed $5.5M state-of-the-art clubhouse has sensational 360-degree ocean and Roebuck Bay views. The 30-hectare course is mildly undulating, providing world-class challenges with no sand bunkers or water hazards. The emerald green course is set against the backdrop of rust-red rock and turquoise sea. Additional facilities include a Pro shop, restaurant, bar, and swimming pool. The Broome Golf Club is also an ideal location for viewing the Staircase to the Moon in the dry season.
Broome's famous Shinju Matsuri, or Festival of the Pearl, will be held between 26 August and 10 September 2023. Shinju Matsuri marks the end of the pearl harvest season and celebrates Broome's Japanese, Malaysian, Chinese and Indigenous Australian heritage. Experience Broome's history and culture through a series of top WA chef gourmet dining events, art exhibitions and performances by local and visiting artists. See the spectacular Floating Lantern Matsuri with sunset views from the exclusive VIP lounge. Indulge in Broome's finest cuisines at the Chinatown Feast on Carnarvon Street, or a decadent banquet on the golden sands of Cable Beach at the Sunset Long Table and cocktails with delectable local produce bites at the Jetty Gala on Town Beach Jetty surrounded by the cerulean waters and mangroves of Roebuck Bay.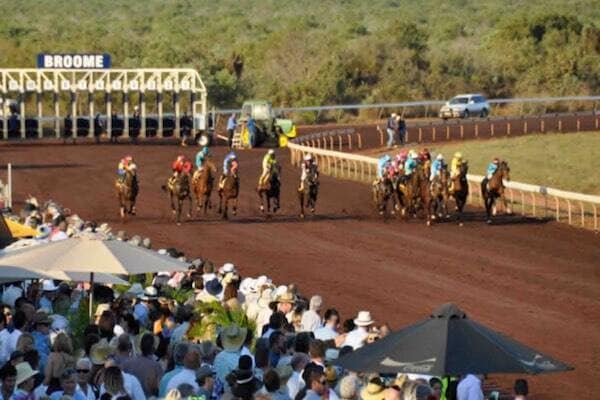 The highlight of the Broome racing calendar is the Broome Cup on Saturday, 19th August 2023. Broome Turf Club is an oversized country racetrack carved from rugged bushland at picturesque Gantheaume Point. Close to Cable Beach and surrounded by the Indian Ocean, the Club receives abundant cooling sea breezes. Watch how skilfully the horses tear up the rouge-red dirt track, enter Fashions on the Field, and wander through the food stalls between the afternoon live entertainment. After the last race, enjoy more live music, pop-up gaming tables and a two-up ring to recoup any losses. A free bus service operates between Broome town centre and the track.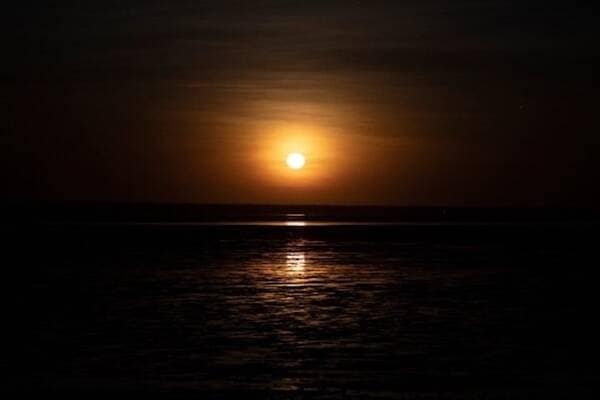 A natural phenomenon, Staircase to the Moon, occurs when a full moon rises over Broome's Roebuck Bay exposed low tidal mudflats, usually between April and October. The best viewing is from Town Beach, where Moon Markets are held between 4-8pm. Other vantage points include The Mangrove Hotel Resort with live music, the Broome Golf Club, Roebuck Bay lookout or across the road from Matso's Broome. In addition to being a great viewpoint for the Staircase to the Moon, Town Beach also hosts night markets every Thursday between June and September. The markets feature live music, local food stalls, fashion, arts, crafts, and homewares.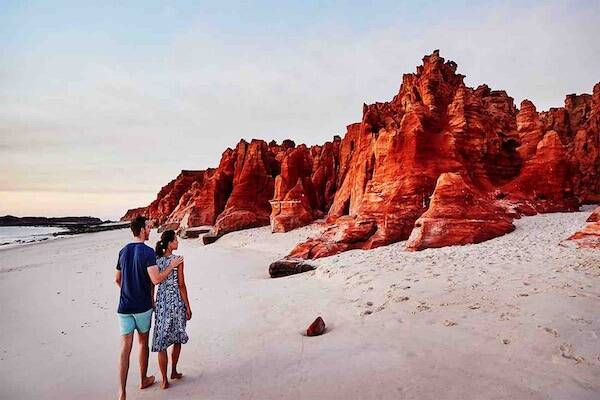 Photo Credit: Tourism Western Australia
The cheapest time to visit Broome is March and November when tourist demand is lowest. March is less visited during this time because it is hot and humid, especially following any short heavy rain showers. Flooding can affect the operation of some attractions, but it is an excellent time to see Broome's flora in full bloom. During November the rains haven't begun in earnest, making the sunny days extremely hot and humid. With fewer people around, some attractions may only operate with a minimum number. The shoulder months of May, early June, September and October offer better weather with reasonably priced deals and most attractions will be available.
The cheapest flights to Broome are available during March and November. Cheap flights can also be found in May, September and October if booked at least 60 days in advance. The cheapest day to travel is Wednesday, followed by Thursday. More people travel on Monday, Friday and weekends.
The best time to book flights to Broome is 60 days in advance, especially if your dates are not flexible or they align with peak holiday season. Booking accommodation and any tour packages at the same time is advisable. If your dates are flexible, cheaper flights to Broome are often available two weeks out, especially during the off-peak months of March and November.
BEST TIME TO VISIT BROOME AND THE KIMBERLEY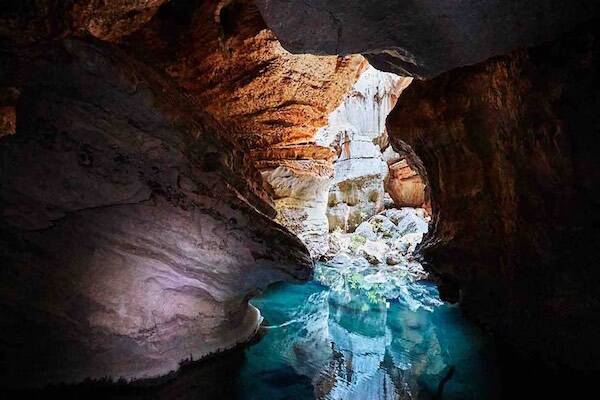 Photo Credit: Tourism Western Australia
The dry season between May and October is the best time to visit Broome and the Kimberley region in north-western Australia. During this time, the days are warm, sunny, and dry, with low humidity and clear skies. This is also the ideal time for swimming, with water temperatures between 23-25°C and no stingers. Evenings are perfect for dining under the stars, with a light cool breeze to keep you comfortable.
Broome is a fascinating destination where the striking rust-red cliffs of the outback meet soft ivory sands and the turquoise Indian Ocean. As the historic pearling capital, Broome serves as a gateway to the ancient and natural Kimberley playground, where many tours begin. Alternatively, one can get a taste of the Kimberley's stark vertical cliffs, hidden emerald gorge oases, gushing waterfalls, underground caves, ancient Indigenous rock art, and vast plateaus on a half or full-day flight into the region. The unique and mystical wonder of north-western Western Australia is showcased best during the dry season.
Visiting Broome and the Kimberley during the early dry season months, from May to mid-June, is the best time to enjoy the colourful landscapes, flourishing flora, and gushing Kimberley waterfalls and rivers. Moreover, flight and accommodation prices are comparatively lower during this period. A range of tours, festival events, and the natural phenomenon Staircase to the Moon, unique to Broome, create a party-like atmosphere during the dry season. You can check out the region's event calendar to make the most of your holiday.
Broome and the Kimberley are the most popular between June and August because of their idyllic dry season weather. Most visitors come during the mid-year Australian school holidays and cold, damp winters in the southern states. To avoid the crowds and snap up flight and accommodation bargains, it's best to visit Broome and the Kimberley during May, September, and October. Though there are still travellers around during September, it's fewer than in July and August. Visitors drop considerably in October, which means you'll have the Kimberley almost to yourself. However, to avoid heat and humidity during October in the Kimberley, it's better to undertake scenic drives, short hikes, and swim in refreshing waterholes. Broome in October is ideal for meeting the locals and enjoying a slower, more relaxed 'Broome Time' pace.