There's never been a better time for you to visit Broome than with Virgin Australia's WA dream sale. Specials are available for travel right up to the end of October.
Neighbouring the Indian Ocean in Australia's North West, Broome may be further flung than most when it comes to a domestic getaway, but that doesn't mean that this remote destination is lacking when it comes to accommodation. The Western Australian resort town in the remote Kimberley region is as abundant in places to stay as it is in things to do. Whether it's nights spent glamping, or the thought of a historic homestead on the river that tickles your fancy, these 7 luxurious hotel stays prove Broome luxury accommodation is in no short supply.

1. El Questro Homestead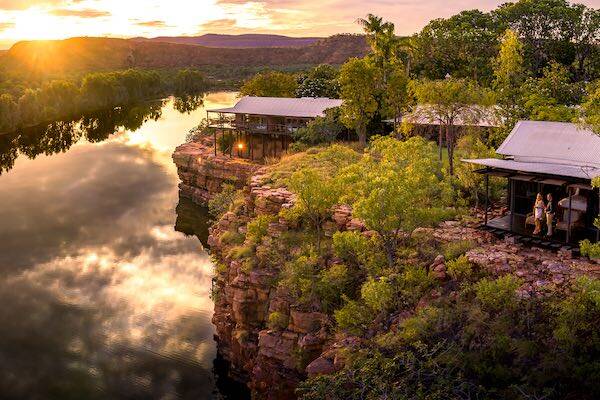 Immerse yourself in the Outback with a stay on the illustrious El Questro Homestead. Hosting just 20 guests maximum at a time, this adults-only destination is nothing short of a desert oasis. 10 suites are settled here within a rugged 700,000 acre estate, varying in size, price and unique offering. Make yourself at home with a room inside the original homestead, or venture further afield to one of three cliffside retreats perched on a sheer escarpment with views of the surrounding wilderness. Though if you're honeymoon bound you may favour the Chamberlain Suite, El Questro's most luxurious offering. Alongside an outdoor dining space and deluxe bath for two are floor-to-ceiling windows and a wraparound verandah to indulge in panoramic views of the Kimberley.
But it's El Questro's ample extras which cement it as a leading Broome luxury accommodation option and will tempt you to pay it a visit. Dining is all-inclusive, with menus a celebration of local produce from Ord River Valley. You'll tuck into modern Australian fare for breakfast, lunch, and dinner at the communal dining table, joined by a glass (or two) of Western Australian wine. Pre-feast you'll find plenty of ways to spend your time on El Questro Station. Tours and excursions are again a part of the experience, from taking a dip at Zebedee Thermal Springs, to a Chamberlain River cruise. Getting there is also a part of the adventure - El Questro is around 11 hours drive from Broome, within arm's reach of Kununurra.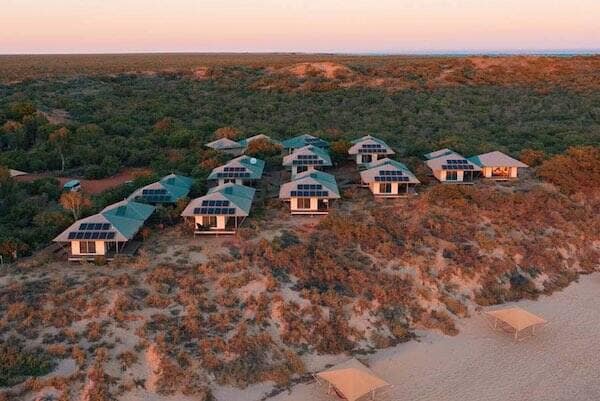 If you crave a sustainability-focused escape look no further than the multi-award-winning Eco Beach Resort. Found within a hop, skip, and a jump of Broome (or 130 kilometres to be exact), this coastal getaway is the ultimate in eco-luxury, leaving minimal impact on the pristine Kimberley region which it calls home. But Eco Beach isn't just consciously-minded, but a stay that offers a variety of accommodation types for you to choose from to cater to groups of all shapes and sizes. For an apartment feel partnered with ocean views, choose one of the 25 Eco Villas connected by wooden boardwalk which sleep 3-5 guests each. If glamping appeals, enjoy a night in one of the 30 deluxe tents on site. Each are equipped with a King (or Twin) size bed, 12v power (enough to charge a phone or laptop) and access to cooking facilities nearby. Not to mention, each tent has an ensuite and private deck for gazing at the famous Western Australian sunset. If you're visiting as a part of a larger group, you'll want to call The Beach House home. This oceanfront 100 sqm house boasts unrivalled views of the neighbouring Indian Ocean from its ample deck, and can cater to up to six guests within its two bedrooms.
Activities are just as plentiful here, with plenty to do during your stay especially if you have kids in tow. Take a guided coastal fishing tour, explore the waterways by kayak or paddleboard, or take to the local bushwalking trails. Or lean in to leisure, enjoying the daily yoga sessions and resident day spa on offer. You can even come as a day visitor or book Eco Beach Resort for your dream wedding.
3. Cable Beach Club Resort & Spa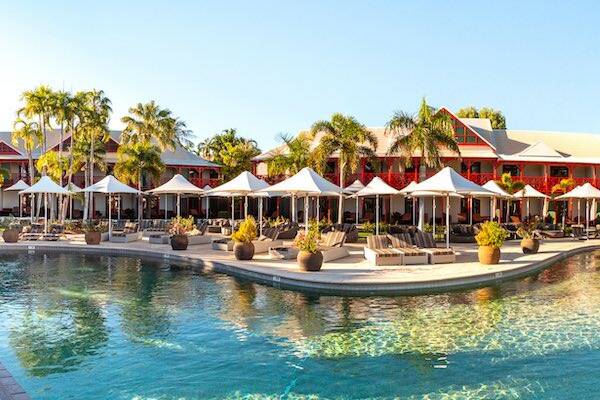 Call the heart of Broome home (temporarily anyway) with some time spent at the Cable Beach Club Resort & Spa. This conveniently situated resort can be found on the edge of iconic landmark Cable Beach, making it a great home base for exploring Broome's top activities and attractions. But it's not just location but its diversity of rooms which makes this Broome luxury accommodation a popular place to stay. If you're travelling as a couple or solo, the simple studios will suit with their choice of King or duo of Single beds. Families or larger groups can turn to the Club Apartments, or the garden-based Bungalows. Inspired by the architecture of traditional Pearling Master quarters, these two to three bedroom abodes with kitchens promise to be your home away from home. But if it's total privacy you seek (and a chance to escape the kids) choose the Villas. The adults-only retreat is the definition of indulgence with a dedicated host, breakfast, in-room check-in and private airport transfers. That's alongside a lounge, dining area, kitchenette, and private courtyard with plunge pool.
There's enough ways to spend your time at Cable Beach Club that you don't need to leave the grounds. A family pool, mini golf course, tennis courts and playground are joined by an adults-only Ocean Pool, Chahoya Spa & Salon, and fully equipped gym. That's alongside a seven-strong collection of bars and restaurants. Grab a bite to eat at steak-focused Sunset Grill, modern Italian Cichetti Club, Japanese Iki Gai, or Thai-based Kichi Kichi. Or stick to a cocktail (or mocktail) at the Sunset Bar, Ocean Pool, or Family Pool.
4. Kimberley Coastal camp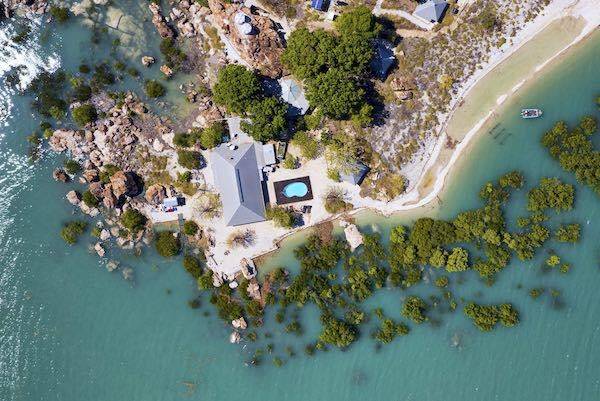 It's adventure and plenty of it that awaits you at the remote Kimberley Coastal camp. This truly unique getaway sits right on the shores of the Admiralty Gulf, a location accessible only by helicopter and float plane. Run by local couple Tub and Jules, Kimberley Coastal Camp will house you in one of its eight beachfront bungalows complete with private ensuite, nudging a communal pool and bar.
While seclusion in spades will greet you here, so too will some of the nation's best fishing. Kimberley Coastal Camp was dreamt up with avid anglers in mind, making the most of the abundance of mud crabs, barramundi, and mangrove jack nearby. As one of just 16 guests you'll spend your days trying your luck with a fishing rod, before dining on the day's catch which has been lovingly prepared by the in-house chef.
It's not just fishing that you'll find at the self-described 'barefoot resort', but a chance to explore the wild beauty of the Kimberley region. Acquaint yourself with local culture through the Wandjina and Gwion Gwion (Bradshaw) rock art nearby, or explore the cluster of neighbouring deserted islands by boat. All activities, alongside all food and drink are included in your stay.

5. The Berkely River Lodge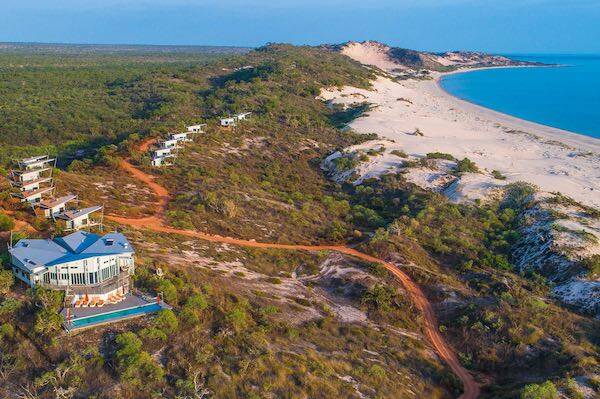 Get a taste of the best of the Kimberley coastline at The Berkely River Lodge. Accessible only by air, this is one of the more remote offerings among Broome's luxury accommodation, but a stay worth the extra effort. You'll find this retreat sitting on sandhills in the northeastern stretch of Kimberley Coast, between Kununurra and Darwin. Take your pick from just 20 freestanding villas, each equipped with all the creature comforts you could dream of, from King beds and airconditioning to open-air ensuites, complete with outdoor bath tub.
While your nights may be spent relaxing on your private deck under the stars, your days will be jam-packed with the ample activities included in your stay. Marvel at the region's natural beauty (and greet a few crocodiles) on the 4WD tour, or grab your hiking shoes for a guided creek walk. There's plenty of time to fish and river cruise too if that's up your alley.
Once you've worked up an appetite, make way to resident restaurant Dunes. Enjoy a casual breakfast and lunch, or the degustation-style dinner crafted from world-renowned produce, including Armidale beef, Tasmanian smoked salmon, and a selection of artisanal European cheeses.
6. The Billi Resort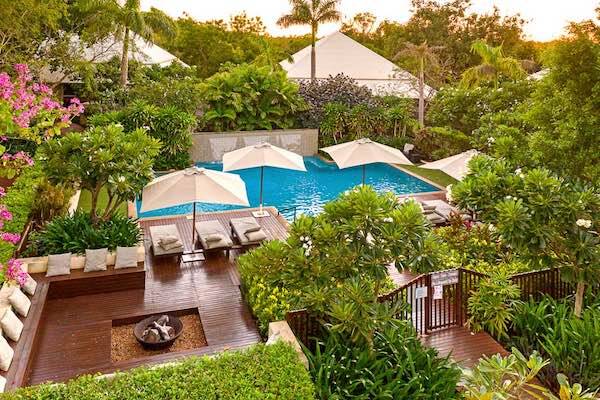 Self-contained stays are the specialty of The Billi Resort, named in ode to the local Indigenous name for the coastal area of Cable Beach, Bilingurr. This Broome luxury accommodation prides itself on its convenience - it sits centrally in town just 15 minutes from the sands of Cable Beach and its population of restaurants and bars.
But with kitchens or kitchenettes found within every room type, you don't have to leave the resort if you don't want to. If you're a part of a larger group, the one or two bedroom villas cater to a crowd, decked out with kitchen, indoor dining and lounge, and a private entertaining space with barbecue. You'll find a similar offering within the open plan studio rooms suited to couples. Though a spot of glamping may spark your interest instead, in which case there are a trio of different safari-style tents. This is not your average camping experience, thanks to the presence of kitchenettes, en-suites, and outdoor decks.
Keeping cool in the Broome heat isn't hard here, with The Billi's accommodation all equipped with either air conditioning or overhead fans, and a communal guest pool available for a dip when the temperatures soar. Celebrations are just as well catered to, with the resort well-equipped to host a wedding if you're looking to tie the knot.
7. Pinctada McAlpine House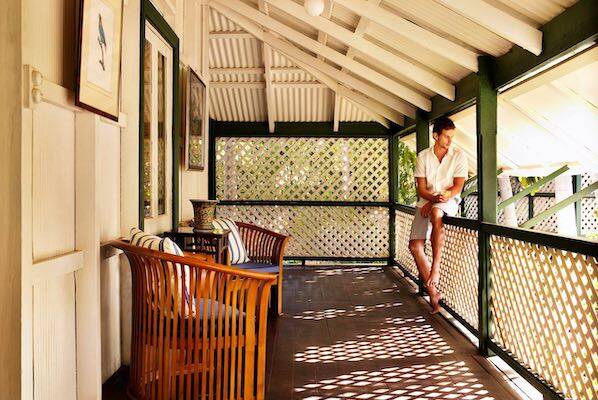 If you consider yourself a history buff you'll be a firm fan of Pinctada McAlpine House. The adults-only boutique hotel may have just 8 rooms to cater to its guests, but what it lacks in size it makes up for in heritage. This is your chance to get better acquainted with Broome's rich pearling history - Pinctada McAlpine House has a long lineage of owners involved in the local industry since it was first built in 1910 for Pearling Master Talboys. It was later purchased as a home for Lord McAlpine (hence its name) before being converted into the guest house it is today in the 1990s.
The mingling of old world charm and modern amenities promise to delight you here. Kick back and relax on one of the spacious wooden latticed verandahs, a traditional architecture style of Broome, or splash around in the resident pool before you call it a night. You'll find each of the 8 suites has its own personality and offerings, from private libraries to access to the tropical gardens fringing the house. But no matter which room you choose you'll be treated to en suite access, original artwork, King beds and free WiFi. Not to mention a daily tropical continental breakfast included in your stay, and the chance to indulge in a traditional high tea.