Spending time indoors when you're in Brisbane can feel like such a wasted opportunity. The sub-tropical weather provides an open invitation to spend as much time outside as possible, all year round.
So what better place to soak up the city's laid-back ambience than in one of Brisbane's many rooftop bars?
Brissie has emerged over the past decade as a bustling northern metropolis, and with the 2032 Olympics on their way, that world city vibe is sure to keep the food and bar scene growing in variety and sophistication.
But there's no need to wait to enjoy those days of endless sunshine. From luxe elegance that would be at home in any world city to a more backyard feel that is quintessentially Queensland, Brisbane has a rooftop bar to suit every mood and occasion.
Maya Mexican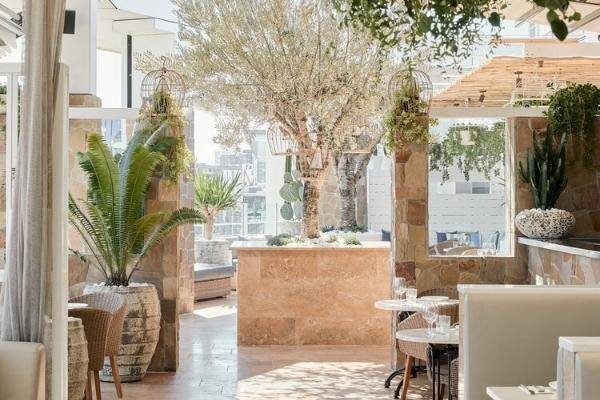 Name a better spot to enjoy a taco.
The relaxed vibe of Maya – on the old Eleven rooftop bar site in Fortitude Valley – is perfect for a long lunch or a late-night cocktail. Stare wistfully at the 180-degree views of the Brisbane CBD with a watermelon margarita in hand and daydream of Tulum holidays as day turns to night. Maya's cool Caribbean coastline décor is complemented by a wide range of artisanal tequilas and regional Mexican cuisine celebrating the best of Queensland produce (with plenty of vegan and gluten-free options).
Dirty Sultan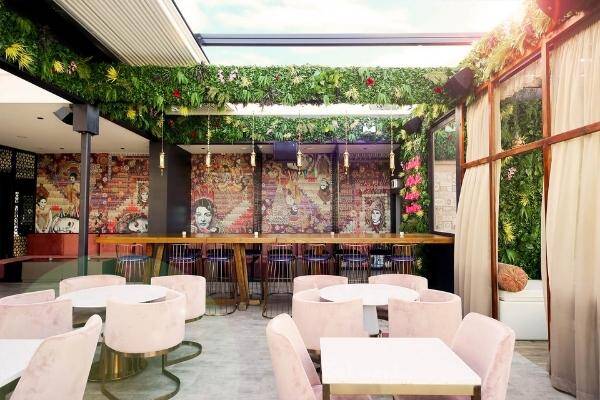 There is nothing understated about Dirty Sultan.
Turkish-inspired Dirty Sultan – atop the Tryp Hotel in Fortitude Valley – is all about modern hip hop, bespoke cocktails and neo-Turkish street food, and it boasts the only rooftop shisha lounge in Brisbane. Dress must be 'worthy of impressing the sultan', but you'll be rewarded with so much Instagrammable glamour you'll forget you were here for the view. The edges of the space offer huge day beds for elegant lounging, while the centre is taken up with low tables with pastel pink soft chairs and velvet bench seating. For the sweet tooths, don't leave without trying the Turkish Delight cocktail or the Nutella baklava.
Sixteen Antlers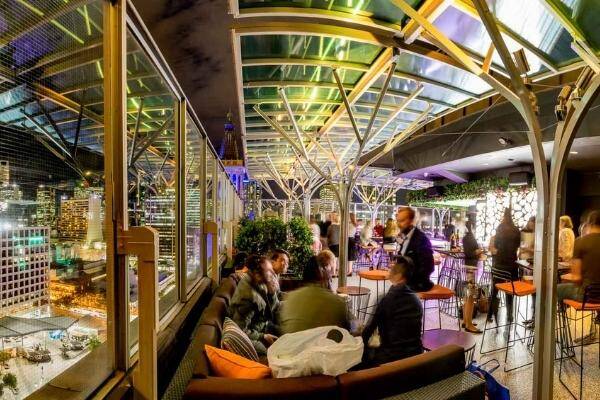 Brisbane Town Hall's iconic clocktower looms large.
In the heart of the Brisbane CBD, Sixteen Antlers is the sophisticated yet relaxed rooftop bar of choice for the after-work crowd. Hidden away on the top floor of the Pullman and Mercure Hotel, you'll find views across King George Square and the city skyline, bar snacks and tapas to share, local craft beers and a great selection of wines and cocktails, including some by the jug. On Fridays and Saturdays, you can watch the sun go down to the beats of live DJs.
Eagle's Nest Brisbane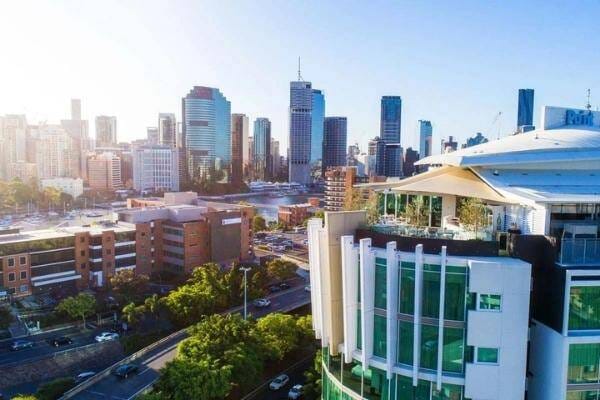 Don't look down.
Tucked out of the way at the top of the Point Hotel in Kangaroo Point, Eagles Nest is an unexpected inner suburban gem. The small bar is corporate-casual and strictly for over 18s, offering tapas, cocktails, a variety of beer and wine, and uninterrupted city views. It's a popular event venue, so expect to be sharing the space with a birthday party or small wedding, but there's plenty of room for everyone, and the staff are happy to help choose the perfect cocktail (but the Summer Sunset seems like an apt choice). Eagle's Nest is open from 3pm, Thursday to Sunday.
Cielo Rooftop Bar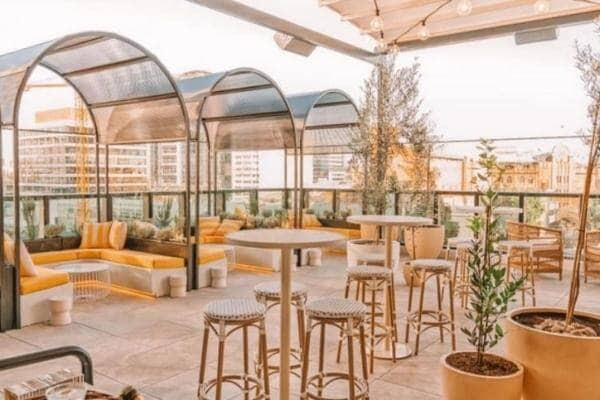 The Riviera, but with a Valley view.
Cielo is inspired by summers spent in the Italian Riviera, with exposed brick columns, seafoam-green and white décor, woven basket light fixtures and European oak table tops – with a backdrop of the Fortitude Valley skyline. And while the views are sublime, it's the art and drama of the cocktails that keep people coming back for more, featuring banana leaves, 'house perfume', or being served inside a bubble that pops with a puff of smoke (try the Portofino, or a Svedka Spritz cocktail tree if you're with a group). The perfect complement for all of that is the carefully curated tapas and pizzette menu, which caters to a range of dietary requirements.
Spicers Balfour Hotel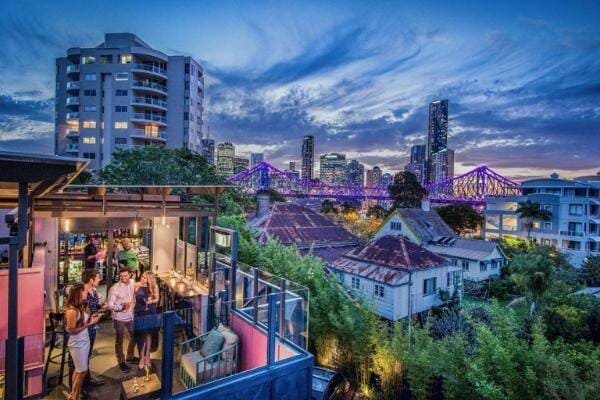 The view is iconically Brisbane.
Spicers Balfour rooftop bar is a bit of a local secret, so don't tell them we told you, but it's an understated gem in the heart of New Farm you won't want to miss. The views of the Story Bridge and Fortitude Valley are spectacular, the outlook is leafy and blooming with purple Jacaranda flowers if you come in Spring, and the cocktails are delicious. And because it's part of the Spicers Hotel group, you know the wine list will be high end and perfectly curated. Come for a quiet drink and dress to impress.
Limes Rooftop Bar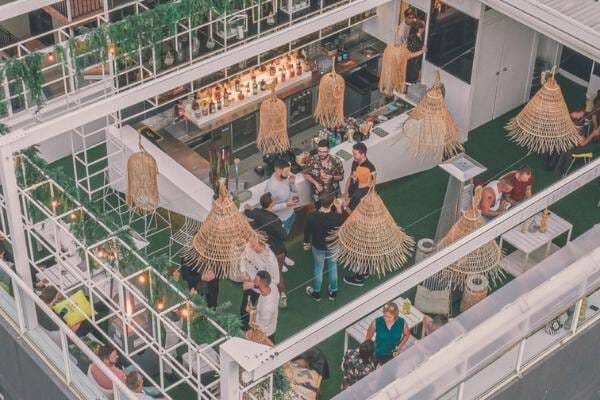 Have a drink, enjoy the view and take a dip.
Brisbane's very first rooftop bar, Limes, is still a local favourite thanks to its relaxed atmosphere, retractable roof, open-air cinema (complete with bean bags), two plunge pools, and live DJs. Oh, and you can stay in the Limes Hotel downstairs (and get a free drink for your trouble), so there's no reason not to settle in on the patio furniture and make yourself at home. The bar is stocked with a range of local and imported beers and wines, and it also offers classic bar snacks like Spanish meatballs, spiced calamari and bruschetta. Limes Rooftop Bar is currently only open Friday and Saturday nights, so best to plan ahead.
Dandy's Rooftop Bar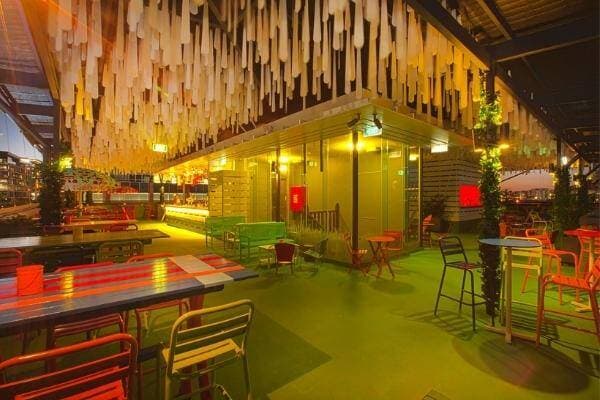 Like a backyard barbecue, only higher.
Dandy's is an adult rooftop playground that feels like you've stumbled into someone's next level backyard. It's a casual and tropical colour explosion, with a disco dancefloor for partying the night away, cocktails by the jug, tasty snack platters and pizzas to share – and some stellar views, of course. Dandy's is upstairs at the iconic Fox Hotel in South Brisbane's thriving Fish Lane district, and it's open every Friday, Saturday and Sunday night.
Fitz + Potts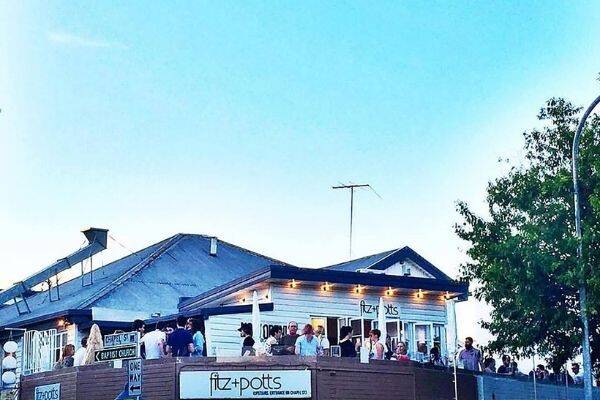 Over the inner-city glam but still want a rooftop with a view? Multi-award-winning Fitz + Potts in northern suburban Nundah offers the chill vibes you're looking for. The quirky décor is all retro-inspired colour and eclectic spaces with textures from velvet to macrame, and a tiki-inspired wrap-around balcony. And everything on the menu – from the Hillbilly Punch to the inspired jaffle platter (try the moussaka option) – is entirely vegan. Doggos are welcome to join their owners on the balcony and can even enjoy a vegan snack themselves. Dress for comfort, but you might want to consider an elastic waist to accommodate all the goodness.
Iris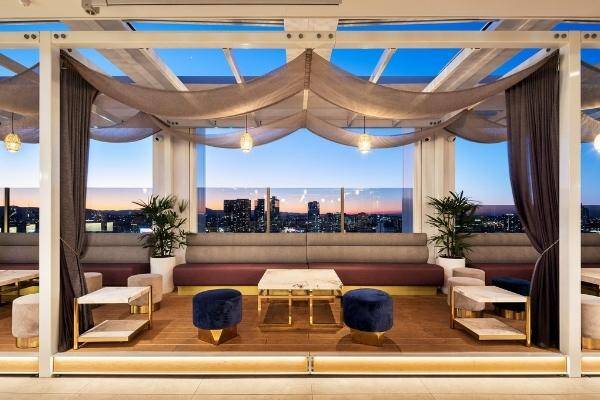 Rooftop elegance.
If luxurious rooftop dining is your thing, Iris, a Mediterranean oasis perched at the top of Hotel X in Fortitude Valley, offers a menu of sensational bites from Beirut to Barcelona – all with the added bonus of possibly the best Story Bridge views in Brisbane. From the moment you leave the elevator, you're enveloped in colour-soaked luxury, where you can dine in the restaurant, enjoy a comfy booth with a group of friends, relax in a private cabana, or soak up the sun by the pool. There are lots of vegan and gluten-free options, and the handmade burrata is off the charts. From the cocktail list, try the Vibe Check (strawberry, pink grapefruit, Aperol, cardamon, pink pepper and tequila).
Fiume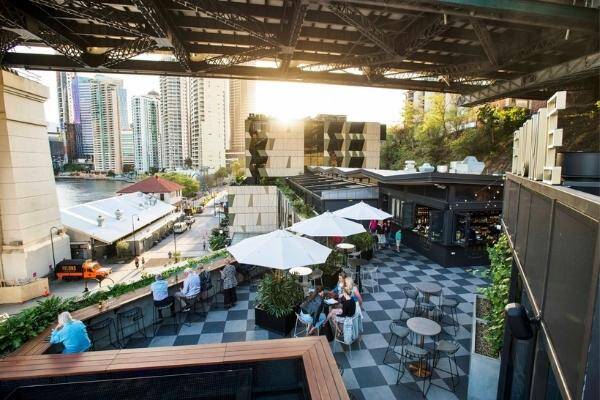 Meet you under the bridge.
Whether you want to see or be seen, Fiume is perfect for both. The LA resort-style rooftop bar at Crystalbrook Vincent in the Howard Smith Wharves precinct sits under the Story Bridge and offers the opportunity to sip something bubbly while lounging on daybeds by the infinity pool. Fiume (Italian for 'river') sources its liqueurs locally from Tamborine Mountain Distillery, and its Italian grazing board is the perfect accompaniment to all of them. The vibe is modern yet relaxed glamour, the cocktail list is killer, and the Sunday session is legendary.
The Terrace at Emporium Hotel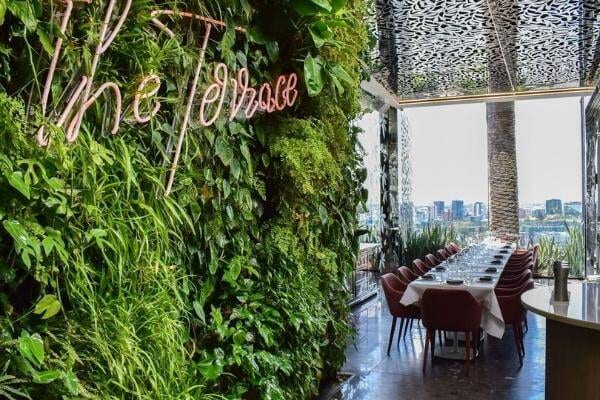 When too much sky is never enough.
Southbank's first rooftop bar was worth the wait, boasting views of Southbank parklands and the city, and all the way out to Moreton Bay. The luxury Emporium rooftop bar really is for everyone, offering breakfast from 7am and a children's menu, as well as a sophisticated cocktail list for later on. If you're coming after 6pm, the dress code is strictly cocktail, so dress to impress before you perch yourself on a fluffy barstool outside or in the bucket chairs on the lit-up floor, and if you're up for something tropical, try the mezcal, pineapple and basil terrace signature creation known as the Hot-Lips Houlihan.