What is it about a market that makes us adore food we never think of every other day of the week? No matter what's on the menu Monday to Friday, Saturdays are inexplicably all about German sausages, poffertjes, and fried potato spirals on a stick. And in Brisbane, we wouldn't have it any other way. The river city boasts a range of Saturday markets in picturesque locations that will have you kicking off your weekend with a relaxed but happy bang.
Powerhouse Farmers Markets, New Farm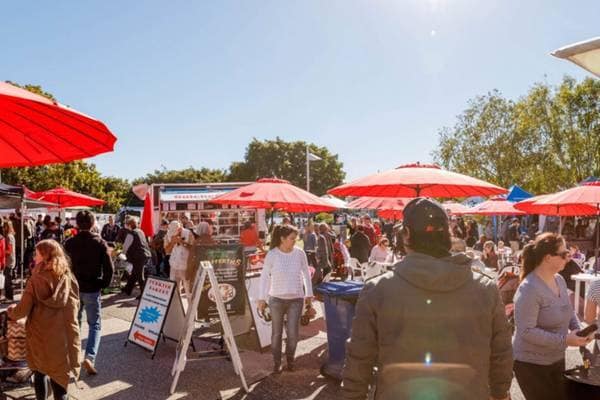 A Brisbane institution, the Powerhouse Markets have been drawing crowds of locals and tourists alike since it opened in 2000. Jan Powers started this market to offer high-quality products with a deep connection to farmers and primary producers. This is the place for you if you want to speak directly to the person who grew or made the food you're about to eat. Start your morning off with a coffee and breakfast from one of the food vans, offering everything from loaded bagels and burgers to acai bowls and smoothies. Then browse through the array of fresh produce and other delicious treats, including your fresh fruit and veg for the week, artisanal cheeses and smallgoods, and handmade pasta and sourdough bread. And once you're finished shopping, you can spread out a blanket for a riverside picnic at the adjoining New Farm Park. Dogs are welcome, and the market is accessible by bus and City Cat (ferry), and there is plenty of parking around New Farm Park, although it is hotly contested, so you might need to be patient.
Lamington St, New Farm
Free
Hours: 6.00am to 12.00pm every Saturday
West End Markets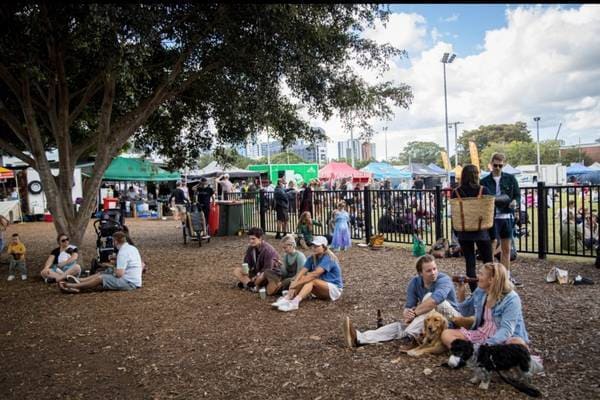 One of Brisbane's most vibrant community markets, West End Market calls itself a 'celebration of eclectic diversity, independence and lifestyle', just like the community of West End, itself. West End Markets are all about supporting local businesses, and the market features over 150 vendors, including farm-fresh produce, delicious and international fast food, boutique fashion and handcrafted gifts. A market this size can get busy and chaotic, but there is plenty of room to spread out, and if you get tired, you can always stretch out on the lawn and listen to the live local music under the canopy of the huge Moreton Bay fig trees. The market organisers strongly recommend using public transport, cycling, rideshares or even riding a scooter as the best (and greenest) way to visit. You can also meander along the river walk from the city or from the City Cat (ferry) terminal at Orleigh Park, park on site at Souths Rugby League Club ($4), or try your luck at the very busy but abundant local street parking (council charges apply).
Address: Davies Park, Cnr Montague Rd and Jane St, West End
Free
Hours: 6.00am to 2.00pm every Saturday
The Village Market, Kelvin Grove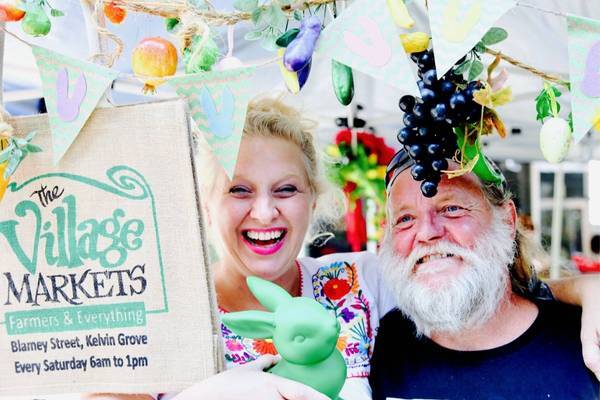 Kelvin Grove Village is a unique little community created around Queensland University of Technology (QUT), only 3 kilometres from the city. The Saturday markets are a more intimate experience than some of the bigger Brisbane markets, but that's part of their charm. They've been the heart and soul of the village for over 10 years. Featuring art and fashion from local creators, as well as fruit and veg straight from the farmers, great coffee and a selection of international food, the Village Markets are the perfect way to kick off your weekend. Some of the best local live performers will keep you entertained, and you can let your kids run themselves ragged in Victoria Park while you soak up some rays and enjoy your coffee in peace. And if you want to feel great about your contribution to the earth while you shop, know that all the electricity used by the stallholders is offset, with net zero gas emissions.
Cnr Blamey St and Musk Ave, Kelvin Grove
Free
Hours: 6.00am to 1.00pm every Saturday
Bite Markets, Morayfield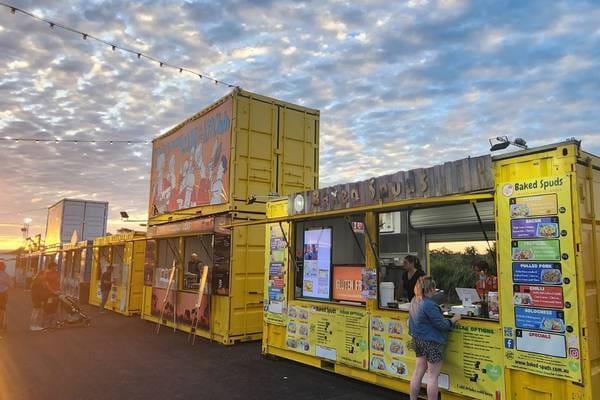 As the name might suggest, Bite Markets is all about delicious food, and they do their best to cater for all tastes. That's no easy task, but they are constantly updating their full flavour line-up, featuring local food creators from the best of South East Queensland. We challenge you to visit and come away hungry – and that includes those with dietary restrictions. There is also live entertainment every weekend, special events and activities to keep the kids entertained. Bite Markets has undergone big changes lately, and is under new management from early November 2022, so if you haven't been for a while, it's well worth another visit. You can also book out one of their private spaces for your next function, and the markets are licensed so you can indulge in your favourite tipple if you're over 18. Parking is easy, with 600+ free parking spaces available.
24 Nolan Dr, Morayfield
$3, with children 12 and under free
Hours: From 4.00pm Friday and Saturday nights
Saturday Fresh Market, Rocklea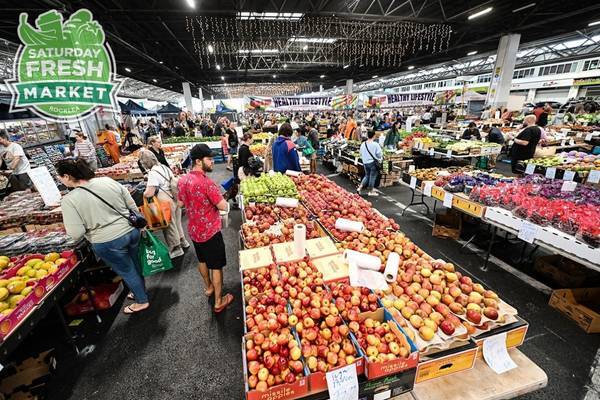 If you're after the largest variety of fresh fruit and vegetables available anywhere in Brisbane, head to the Saturday Fresh Market at Rocklea. With over 150 stalls offering a selection of quality meats and poultry, fresh cut flowers, breads and baked goods, gourmet and deli lines, and a huge range of indoor and outdoor plants, homewares and lifestyle products, this could be the one place you need to shop all week. And don't forget to stop for a brunch break while you're here – with fresh coffee and a range of international cuisine to enjoy while you soak up the live entertainment. On-site parking is available for $6. Sorry, your pooch will have to sit this one out, though – the Saturday Fresh Market is a dog-free zone.
385 Sherwood Rd, Rocklea
$2, with children 15 and under free
Hours: 6.00am to 12.00pm every Saturday
Carseldine Farmers and Artisan Markets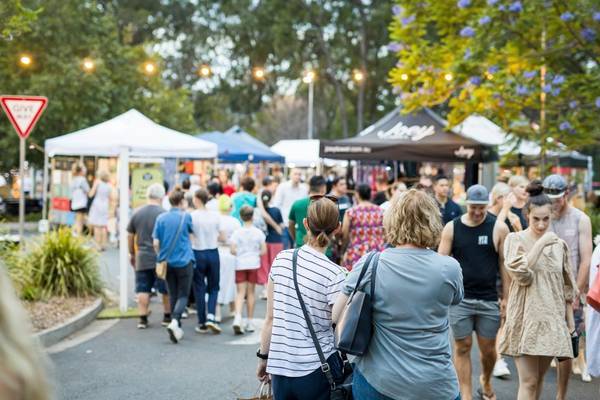 North Brisbane's very own genuine produce, foodie and craft market, the Carseldine Farmers and Artisan Markets showcase the best that South East Queensland has to offer. You'll find traditional and gourmet foods made on the spot, market wares made by passionate growers, farmers, artisans, cooks, designers, bakers, fishmongers, butchers, baristas, and plenty of other creative souls. There's plenty to keep the children entertained, with activities every week, as well as live music and a huge seating area where you can rest and enjoy some of your delicious finds for the day.
133 Dorville Rd, Carseldine
Free
Hours: 6.00am to 12.00pm every Saturday
Manly Farmers Markets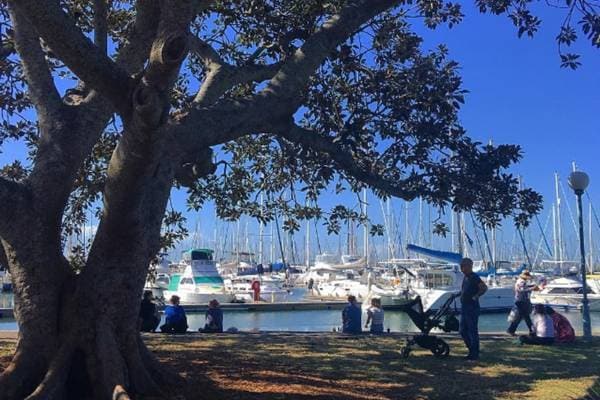 Another star from local market legend Jan Powers, the Manly Farmers Markets deliver the perfect package of premium quality products, friendly and knowledgeable stallholders, and one of the most picturesque locations in Brisbane, right on Manly Harbour. Set among the lush greenery of Little Bayside Park, you can wander through the vibrant mini-village while being kept cool by the gentle bay breeze. You'll find the usual farm-fresh fruit and vegetables, of course, alongside fresh bread and baked goods, pantry staples, spices, sustainable seafood and fresh cuts of meat. And if you can't wait until you get home, you can visit a range of food trucks and mobile kitchens offering snacks, meals, coffees and smoothies. Catch a City Cat (ferry) or train to avoid trying to find a street park, if you can.
Manly Harbour Royal Esplanade, Manly (between Cambridge and Cardigan sts)
Free
Hours: 6.00am to 12.00pm on the first and third Saturday each month
Eat Street, Northshore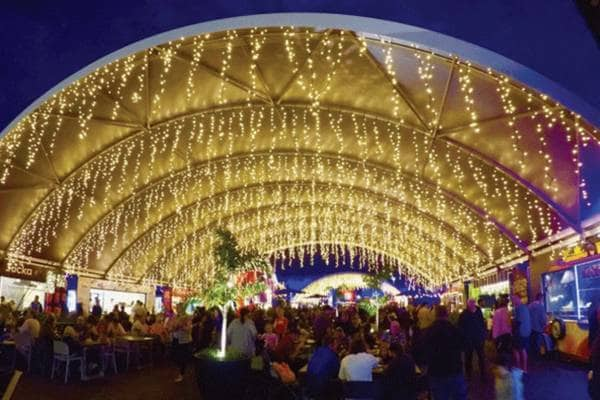 Located halfway between Brisbane city and the airport on a disused wharf over the Brisbane River, Eat Street Markets are a culinary adventure sure to satisfy your taste buds and keep you entertained. The site is huge, covering several hectares of land, and repurposing 180 recycled shipping containers. Eat Street is a truly unique experience well worth having. You'll find over 70 vendors, including five themed bars, eclectic shops and micro-restaurants offering tasty treats from six continents. The entertainment is always a highlight, with a eclectic rotation of musicians, comedians, dancers and DJs – among others – lined up to keep you amused while you eat and drink the evening away. There are over 1400 car spaces, and the site is a little fiddly by public transport, so driving is your best bet.
221D Macarthur Ave, Hamilton
$5, with children under 13 free. No entry fees apply for carers accompanying a person with a disability. No cash.
Hours: Friday and Saturday 4.00pm to 10.00pm; Sunday 4.00pm to 9.00pm