Uluwatu is one of the main tourist areas in Bali, Indonesia. Situated on the southwestern tip of the Bukit Peninsula, Uluwatu is known for visually stunning clifftop views, golden sunsets, beach clubs and world-class surf breaks. In recent years, it has become an increasingly popular destination for visitors to Bali, earning its place amongst the likes of Canggu, Ubud and Seminyak. 
Getting to Uluwatu is relatively easy. From other parts of Bali, it's easy to get here via taxi, hotel transfer, or a rideshare service like Gojek or Grab (Bali's equivalent of Uber). For international arrivals, Uluwatu is easy to reach as it is conveniently located 20-35 km from Ngurah Rai International Airport.
Uluwatu overflows with eclectic attractions and activities that provide a glimpse Balinese culture and tradition. Suspended on a dramatic cliff edge, Uluwatu Temple is one of the most unique stops in Bali, providing expansive views of the Indian Ocean and serving as one of the best places in Bali to watch Kecak dance, a form of Balinese Hindu dance. 
Above all, Uluwatu is loved for its stunning coastline, amazing surf spots, and unrivalled selection of beaches including Thomas Beach, Bingin Beach and New Kuta Beach. Surfers from around the world travel to ride the waves of Uluwatu's best surf spots at places like Padang Padang and Suluban. 
But that's not it. As the sun sets, Uluwatu transforms into a dynamic nightlife hub, with the iconic Single Fin Beach Club being a local favourite and so many great restaurants and bars to try as well. From the Ulu Cliffhouse to La Baracca Uluwatu and Hatch Bar & Restaurant, there is no shortage of places to eat and drink here. 
Regarding where to stay in Uluwatu, visitors have the option to tailor their experience based on preferences, choosing between two types of accommodation: beachfront hotels and secluded luxury retreats. For incredible luxury accommodation in the centre of the action, Anantara Uluwatu is one of the best hotels in Bali. Alternatively, for a more serene and isolated retreat, places like Six Senses Uluwatu offer a sanctuary tucked away from the bustling town. 
Our guide takes you through everything you need to know to make the most of your visit to Uluwatu. From the best attractions and accommodation options for your Uluwatu itinerary, to hidden gems that only locals know about, we have you covered. 
Without further ado, here is our guide to Uluwatu.
Where is Uluwatu?
Uluwatu is a coastal region of Bali, Indonesia. Located on the southwestern part of the Bukit Peninsula, Uluwatu is famous for its world-class surf breaks and clifftop views overlooking the Indian ocean.
Uluwatu is one of the main areas of Bali, found about 21-22 km south of Kuta. In recent years, it's become an increasingly popular destination thanks to world-class beaches, jaw dropping cliffside accommodation and attractions like Uluwatu Temple and Single Fin Beach Club. Some of the most famous beaches here include Padang Padang, Balangan and New Kuta Beach (aka "Dreamland Beach").
To reach Uluwatu, travellers must journey to the southernmost section of Bali, known as the Bukit Peninsula, which is connected to the main part of Bali via the Jimbaran area.
Is Uluwatu worth visiting?
Yes, Uluwatu is well worth visiting. This area of Bali is truly unique, given that Uluwatu is a cliffside town where many of the accommodations, restaurants and bars are literally located on the side of a cliff. The expansive views of the oceans and sunsets are an unrivalled combination, and the atmosphere under the starry Uluwatu sky is truly magical. Here visitors can visit the unmissable Uluwatu Temple, perched on a cliff with the Indian Ocean as its backdrop, and witness the mesmerising Kecak fire dance at sunset. This is a place to venture into the heart of Uluwatu and discover charming boutiques, lively bars, and luxurious resorts that welcome you with warm Balinese hospitality.
Uluwatu is a laid-back place, so this is not the ideal location for those who prefer a bustling city vibe. The many hills and cliffs make it a less suitable area of Bali for those with mobility issues.
How to get to Uluwatu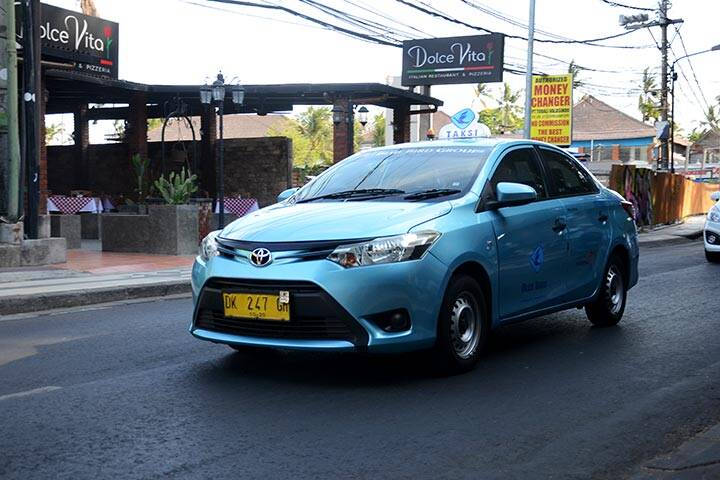 Credit: tang90246 from stock.adobe.com
Getting to Uluwatu is relatively straightforward. For those staying in another part of Bali already, or coming straight from Denpasar airport, arriving in Uluwatu is easily done by taxi or by rental scooter. From areas like Kuta, Canggu or Seminyak, the trip to Uluwatu takes around 30-60 minutes. From Ubud, it takes about 2 hours to get to Uluwatu depending on traffic.
The closest airport to Uluwatu is Bali's Ngurah Rai International Airport. From the airport, a taxi or shuttle service will get you to Uluwatu in under 45 minutes. For those setting out to Uluwatu from Australia, numerous airlines offer regular flights to Bali. Once you land, Uluwatu is just a short ride away.
Getting around Uluwatu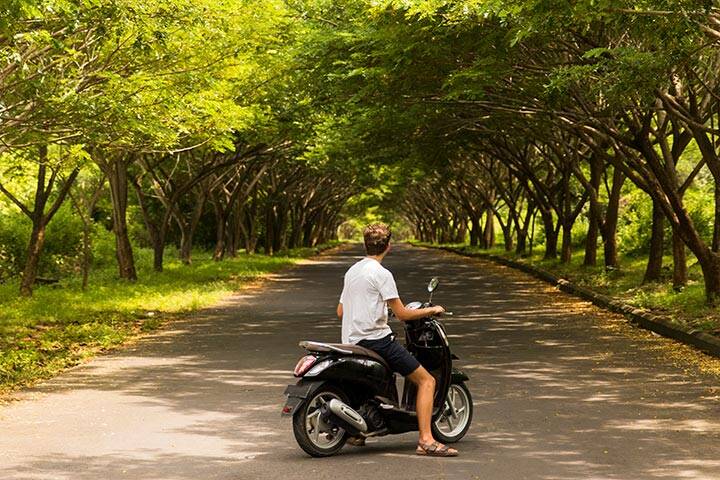 Credit: Travel 'n' Lifestyle from stock.adobe.com
Uluwatu is a cliffside town, making it relatively difficult to get from one place to another on foot, unless it's a short distance. The three main modes of transport in Uluwatu are rideshares like Grab and Gojek, taxi or rental scooters. Rideshare is not allowed in some areas of Uluwatu, in which case local taxis like Bluebird are your best bet (easily booked through your hotel). Renting a scooter is a great option for getting around in Uluwatu, but only for experienced drivers, as it is a very hilly area. Below is more info on each Uluwatu transport option.
Rideshare: Grab and Gojek aren't quite as common in Uluwatu as in other parts of Bali, but these rideshare services are relatively accessible. Just be mindful that in some parts of Uluwatu, like Padang Padang Beach, Single Fin Beach Club or Uluwatu Temple, Grab and Gojek are not allowed due to local taxi syndicates.
Taxi: Taxi is more common in Uluwatu than other tourist hubs in Bali, this partly due to increased control of rideshare services like Grab or Gojek which are not allowed around some of the major landmarks. The main taxi operator in Uluwatu is Bluebird Taxi, and Gusti's Expert Taxi Service is an excellent choice as well.
Rental Scooters: Renting a scooter costs about 70k-200k IDR (≈$7-20 AUD) per day in Uluwatu depending on your choice of rental provider and scooter model. Popular local providers include July Rental Scooter/ Motorbike and The Wavy Rental Uluwatu. Otherwise, some rental providers operator  Bali Bike Rentals and My Bali Rental drop off a scooter to you no matter where you are on the island.
Top 5 Things to Do in Uluwatu
Uluwatu, a jewel in Bali's crown, has so many activities and attractions to offer, from the thrilling beats of a Kecak fire dance at the Uluwatu Temple, to the flawless swells of Suluban Beach where the surfing is unbeatable. 
Below are the 5 best things to do in Uluwatu. 
1. Visit Uluwatu Temple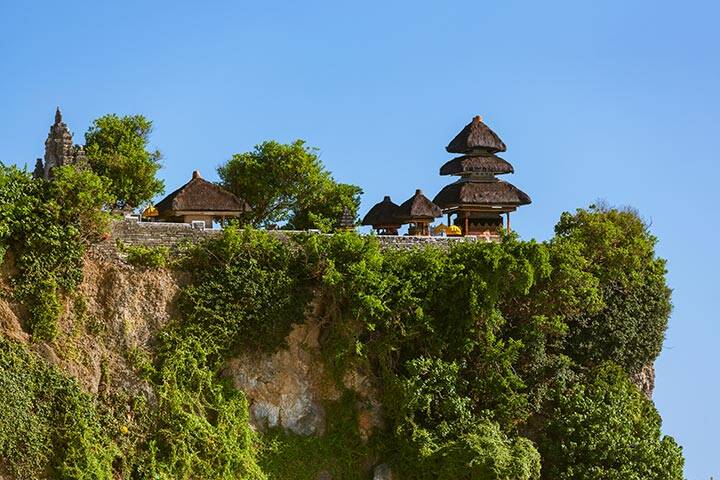 Credit: Nikolai Sorokin from stock.adobe.com
Perched on a dramatic cliff edge, the Uluwatu Temple is not only one of Uluwatu's main cultural sites, it offers incredible views as well. An epitome of sacred Balinese architecture, the temple is a must-visit, luring travellers with its spiritual allure and breathtaking sunsets that frame it each evening. The late afternoon is an ideal time to visit, just in time to catch the enchanting Kecak fire dance as the sun kisses the horizon. While its primate residents are famed for their harmless mischief, remember to hold on to your belongings. Also, remember to wear a sarong out of respect for the temple's sanctity. Though the steps are a bit challenging for some, the heavenly vistas from the top are worth every stride.
2. Head to Uluwatu's world-famous beaches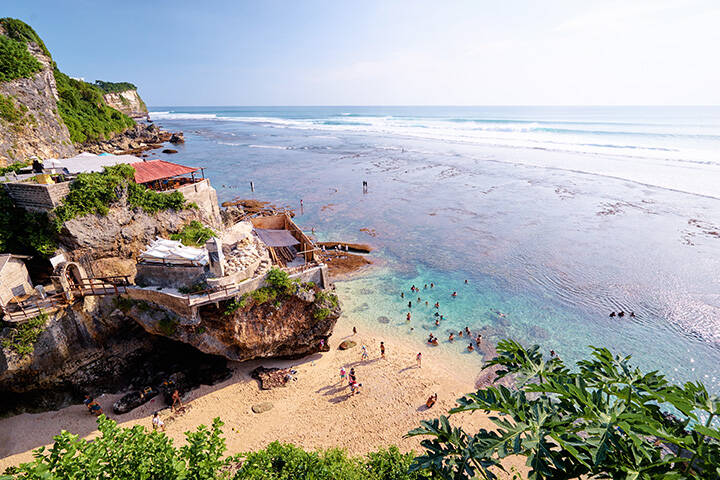 Credit: luengo_ua from stock.adobe.com
Uluwatu's stunning coastline boasts an unrivalled selection of beaches. From Padang Padang (Thomas Beach), to Bingin Beach and Dreamland (New Kuta Beach), there is a reason that Uluwatu has so many entrants on the list of best beaches in Bali.

Thomas Beach is a hidden gem surrounded by forests which make it feel like a secluded retreat. Bingin Beach is a surfer's paradise, attracting wave-riders from around the globe. Party animals will find unparalleled beachfront offerings at Dreamland (New Kuta Beach) and Karma Beach. Meanwhile, Nyang Nyang's serene, lagoon-like waters make it ideal for a leisurely dip and idyllic island escape. Don't forget, some of these slice-of-paradise beaches sometimes carry a modest entrance fee. A small price to pay for a day spent basking in Bali's sun-soaked beauty.
3. Watch the Kecak dance at Kecak Uluwatu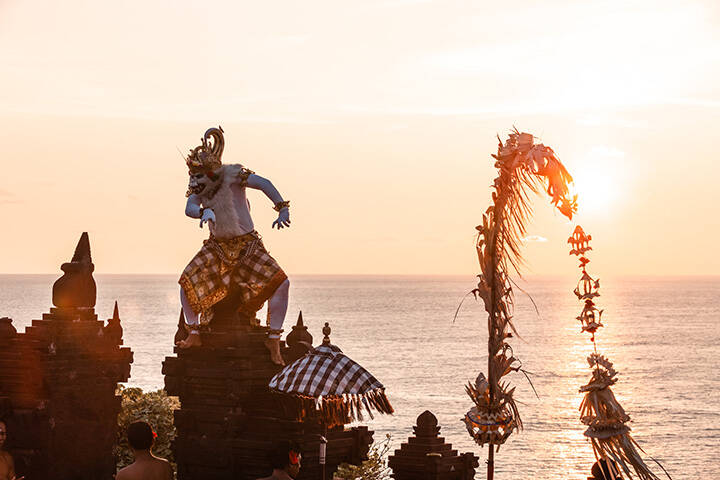 Credit: Sidoy from stock.adobe.com
You cannot visit Uluwatu without witnessing the mesmerising Kecak Dance, a performance deeply rooted in Balinese tradition. Every evening, as the sun goes down, a chorus of voices rises in harmony, narrating the epic Hindu saga of Ramayana. The open-air amphitheatre, perched on a cliff with the Indian Ocean as a backdrop, only amplifies the magic of this, one of the best cultural attractions in Bali.
Please be prepared for a potential wait of up to two hours. However, this waiting period is filled with eager anticipation and delightful camaraderie. Utilise this time to immerse yourself in the temple's splendour and marvel at the awe-inspiring vistas, creating a truly unforgettable day.
4. Surf at Uluwatu's famous breaks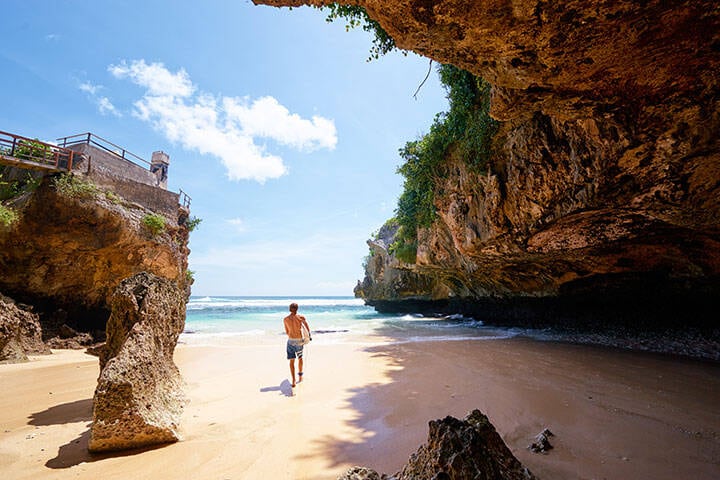 Credit: luengo_ua from stock.adobe.com
Uluwatu is truly a surfer's paradise, renowned for its world-class breaks that cater to both novices and professional surfers. Beginners usually find their footing best at Padang Padang Rights, also known as "Baby Padang", or at Balangan Beach which has a host of Uluwatu surf schools. Seasoned surfers often prefer the powerful, hollow waves of Suluban or Padang Padang Lefts, which is where the Rip Curl Cup, a surfing competition, is held. 
Amidst the rhythm of the ocean, you'll find the perfect wave to ride, carving your own path on the emerald canvas of Bali's sea. Experience the thrill of riding the waves and witness first-hand why Uluwatu is recognised globally as one of the best places in the world to surf.
5. Celebrate at Single Fin Beach Club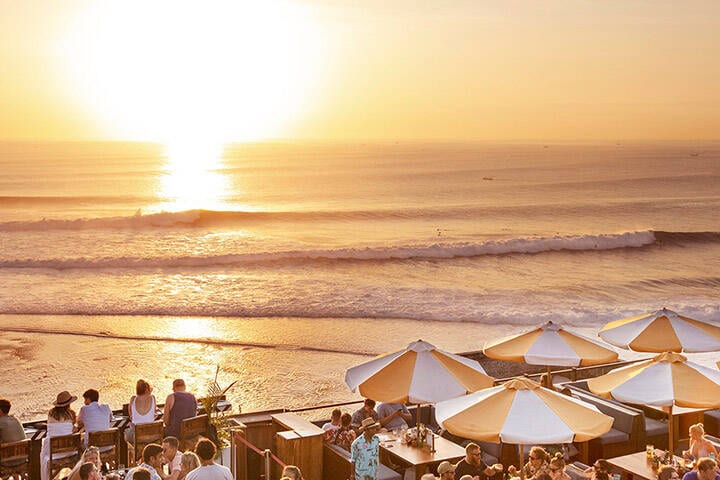 Single Fin Beach Club is your go-to beach club in Uluwatu, a chic hotspot that masterfully combines irresistible global cuisine with a killer view of the Indian Ocean. From the comfort of the cliffside terrace, savour exotic smoothie bowls, indulge in lip-smacking seafood dishes, or sip on meticulously crafted cocktails as the DJs set the mood. Take a refreshing sunset dip in the pool, or seek a shaded spot to unwind and escape the intense Balinese heat. Just a heads up, the zealous security team will inspect your bags before you enter, ensuring the club maintains its high-spirited, yet safe environment, retaining its reputation as one of Bali's best beach clubs.

Where to Stay: Best Accommodation in Uluwatu
Uluwatu boasts stunning hotels, resorts and villas that perfectly combine luxury, nature, and the famous Balinese hospitality. The best Uluwatu accommodation  is located right on the cliffs, providing sweeping views of Uluwatu's incredible coast.
Below are the 4 best resorts in Uluwatu.
1. Anantara Uluwatu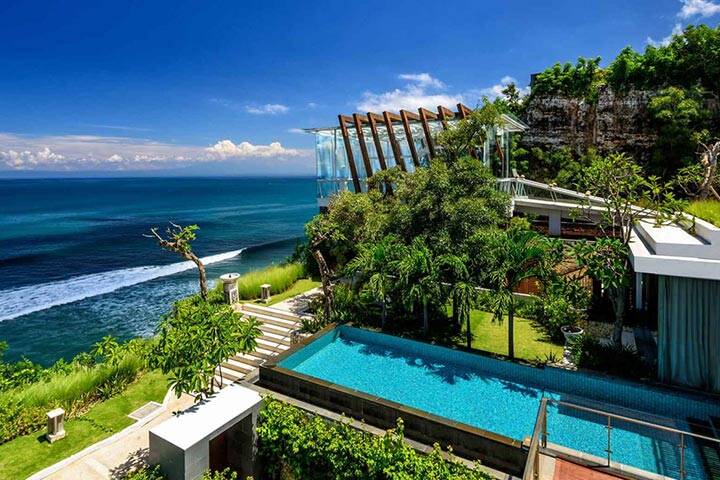 Anantara Uluwatu is a 5-star resort boasting an incredible beachfront location. The resort is ideal for a perfect Uluwatu vacation, offering views of the surf from gigantic rooms and allowing you to spend your time with activities like wellness treatments, swimming, lounging or even surfing. The dedicated staff ensures an unforgettable stay with warm hospitality and excellent service to make you feel truly pampered. From Anantara Uluwatu there is direct access to the renowned "Impossibles" break, a popular spot for surfing. During ideal conditions with mid-low tide, a friendly line up and over 5 ft swells, Impossibles is considered one of the best surf spots in Bali. For those who prefer to sit back and relax, the staff at Anantar treat guests like royalty. Just be mindful that there are a lot of steps at this resort, so it is a challenge for those with mobility issues.
2. Alila Villas Uluwatu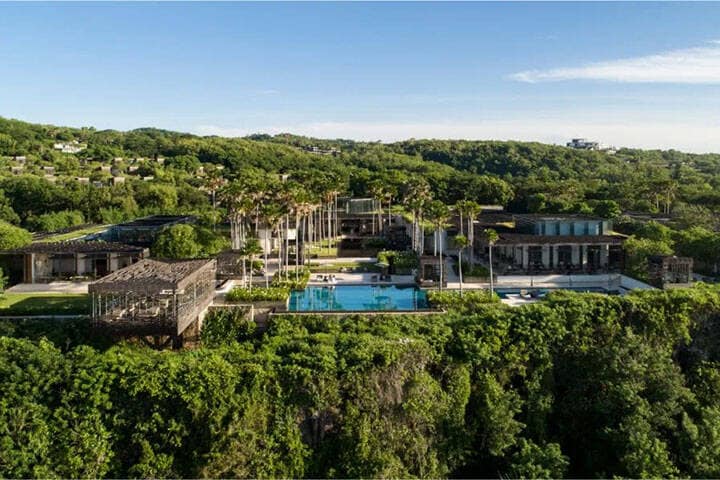 Credit: Alila Villas Uluwatu
Alila Villas Uluwatu is your idyllic retreat in busy Bali. This luxury haven features sunset cabanas for you to lie back and bask in the mesmerising beauty of Balinese sunset. Add to that a world-class whisky bar, great service, exceptional food (lobster brunch anyone?) high cleaning standards, a spa, an infinity pool, and there won't be anything missing during your vacay. There is also a secluded beach here, which is accessible during low tide. Alila Villas offers an incredible Uluwatu stay which few are left disappointed by.
3. Uluwatu surf villas
Credit: Uluwatu Surf Villas
Uluwatu Surf Villas are a testament to the harmonious blend of traditional Indonesian charm and modern architectural brilliance. Each of the cliff-front villas boasts a private pool, offering an intimate dip into luxury that overlooks the striking panorama of the Indian Ocean. For the surf aficionados, these villas are nothing short of a paradise. A private gateway leads to an untouched reef break, touted as one of Bali's finest. The villas extend complimentary surfboards to ride the perfect waves. Beyond surfing, the place also caters to wellness enthusiasts with facilities for yoga. Perhaps most unusual of all, Uluwatu Surf Villas has its very own skate park - making it surely the best resort in Bali for Tony Hawk wannabees!
4. Radisson Blu Bali Uluwatu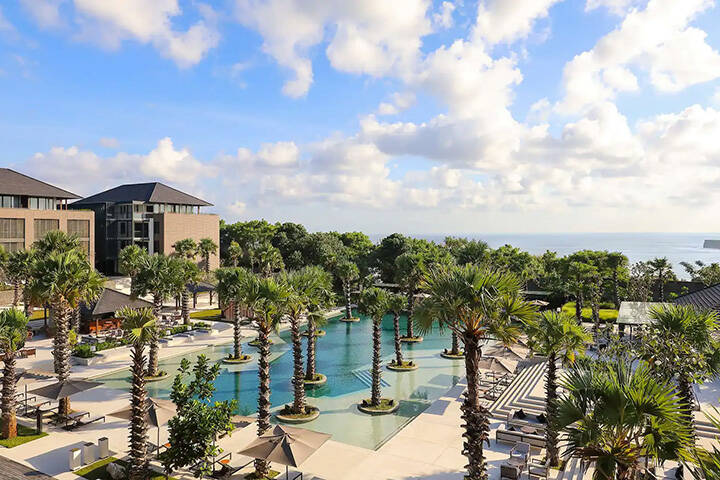 Credit: Radisson Blu Resort
Relax and unwind at Radisson Blu Bali Uluwatu, just steps from Bingin Beach. This 5-star hotel offers spacious rooms, panoramic rooms, easy access to the beach, top notch food and drinks service and excellent facilities like spas and pools. Just be mindful that there are some mischievous monkeys around at this resort! The Radisson here in Uluwatu is beautifully appointed close to some of Uluwatus best restaurants, cafes, and beach clubs like El Kabron. Located just 10-12 minutes from the resort, El Kabron is an adults-oriented beach club with seafood and sunsets in abundance. Once you arrive back home, you will be able to relax back into spacious, modern rooms or even indulge in a massage.
Best Restaurants in Uluwatu
From cliff-top dining with sweeping ocean views to hidden culinary gems nestled within lush tropical gardens, Uluwatu offers a feast not only for your eyes, but also for your tastebuds. A visit to this corner of the island would be incomplete without experiencing the delicious cuisine offered at some of the best restaurants in Bali.
1. Mana Uluwatu Restaurant and Bar
Mana Uluwatu Restaurant and Bar is a top Uluwatu restaurant where food and relaxation come together. Treat yourself to delicious food and refreshing drinks, while gazing at the stunning, unobstructed view of the sea. By day, it feels like a cool oasis - where visitors can enjoy a dip in the pool for a minimum spend of 150k IDR (≈$15 AUD). As the sun sets, this restaurant and bar becomes the perfect spot to unwind after a day of surfing, sharing stories, and making new plans with friends.
2. Ulu Cliffhouse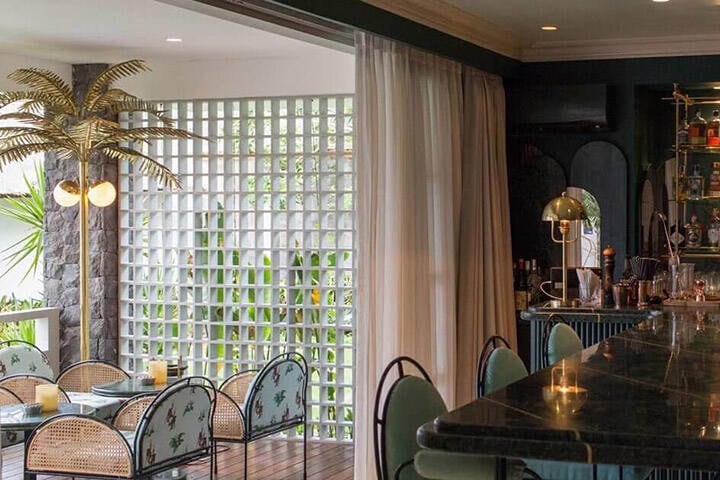 Ulu Cliffhouse is more than a restaurant; it's a clifftop paradise with panoramic views of the rugged ocean. The menu offers something for everyone - including breakfast favourites, local Balinese dishes, and Italian-style pizzas and pasta. There's also a great selection of drinks including fresh juices, smoothies and cocktails.The service at Ulu Cliffhouse is top notch, and there isn't a minimum spend  if you opt-out of a daybed, making this spot accessible to all. As the day progresses, the serene vibes transform into an electrifying ambiance, with spontaneous parties lighting up the deck.
3. La Baracca Bali (Uluwatu)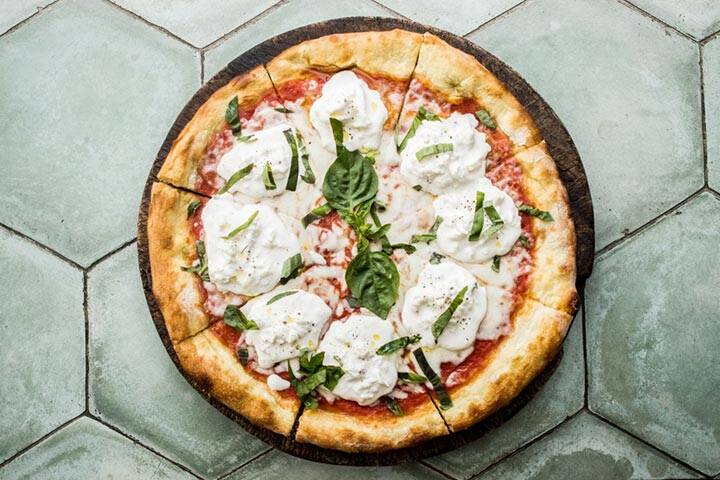 Credit: La Baracca Restaurant
La Baracca Bali is your slice of Roman heaven in the Balinese heart of Uluwatu. Specialising in authentic Roman pizza, this is Uluwatu's best Italian restaurant. We recommend you don't miss out on the free focaccia - it's the perfect way to kickstart your dinner. From there, there are so many tasty Italian dishes to try - including Primi (first courses) of pasta like gnocchi or spaghetti, followed by Secondi (second courses) featuring the likes of beef fillet and Chicken Milanese. Be sure to finish off with a delicious italian dessert, like the classic Tiramisu or the chocolate lava cake.
The food here is excellent, but the real gem is the laid-back garden ambiance. With Bali's magical skies as a backdrop, you can enjoy al fresco dining as you lose yourself in the true essence of Italian flavours. Plus, La Baracca offers an amazing range of gluten-free and vegan options, making it a great restaurant for coeliacs and vegans in Uluwatu. 
4. He'enalu Cafe and Bar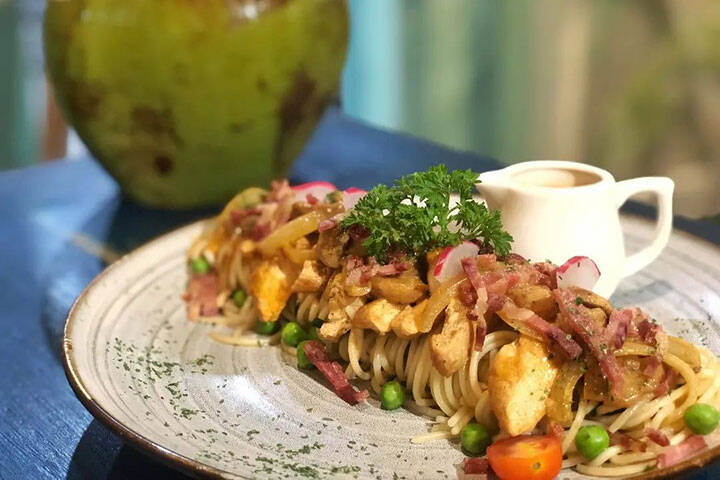 Credit: He'enalu Cafe and Bar
He'enalu Cafe and Resto, a Hawaiian-themed oasis in Uluwatu, welcomes you with hearty breakfasts and wholesome lunches. This beach-themed café is your ultimate pit-stop to fuel up before a day full of surfing, swimming or simply basking in the warm Bali sun. The lively atmosphere, amplified by the remarkable team of staff, provides a backdrop that's as delicious as their food.
5. M. MASON. Bar | Grill Uluwatu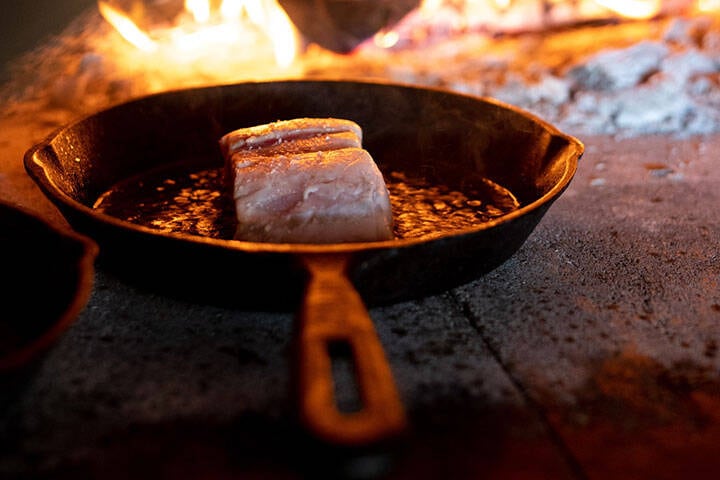 Credit: . M. MASON. Bar | Grill Uluwatu
M. MASON. Bar and Grill Uluwatu combines Mediterranean flavours with Indonesian heart for a unique culinary experience. Known for its mouthwatering hummus, it's a top gastronomic hotspot in Uluwatu. The menu features delicious wood-fired meats served in a sleek contemporary setting. Though not the most budget-friendly, the unforgettable experience is worth it. Reservations are highly recommended due to its popularity.
Best Cafes in Uluwatu
From café spots that specialise in specialty coffee to eateries that serve organic, home cooked delights, Uluwatu is home to fantastic places to start your day, or stop in for some brunch after a surf. 
Below are the 5 best cafes in Uluwatu: 
1. Suka Espresso (Uluwatu)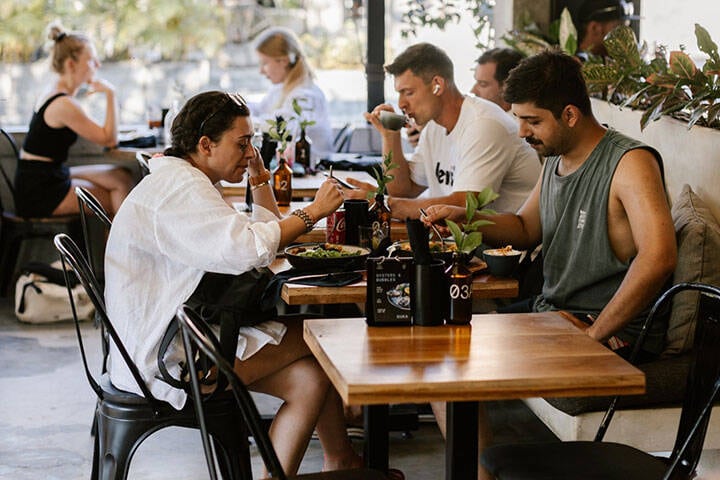 Suka Espresso is one of the best places in Uluwatu if you're looking for specialty coffee and cappuccino. Sourced from Indonesia and roasted locally in Bali, Suka's ingredients are a celebration of rich flavours. As for food, highlights include the creamy avocado toast and the irresistible carrot cake. 
2. Land's End Cafe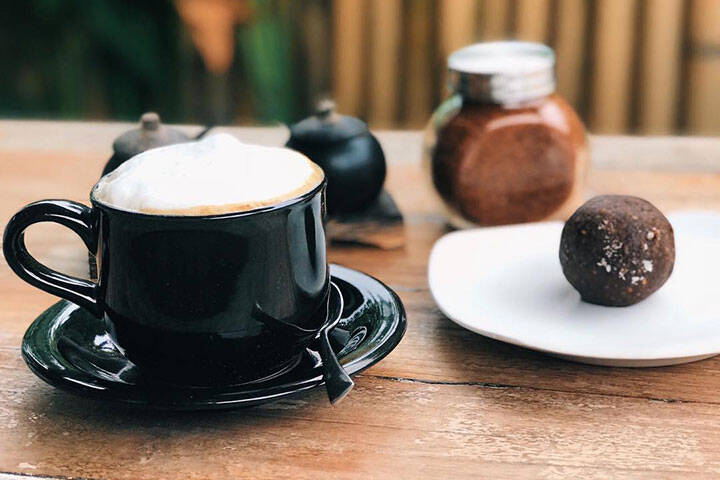 Land's End Cafe is a cosy place that invites you to indulge in fresh, organic home-cooked delights. Offering a diverse menu that caters to various dietary preferences, including vegan and gluten-free options, this café is also famous for its incredible chocolates, skillfully crafted falafel wraps, excellent fruit smoothies, and delicious chicken salads.
3. Cafe La Pasion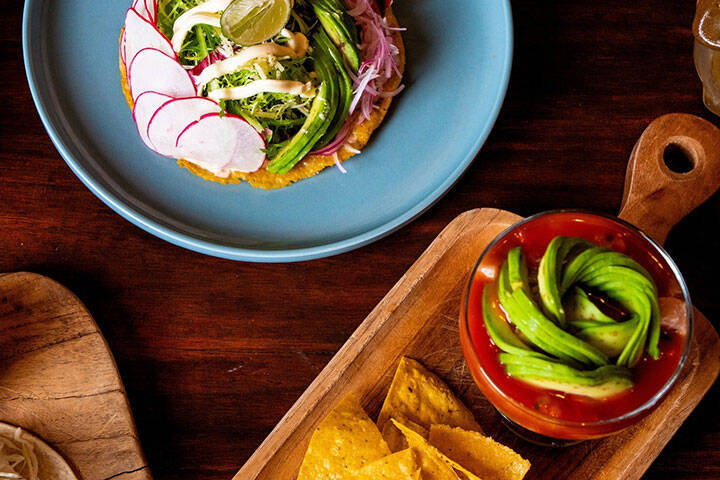 Café La Pasion is a laid-back eatery located a short distance from the Balangan beach in Uluwatu. This café boasts a cool Mexican food concept that sets it apart from other options in town. Beyond the delectable non-pretentious Mexican food, Café La Pasion stands out as a multifaceted haven, hosting live music for a vibrant ambiance, relaxing gazebos, and embracing a child-friendly environment with a refreshing pool to dip into.
4. Refresh Coffee Shop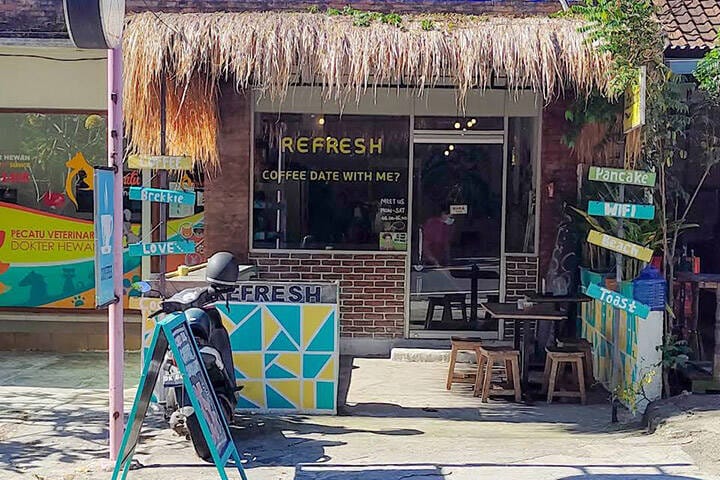 Credit: Refresh Coffee Shop
Refresh Coffee Shop provides a delightful coffee and pancake experience in the Pecatu area. Known for its pet-friendly policy, Refresh Coffee Shop serves some of the best cappuccino and croissants in Uluwatu. And for those who are into fruity drinks, the Mango Madness smoothie is a must. Plus, the staff is incredibly friendly, keeping things laid back. Just don't be surprised to see a dog or two perched up on the tables! 
5. Bukit Cafe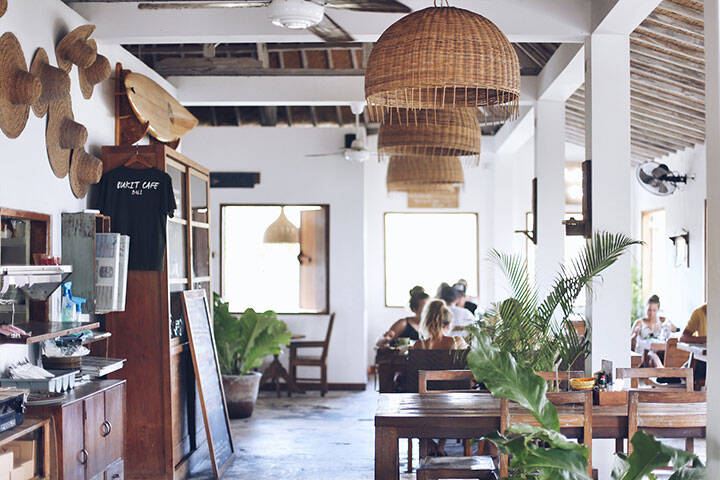 Bukit Café is a Western-inspired spot located between Bali's Bingin and Padang Padang beaches in Uluwatu. Known for its daily specials reflecting seasonal produce, Bukit Café serves up some of the best burgers in Bali. Plus, the bright, airy interior adorned with rustic decor and tropical flowers adds a touch of elegance that makes Bukit Café unique.
Best Bars in Uluwatu
Whether you're looking for a multilevel nightclub or a romantic spot suspended atop the sea cliffs, Uluwatu boasts some of the best bars in Bali. Uluwatu is an incredible place to relax with a drink overlooking the water, and the cocktails here are unreal.
Below are our choices for the best bars in Uluwatu: 
1. Single Fin
Single Fin is a laid-back surf club and surf bar offering some of the best sunset vistas in Bali. Located on the iconic cliffs of Uluwatu, Single Fin is the kind of place to come morning, noon, and especially at night in Uluwatu. At breakfast, it's the ultimate spot for smoothie bowls, eggs and expertly brewed coffee. Lunchtime or early afternoon is great for pizzas and to savour an icy cold Bintang after a morning spent surfing. But nighttime is really when it becomes one of Uluwatu's best bars, offering an incredible view of the sunset overlooking Suluban beach. The atmosphere is electric and vibey, further enhanced by the DJ, infinity pool and excellent cocktails like mango daiquiris. On Wednesday there is live music and the renowned Sunday Sessions feature international DJs and live acts.
2. Ulu Cliffhouse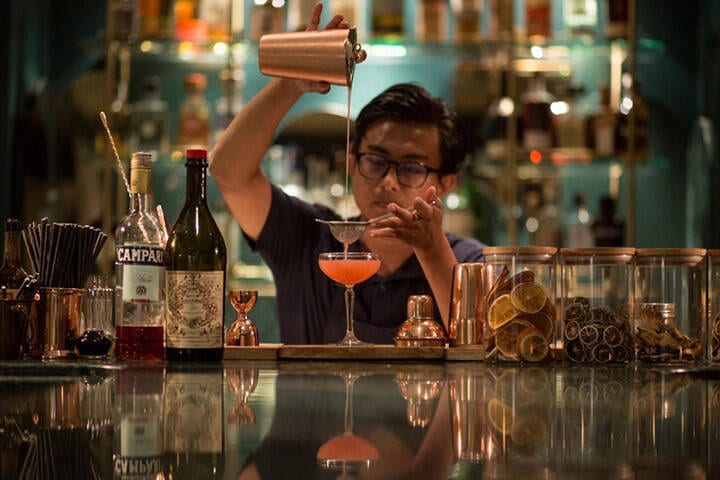 Ulu Cliffhouse is a sophisticated bar in Uluwatu that seamlessly blends luxury with breathtaking coastal views. Part of a prestigious 5-star hotel, this upscale destination offers a refined atmosphere for guests to indulge in exquisite cocktails and world-class amenities. Overlooking the mesmerising ocean, Ulu Cliffhouse is the epitome of elegance, providing an idyllic setting to unwind with a cocktail in hand while watching the sunset.
3. Hatch Bar & Restaurant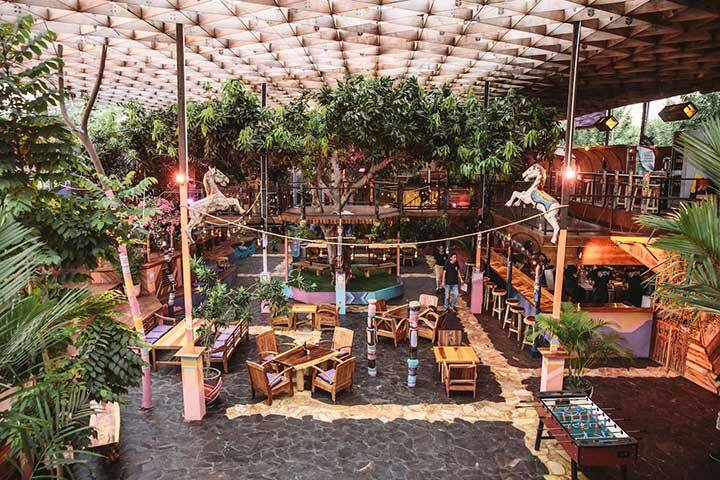 Credit: Hatch Bar & Restaurant
Hatch, Bar & Restaurant is a multi-level establishment that offers an abundance of fresh seafood, enticing tacos, and delightful chicken dishes. The venue hosts live DJ sessions and themed parties, creating a lively atmosphere. What sets Hatch apart is its unique jungle/treehouse concept, as well as an amazing range of activities like pool, foosball, arcade games, mini-golf, and even a tattoo shop.

4. R Bar Renaissance Uluwatu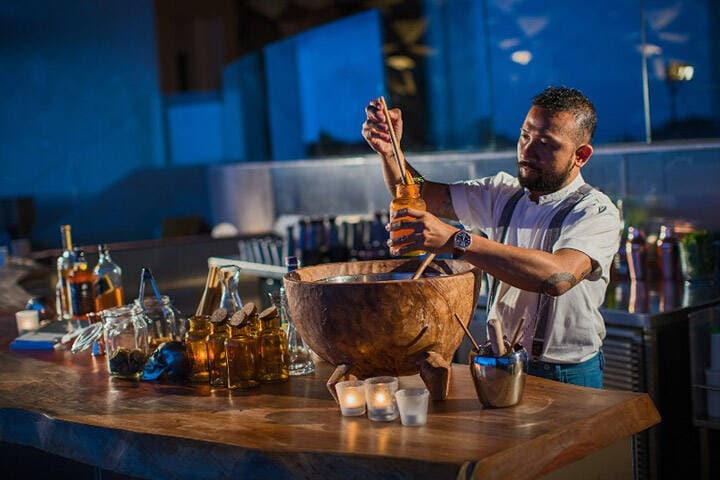 Credit: R Bar Renaissance Uluwatu
R Bar Renaissance is one of the best bars for those looking for handcrafted cocktails, inventive restaurant bites, and memorable vistas in the heart of Uluwatu. Whether unwinding with colleagues, friends, or family after a day at the beach, R Bar provides the perfect social setting to indulge in refreshing iced teas infused with local ingredients while enjoying the trendy and stylish ambience that makes this venue so special.

5. Cliff Bar at Six Senses Uluwatu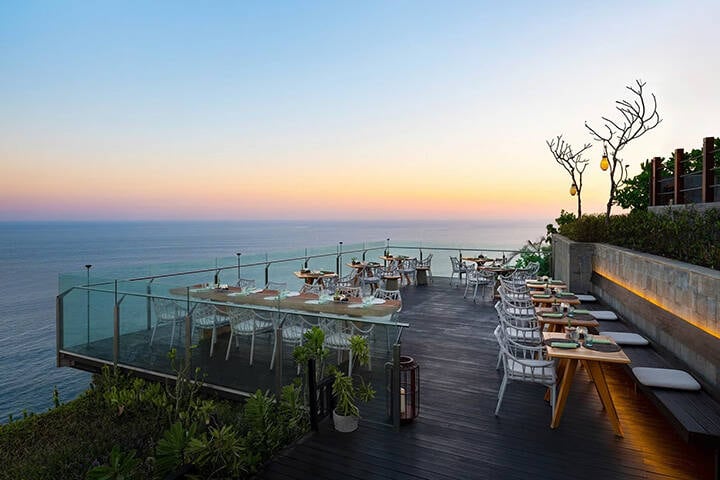 Suspended atop the Pecatu sea cliff, Cliff Bar stands out as one of Uluwatu's most romantic spots to embrace the sunset. Beyond the breathtaking vistas, the culinary experience at Cliff Bar is a fusion of Southeast Asian spices, featuring freshly oven-baked specialities, traditional pizzas, and homemade pasta. The drink menu is equally impressive, with highlights like house kombucha, purple root snow, chipotle margarita, and bananacolada.

Leaving Uluwatu - Where to Next?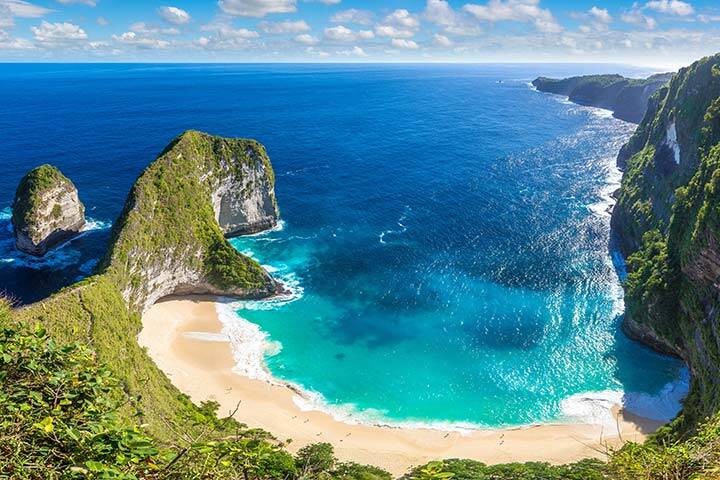 Credit: Sergii Figurnyi from stock.adobe.com
Wondering where to head after your trip to Ulwatu? You have a few options: either visit another popular tourist spot in Bali like Canggu or Seminyak, or take a fast boat to one of the islands near Bali like Nusa Penida or Gili T. Below are instructions on how to get from Uluwatu to other places in Indonesia.