While visitors flock to well-known cities like Sydney and Melbourne, few people realise that Australia is in fact full of regional destinations that play host to spectacular natural and man-made attractions. If you're keen to take the road less travelled on your next holiday, be sure to check out one of these unique Aussie destinations.
Townsville
The tropical North Queensland city of Townsville is a hidden gem, perched approximately 350 kilometres south of Cairns on the famous Great Barrier Reef coastline. There's plenty to do in and around the town, particularly if you're keen to get out and explore the outdoors. Cruise out to the Great Barrier Reef Marine Park for a spot of snorkelling or diving without the hustle of the tourist hotspots further north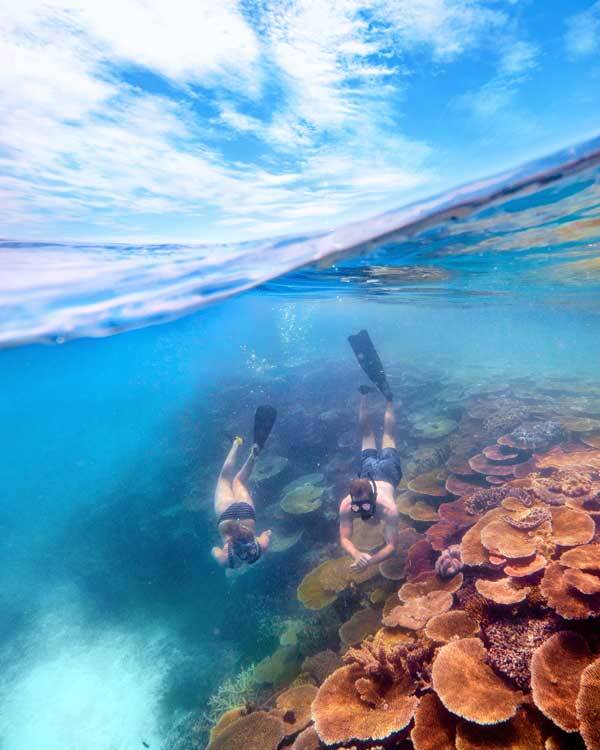 Walker Reef is perfect for all levels of diving experience (Image courtesy of Tourism and Events Queensland)
Take the 20 minute ferry over to Magnetic Island, Townsville's very own island paradise to swim and snorkel off pristine golden beaches, explore the island on foot with the Forts Walk or cruise around the island in a 'topless' car. Visitors keen on diving can spend time exploring the Yongala Wreck, one of Australia's most famous wreck dives which remains in excellent condition.
In town, Castle Hill dominates the Townsville skyline; climb the Cudtheringa Track or one of the many other popular trails for spectacular views of the city and out to Magnetic Island. For dining and entertainment, hit up the Strand, Townsville's thriving foreshore beach with its numerous restaurants, bars and activities. Stretching for 2.5 kilometres, the Strand is also great for walking, running, scooting and riding bikes, and has many playgrounds and a fantastic water park if you're travelling with the kids. 
Mackay
Another North Queensland location that's easy to bypass, Mackay is becoming increasingly popular as a tourist destination. In town, stop and take a dip in the Blue Water Lagoon, stroll through the Mackay Regional Botanical Gardens or dine by the ocean at one of the many cafes and restaurants at Mackay Marina Village. If you're keen to get out and experience Mackay's secret natural wonders, hit up one of the many stunning beaches close to town; there's Bucasia Beach, Black's Beach, Harbour Beach, Dolphin Heads and Far Beach, just to name a few.
For the hikers, there's national parks and wildlife aplenty. Hit the trails at Cape Hillsborough National Park located 50 kilometres east of Mackay and explore rainforest, eucalypt forest, beaches, rocky headlands covered in hoop pines, and volcanic rock formations.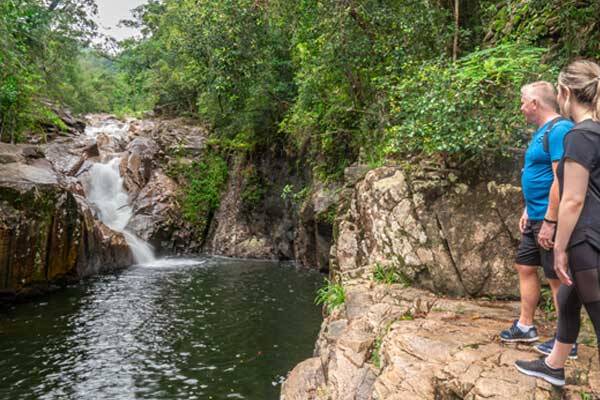 Hiking at Hiking at Finch Hatton Gorge (Image courtesy of Tourism and Events Queensland)
Finch Hatton Gorge is another spectacular location with its waterfalls and sub-tropical rainforest; visitors can swim at the base of the Wheel of Fire Cascades, walk the trails and embark on a bit of bouldering.  Mackay is also within easy driving distance of Airlie Beach, a backpacker hotspot and the gateway to the Whitsunday Islands.
Port Macquarie
Locals have long-understood there are plenty of reasons why the beautiful coastal town of Port Macquarie is a marvellous place for tourism, yet it continues to be an underrated Australian destination. The town and its surrounds is a nature lover's paradise, surrounded by national parks and reserves, with trails for walking and hiking to suit all ages and fitness levels.
Head to Katang Nature Reserve, Kooloonbung Creek Nature Reserve or Crowdy Bay National Park or take on the stunning Coastal Walk, with 9 kilometres of picturesque ocean scenery to marvel at. Be sure to stop in at the historic Tacking Point Lighthouse at the end of the walk and enjoy the stunning views while you're there. Visit the Sea Acres National Park to learn about local aboriginal culture and the park's beautiful rainforest.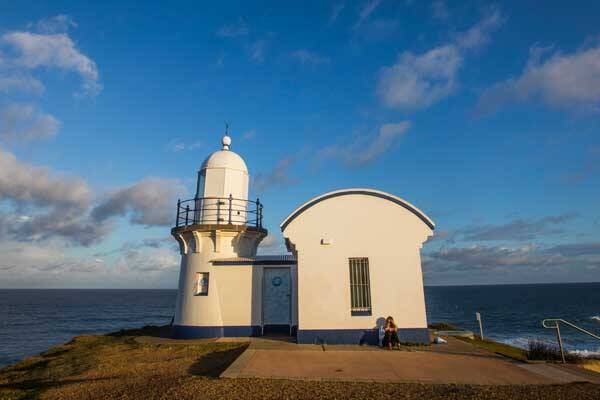 Tacking Point Lighthouse, Port Macquarie (Image courtesy of Destination NSW)
If you're looking for adventure, head out for a jet boat ride around the port, take a dolphin or whale watching cruise or jump on a scenic helicopter or seaplane ride to experience stunning views of the greater Port Macquarie surrounds. The Port Macquarie region is also a surfing lover's haven with Town, Flynns, Lighthouse, Rainbow and North Haven beaches being amongst the best locations to catch great waves. In town, stop in at the Port Macquarie Museum for a look at the region's fascinating history as one of the earliest convict settlements outside of Sydney. 
The Koala Hospital is also a must visit, providing unique insight into koala habitats and only minutes away from the town centre. Port Macquarie is no slouch when it comes to food and wine either, with plenty of cafes and restaurants in town at which to refuel, which make the most of quality food and the  town's relaxed coastal vibe. For the vino lovers, jump on the local wine trail and experience the region's dynamic wine industry.
Newcastle
Newcastle is the second largest city in New South Wales and has been making a splash in the tourism industry for quite some time. The town is best known for its prime position as gateway to the Hunter Valley; located less than two hours drive north of Newcastle, the Hunter is the oldest winemaking region in Australia and best known for its outstanding Semillon, Shiraz, Chardonnay, and Verdelho varieties.  If you visit during May and June, the Hunter Valley Food and Wine Festival will be in full swing, with the diverse food and wine culture of the region on display and leading wine makers and artesian producers showcasing their wares.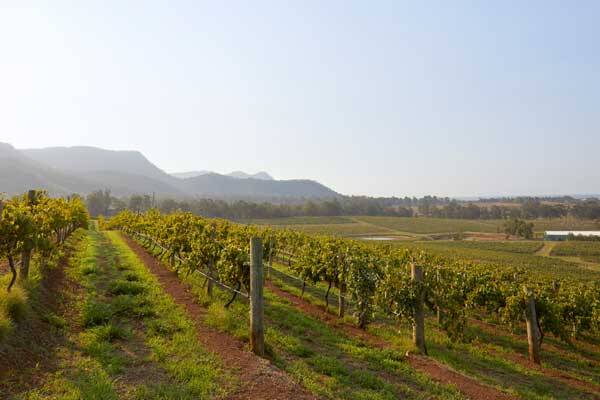 Audrey Wilkinson vineyard, Pokolbin in the Hunter Valley region (Image courtesy of Destination NSW)
In town, the Honeysuckle Foreshore along the harbour has plenty of restaurants, cafes and bars making the most of pristine harbour views.  Newcastle is also well known for its stunning beaches; Newcastle Beach and Nobbies Beach are each close to Newcastle CBD and popular for swimming while Mereweather and Redhead beaches popular for surfers. There's also Caves Beach with rock caves accessible at low tide for exploring. Nobbys Lighthouse at Nobby's Head is well worth a visit; established in 1858, it remains as one of the most visited locations in Newcastle.
The town and surrounding areas also has a variety of walks and hikes on offer; check out the coastal walk of Bather's Way, which stretches from Nobby's Lighthouse to the coastal wilderness of Glenrock Reserve and the early coal workings at Burwood Beach. There's also plenty of walking and riding trails at Glenrock Conservation Reserve and Blackbutt Nature Reserve, with the later home to a range of animal encounter experiences and playgrounds, great for the kids.
Alice Springs
Alice Springs lies in Australia's 'Red Centre' and is the oft-used base for tourists wanting to see Australia's most recognisable icon and the surrounding national parks and spectacular dessert landscape. Head south and slightly west to reach Uluru (also known as Ayres Rock), situated in the Uluru-Kata Tjuta National Park and explore the rock with walks around the base (climbing is strongly discouraged and will be prohibited from October 2019).
Close to Uluru are the Kata Tjuta, or 'the Olgas', comprising of 36 domes of various size. These domes can be explored from various vantage points via several well-trodden walking trails. For something a little more luxurious, stay at Sails in the Desert, a premium resort located less than a half hour drive from Uluru itself, which offers visitors a variety of accommodation styles and activities. There are also plenty of other stunning natural attractions all within driving distance from Alice Springs.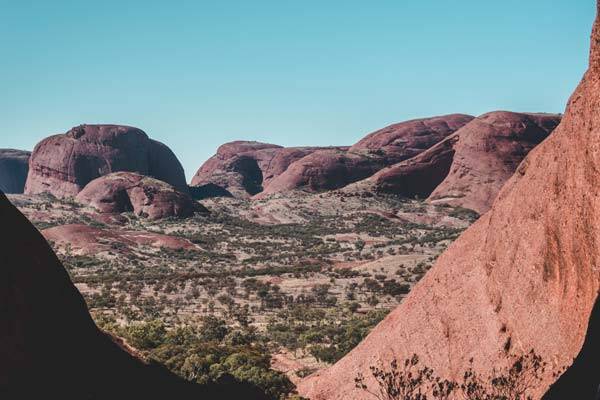 Kata Tjuta (the Olgas)
Join a tour or drive yourself to the East MacDonnell Ranges, home to some of Central Australia's most famous landscapes, aboriginal art and geological rock formations.  In the West MacDonnell Ranges, you'll find one of the world's best walks, the Larapinta Trail. Finke Gorge National Park protects the Finke River, believe to be one of the oldest rivers in the world dating back to 350 million years and has a large network of walking trails, including the sandstone staircase to Kalarranga lookout.  
There's also plenty to do in and around Alice without the need for long drives and hiking boots. Learn about the Australian dessert and its inhabitants with a visit to the Alice Springs Desert Park; purchase a nocturnal experience or an encounter with the Living Dessert, learn about the region's strong indigenous culture and admire stunning desert wildlife with expert guides in small group tours.  Climb up to ANZAC Hill Memorial for a picnic lunch and take in panoramic views of the town and surrounding ranges. Stop in at the Reptile Centre or Kangaroo Sanctuary for an up-close encounter with some of the local wildlife.
Experience the history and diverse culture of Alice Springs at the Araluen Cultural Precinct; here, you'll find the Museum of Central Australia, the Albert Namatjira Gallery, the Strehlow Research Centre, and the Araluen Arts Centre. If you're looking for an authentic souvenir, stop in at the Thursday night markets in Todd Mall.
There are also plenty of dining options in town ranging from modern, sophisticated restaurants to those catering for visitors wanting a true outback experience and offering wild game meat (think emu and kangaroo) and native fruits and berries. For the adventurous, there's camel rides in the desert, scenic flights, hot air ballooning and mountain biking through the rolling hills that surround the town to get the adrenalin flowing.
Kununurra
Located in the north eastern reaches of Western Australia on the eastern extremity of the Kimberly Region, the town of Kununurra is another Aussie town that often is overlooked as a tourism destination, despite its proximity to one of Australia's most spectacular wilderness areas. Plenty of activities and adventures await visitors to the town. One of the more spectacular is Lake Argle, a man-made inland freshwater sea, formed by the damning of the  Ord River.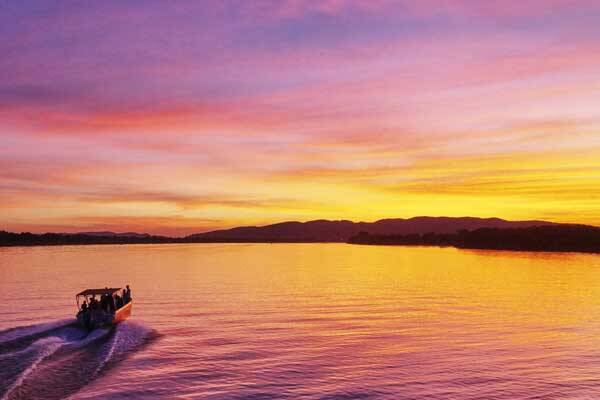 Lake Kununurra (Image credit Tourism Western Australia)
Experience the lake with a boat cruise tour or scenic flight. For a more immersive experience, stay at the Lake Argle Resort and be sure to take a dip in the resort's famed Infinity Pool, with its stunning lakeside views. Experience the Ord River with a leisurely boat cruise or fishing expedition, or picnic on the river bank (always be sure to pay attention to crocodile warning signs!).
In town, climb up to Kelly's Knob Lookout for 360 degree views of the town. Visit Mirima National Park, located just 5 minutes drive from the town centre and home to stunning rock formations with easy walking trails. Explore wildlife and see the Sleeping Buddha rock formation at Lily Creek Lagoon.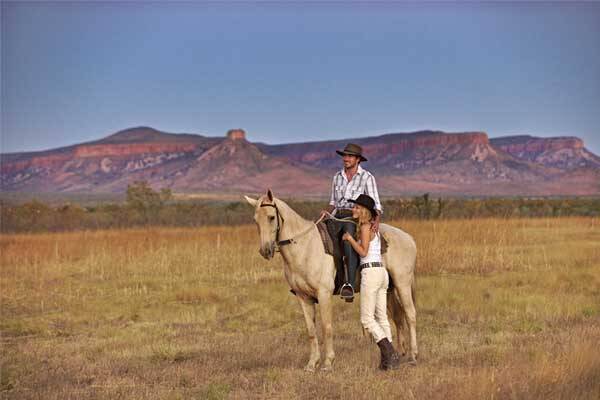 Home Valley Station (Image credit Tourism Western Australia)
If you have time, stay at Home Valley Station and partake in authentic 'bush' activities such as cattle musters, horse riding, natural waterhole swimming, barramundi fishing and more.  For the more adventurous, head out to Purnululu National Park and take a scenic flight over the spectacular rock formations that make up the Bungle Bungle ranges or explore the park with a four-wheel-drive  or guided tour.