There's a lot going on in Adelaide. This is a city of beaches and a city of hills, a city of history and a city of culture. You will find some of Australia's best food and wine in Adelaide. You will find some of its most beautiful parks, its loveliest walking trails, its best art galleries and theatres, and its finest architecture.
With so much on offer, in fact, the main issue is deciding where to base yourself. You can think of Adelaide as a series of villages, in some ways, each with a different atmosphere and set of attractions. Though you can easily move from one to the other during your stay, for true cultural immersion, it's worth looking for accommodation in your suburb of choice.
If you're heading to Adelaide for beach life, for culture, for natural beauty, for gastronomic greatness or a combination of these and more, we have the areas for you to stay.
Adelaide CBD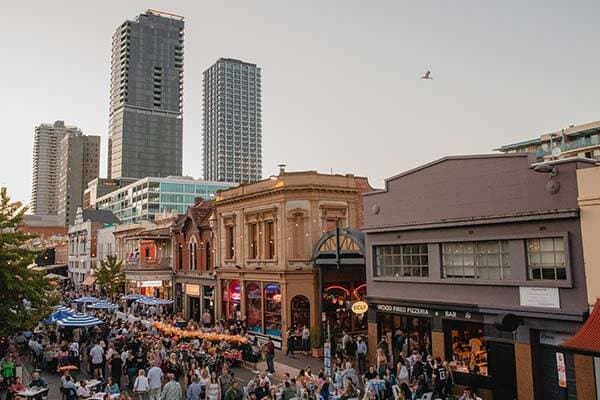 This is where all the action is, in many respects. The CBD in Adelaide is a wide and neatly laid-out area, hemmed in on all sides by greenery in the Adelaide Park Lands, and home to many of the city's cultural attractions. For foodies, this is where you will find Adelaide Central Market, an absolute must to visit in the morning for all sorts of amazing produce, some to take back to your apartment – if that's your style of accommodation – to cook up later, and some to devour on the spot. This is probably Australia's best market, and you have to have it on your itinerary.
Plenty of Adelaide's best bars and restaurants can also be found in the sprawling CBD area. We're talking the likes of Allegra Dining Room, a stunning Euro-style eatery, Africola, a now-famous modern diner with eclectic influences, Madre for Italian perfection, and Fino Vino, the city iteration of the well-known Barossa restaurant.
There's more to enjoy here, of course. The Art Gallery of South Australia, on the CBD's northern fringe, regularly hosts exhibitions of some of the world's most famous artworks. The Adelaide Botanic Garden is a peaceful haven, well worth taking some time to stroll around. The South Australian Museum has a range of exhibits showing Australia's natural heritage. And Rundle Mall is a family-friendly classic.
The CBD is also home to some of Adelaide's best hotels, which is all the more reason to make your base here. The new five-star Sofitel oozes French sophistication, while Eos by SkyCity is a similarly lux property. The Pullman Adelaide, meanwhile, blends affordability with comfort and class.
West End
Though technically you could say this neighbourhood is part of the Adelaide City Centre, given it is within that large CBD square surrounded by parkland, it's worth thinking of the West End as its own distinct destination, mostly because once you set foot here, you won't want to leave. Lonely Planet named the West End one of Australia's coolest neighbourhoods not so long ago, and it's easy to see why: this is the heart of Adelaide's drinking and dining scene, with narrow streets filled with bars and restaurants, not to mention a host of arts and cultural attractions.
To begin with: your accommodation. There are some great hotels in the West End, from the Sofitel – previously covered in our CBD section – to the Mayfair Hotel, a grand five-star property in a revamped, classic old building, to the Stamford Plaza, another highly rated hotel.
Each of those will give you prime access to Leigh St and Peel St, parallel alleyways that feel more like Melbourne than Adelaide, pedestrian thoroughfares lined on each side with places to while an evening away. We're talking Peel St the restaurant, one of South Australia's finest; Leigh Street Wine Room, a classy Euro-style eatery with an amazing drinks list; Bread & Bone, serving laidback dude food that's eternally popular; and Kafana Kitchen, known for its modern take on Serbian cuisine.
Explore the West End during daylight hours and you will find natural beauty and the chance to exercise in Gladys Elphick Park, as well as cultural joy at the Samstag Museum of Art and the JamFactory, a craft and design space. There's usually live music to catch later in the day, too, at Nexus Arts, Lion Arts Factory, and Jive.
Glenelg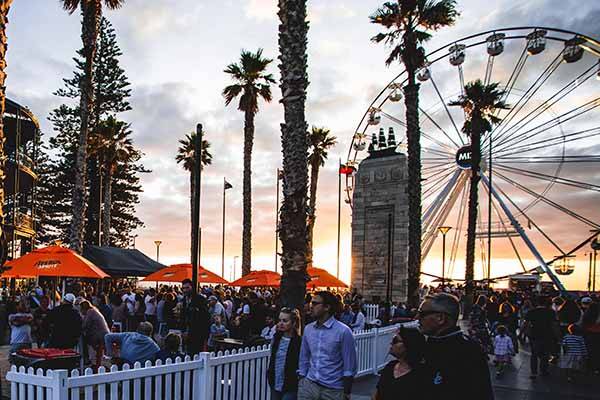 Fancy a break from bustling urban life? Want to have access to all of the cultural attractions of a city without actually feeling like you're in that city? Then the suburb of Glenelg is for you. Glenelg is to Adelaide as Bondi is to Sydney, as St Kilda is to Melbourne: a coastal neighbourhood where everything just feels a bit more relaxed, a bit less stressful. That's not to say there aren't attractions here, however, from trendy eateries to idiosyncratic fashion boutiques to stylish bars and more.
The focal point of Glenelg has to be the beach, where residents come to exercise or relax, and visitors come to soak up the lifestyle. There's a wide pavement on the esplanade, perfect for early-morning jogs or evening strolls, plus the jetty for further exploration, and plenty of places to swim or sunbathe or grab fish and chips and just hang out. There's even an outdoor ice-skating rink set up in Glenelg some winters, which turns beach culture on its head.
Next, come in a little from the beach, dust the sand off your feet and get ready to shop: Jetty Road has a host of boutiques and other fashion stores. This is also the epicentre of Glenelg's drinking and dining scene, highlighted by Polk, a pan-Asian fine-diner that would sit very comfortably among any of Adelaide's city-based eateries. There are, however, restaurants and bars here to suit all budgets and tastes, from Japanese to North Indian to Mexican to Mod-Oz. And there are some great hotels here, too, from the Stamford Grand to the Oaks Glenelg Pier.
North Adelaide
You want a slice of the good life, right? You want to know what it feels like to live the dream in Adelaide, to stay in a fancy neighbourhood in a beautiful house and stroll through parkland and sip coffee at friendly cafes and just soak up the niceness? Then welcome, friends, to North Adelaide, commanding the high ground above the CBD, with views and sea breezes, a city-within-a-city, a world-within-a-world, surrounded by parklands, filled with grand homes and the shops and bars and cafes that service their residents.
There are hotels in North Adelaide, if that's your thing. There's the Majestic M Suites, lovely, fancy. However, for the true Adelaide experience, you want to stay in a house, either a B&B or an Airbnb, something that makes use of this area's history and its charm, something that makes you feel like you really live here, like you belong.
And then you get to explore. North Adelaide is mainly residential, though there are attractions. St Peter's Cathedral is well worth a visit, Adelaide Zoo is here, the Adelaide Oval sports ground is also just to the south, there's the art-deco Piccadilly Cinema, and of course, there is all that parkland, so much room to exercise or just casually stroll.
There's also great coffee at the Flying Fig, classic pub fare at the British Hotel, and pretty much anything that takes your fancy along the restaurant strip of O'Connell St. Welcome to the good life.
Adelaide Hills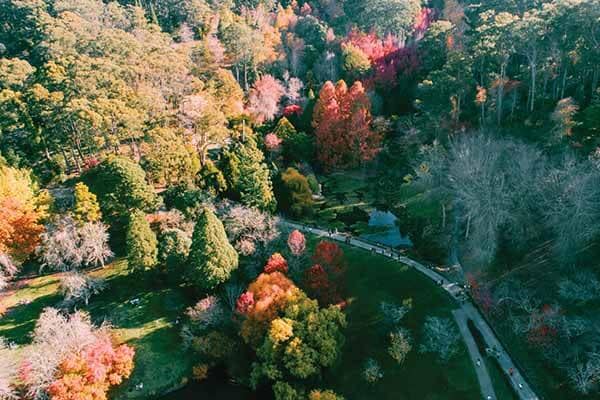 Adelaide Hills. Photo by: Sam Williams
It's true: Adelaide Hills is not technically in Adelaide. And it certainly doesn't feel as if it's in Adelaide. And yet this idyllic getaway is only about 20- or 30-minutes' drive from the city centre. Spend that long in the car in Sydney or Melbourne and you're still pretty much in the CBD. In Adelaide, meanwhile, you've wound your way up into the hills, away from high-rises and sprawling suburbia, and found yourself in the land of Summertown, Uraidla, Stirling, Aldgate and Hahndorf, gorgeous villages, each with their own distinct personality.
To stay, enjoy somewhere scenic and peaceful. Try Mount Lofty House or The Manor Basket Range, or maybe the stunning Sequoia Adelaide Hills. All of these places are beautiful and will allow you access to Adelaide Hills' charms, both natural and cultural. Begin with a walk, perhaps in Cleland Conservation Park, or maybe Horsnell Gully. Work up an appetite, because here you are going to want to eat.
There's great food in the Basket Range area, at the Summertown Aristologist, a natural wine bar, and Lost in a Forest, which functions as a cellar door for cult winemaker Ochota Barrels. Eat traditional German fare in Hahndorf. Pair your lunch with craft beer and spirits at Lot 100. And then go wine-tasting at some of the Adelaide Hills' big guns: Shaw + Smith, Hahndorf Hill and The Lane. Or, of course, you could pop into Adelaide proper – it's only half an hour down the road.