It doesn't take a lot of time or even research to realise that Adelaide is an ideal city for those who love to walk. If you fancy green space and endless room to stretch your legs, simply walk in any direction from the Adelaide city centre and you will hit an expansive natural reserve in the form of Adelaide Park Lands, which is actually a series of 27 interconnected parks that separate Adelaide City from the rest of its suburbs.
And that space is but a mere introduction to the natural delights of the South Australian capital for those with a desire to hike. This is a city surrounded by national parks and other natural reserves, with mountain ranges on one side and pristine coastline on the other, and wine country all around. You'll find beaches to skirt, gorges to explore, waterfalls to view, valleys in which to wander and wonder.
The following are the best hikes in Adelaide and its surrounding area, whether you're up for a short stroll or a serious adventure.
Yurrebilla Trail – Waterfall Gully to Mt Lofty
Distance: 7.8km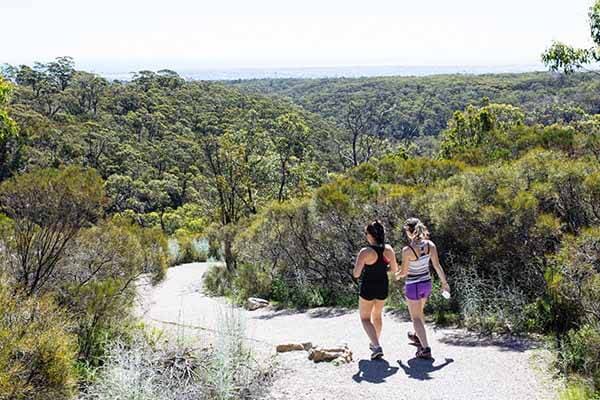 Mount Lofty, Adelaide. Photo by: South Australian Tourism Commission
The Yurrebilla Trail is a beast of a pathway, winding 54 kilometres past the Adelaide Hills' finest natural attractions, from Carrick Hill to Summertown to the summit of Mt Lofty. Though few people will have the time or maybe even the inclination to tackle five full days of hiking, it's possible to bite off small chunks, and perhaps the most scenic and enjoyable of those chunks is the pathway from Waterfall Gully to the Mt Lofty summit.
This is one of Adelaide's most popular walks for visitors and locals alike, so there will be plenty of people out and about as you strap on the hiking books and prepare for a few steep climbs on your way to the summit. It's 7.8km if you're doing the return loop; otherwise, continue on the Yurrebilla Trail to the charming village of Summertown to then make your way back to Adelaide by public transport.
Shiraz Trail – McLaren Vale
Distance: 7.4km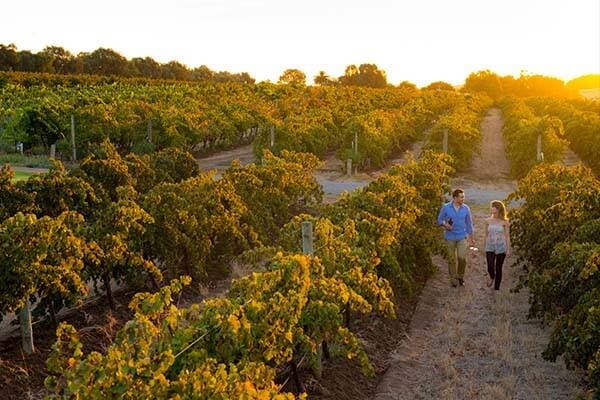 Angove Winery, Fleurieu Peninsula. Photo by: South Australian Tourism Commission/Adam Bruzzone
Obviously, you're going to want to experience some of Adelaide's enviable wine culture while you're in town, both at the city's bars and at the source, in well-known and easily accessible regions such as the Adelaide Hills and McLaren Vale. And why not combine those experiences with a little exercise?
That's what's on offer if you tackle the Shiraz Trail, a 7.4km pathway that forms part of the 38km Coast to Vines Rail Trail in McLaren Vale, just south of Adelaide. The Shiraz Trail begins in McLaren Vale town, ending in Willunga, and is wide and flat, certainly family friendly, and even wheelchair accessible. Be sure to leave plenty of time for this one because it also skirts some of South Australia's finest wineries, and even a brewery or two.
Yellowtail Loop – Anstey Hill Recreation Park
Distance: 7.5km
It's hard to believe you're still technically on the outskirts of Adelaide itself as you tackle the Yellowtail Loop, a pleasant – if perennially busy – hiking track through Anstey Hill Recreation Park in the northern foothills. Here's another one to bring the whole family to, including the doggos, who are allowed here as long as they're on a leash.
For everyone else, there are a few steep sections, but mostly this is a pleasant stroll that brings the chance to spot native wildlife and enjoy some time among the trees in pristine nature. For those who prefer to do their exercise on wheels, there are a heap of mountain-biking trails in Anstey Hill as well.
First Falls Valley – Morialta Conservation Park
Distance: 1.7km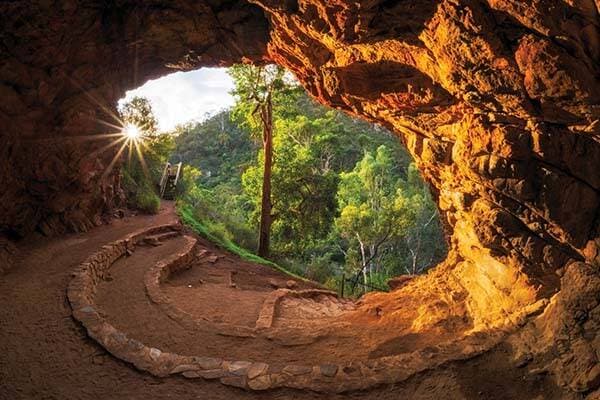 Morialta Conservation Park, Adelaide. Photo by: Joel Durbridge
This is a beautiful hike, but it's also a short one: you could knock this whole thing over in less than an hour. It's the perfect early-morning stroll to get the heart started, or a pre-dinner amble, along a well-maintained track (stroller- and wheelchair-friendly). Given you're only 25 minutes from central Adelaide, either option is definitely doable.
Your reward is a spectacular pathway through Morialta Conservation Park, from which you will be able to see rugged cliffs, babbling creeks and at the end, a towering waterfall. Look up as you go, too, as there's the chance to spot koalas lolling in trees and beautiful native birdlife flitting through the air.
Three Falls Grand Hike – Morialta Conservation Park
Distance: 7.3km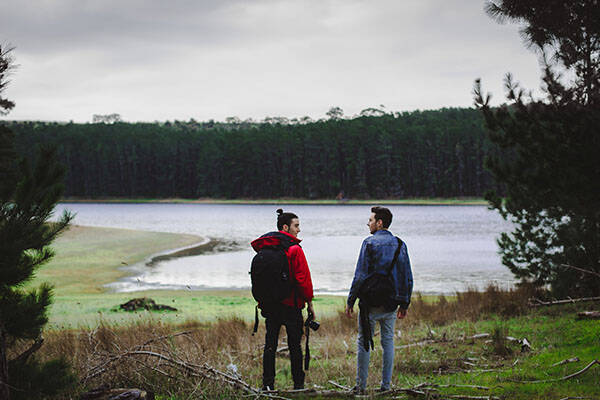 Tasting Australia, Adelaide Hills. Photo by: South Australian Tourism Commission
Those with a little more time and/or energy for their visit to Morialta – directly east of the Adelaide CBD – can opt to do the Three Falls Grand Hike, an extension of First Falls that will take you on a 7.3km circuit that visits all three of the waterfalls in the park. Enjoy stunning views looking back over the gorge and the Adelaide Plains from the upper falls.
Aldgate Valley Nature Walk – Adelaide Hills
Distance: 13.6km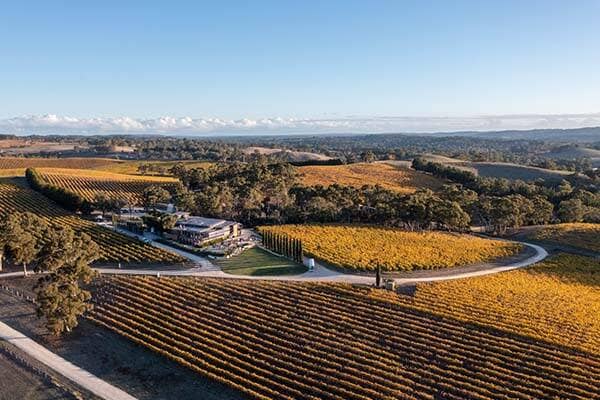 Tasting Australia, Adelaide Hills. Photo by South Australian Tourism Commission
This is the best of both worlds: gorgeous nature and manmade charm, a way to combine the good food and friendly welcome of the Adelaide Hills with a stroll that connects its nature reserves and shows off its environmental highlights. This 13.6km walk is point-to-point rather than a circuit, though both ends are accessible via public transport, meaning you can just leave the car at home for the day.
The trail runs from the town of Mylor to Aldgate, through a mix of quiet country lanes and nature reserves, the likes of Mylor Parklands, Kyle Road Nature Reserve, Nurrutti Reserve and Aldgate Valley Reserve. Along the way, there's the chance to spot kangaroos, possums, echidnas, koalas, and if you're really lucky, the elusive southern brown bandicoot. With great cafes in Mylor and a cracking pub in Aldgate, you can very easily make a full day's excursion out of this.
Beaumont Circuit – Burnside
Distance: 3.5km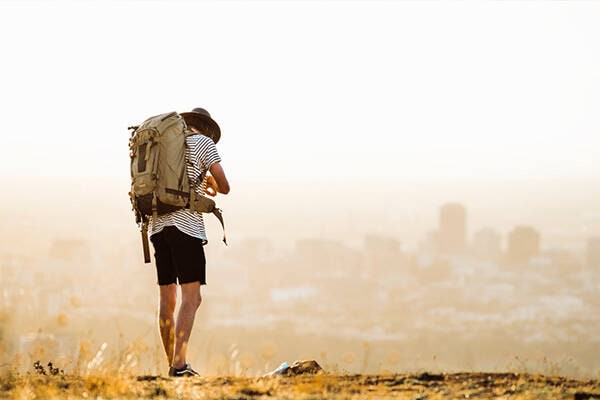 Mount Osmond, Adelaide. Photo by Ryan Formosa Photography
The city of Burnside is really part of Adelaide proper, and you can reach the beginning of Beaumont Circuit – probably the best of the network of Burnside Walks that criss-cross this area – in about 15 minutes from the city centre. Though there are a few steep sections here as you climb through the foothills in Mt Osmond Reserve, this is a trail that can be tackled in a little over an hour, and it's a great way to feel the history of the area – stone was quarried from here in the 1800s to build the Adelaide Supreme Court – while also getting the heart pumping and enjoying the views over Adelaide Plains.
River Torrens Linear Park Trail – Adelaide
Distance: 30km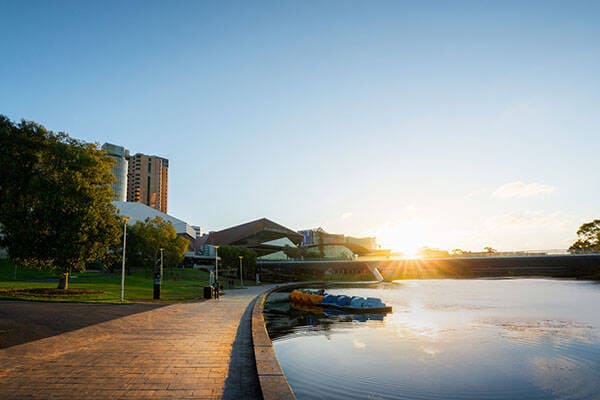 Adelaide. Photo by Ben Goode
What a spectacular and relaxing walk this is, even clocking in at 30km, even taking into account that you will probably need to dedicate a whole day to completing it. The River Torrens Linear Park Trail follows the twists and turns of the River Torrens from Athelstone all the way to its mouth at West Beach. It's the perfect way to see Adelaide, to stroll through its suburbs and even its CBD, in the shade of towering River Red Gums, with numerous picnic spots along the way, not to mention playgrounds, toilet facilities, and plenty of places to eat and drink.
Given it follows the course of a river, this is a gently sloping though very well-maintained trail, and if you don't feel like stomping it out for 30km, there's always the chance to ride a bike which is even more relaxing. The whole lot is stroller- and wheelchair-friendly, and on a nice day, there's nowhere else you'd want to be.
Coast Park Walking Trail - Adelaide
Distance: 70km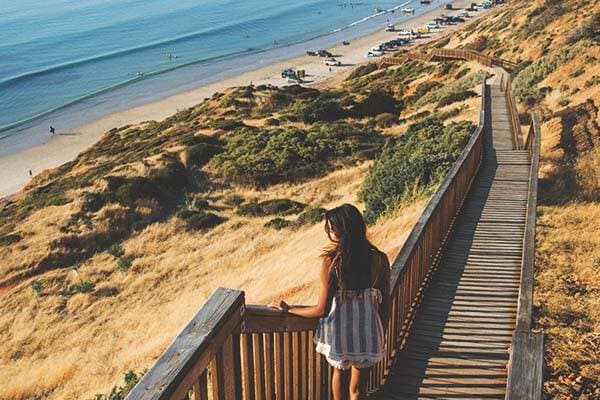 Sellicks Beach, Fleurieu Peninsula. Photo by: Wanida Raksakaew
Here is a proper walk, an adventure you will want to tackle over two days or maybe even three, as you work your way over 70 spectacular kilometres along the Adelaide coastline from North Haven to Sellicks Beach (though there's a small section at Port Stanvac, an industrial area with no foreshore access, that you will have to skip for the time being). The trail here ranges in quality and accessibility, with some sections, particularly in the north, concreted and wide, easy to follow, while other sections, particularly in the south around the Moana Sands Conservation Park, can be on sand or similarly rough.
Still, whether you choose to take this whole walk on, or just try small chunks of it, it's a pleasure to stroll along beachfront after beachfront in Adelaide, stopping for a dip in the ocean every now and then, enjoying a cool drink and maybe some lunch from a beachside café, and taking in the sights and the sounds of Adelaide's coastal life.
Onkaparinga River Hike – Onkaparinga Gorge
Distance: 4.2km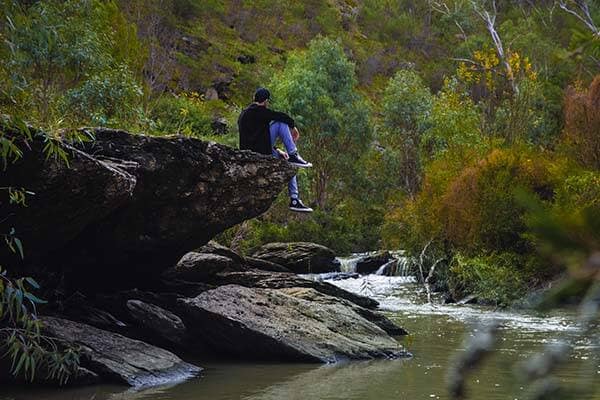 Onkaparinga Gorge
There are plenty of gorgeous hikes in Onkaparinga Gorge, about 40 minutes south of central Adelaide, across clifftops and down to waterholes. Our favourite, however, is the River Hike, a 4.2km return trip that offers some challenging terrain, with a long downhill slope into the gorge, and then – you guessed it – a long uphill slope to get back up to the trailhead. It's worth it, though, to enjoy the stunning views of the gorge, the river and its various waterholes, to see rugged cliffs and tree-lined grassland and to marvel at the fact that still, even here, you're so close to the city.