However, when travellers think about a wine region to visit, their minds usually turn straight to the Barossa Valley. But there's another option: McLaren Vale. Located just 30 kilometres south of Adelaide, McLaren Vale – the town at the region's heart goes by the same name – is home to some of the oldest vines in the country. The first grapes were planted here in 1838 and, because South Australia remained free from the phylloxera, some of those vines remain. Paxton Wines, for example, has 1.6 hectares of shiraz vines that were planted in 1887, making it one of the oldest surviving vineyards in the region.
Another of the region's key features – its stunning coastline on the Gulf St Vincent – also has an impact on its wine. It provides a Mediterranean-style climate and one of the most geographically diverse growing regions in the country, which means vastly different terroir across its 430 square kilometres.
The result? When touring McClaren Vale cellar doors you'll taste an incredible variety of wines. Plus, you can snorkel the reef at Port Noarlunga Beach or surf the break at Moana Beach. Here's how to make the most of your visit, whether you're on a day trip or a long weekend, to the McLaren Vale wine region.
A Region Like No Other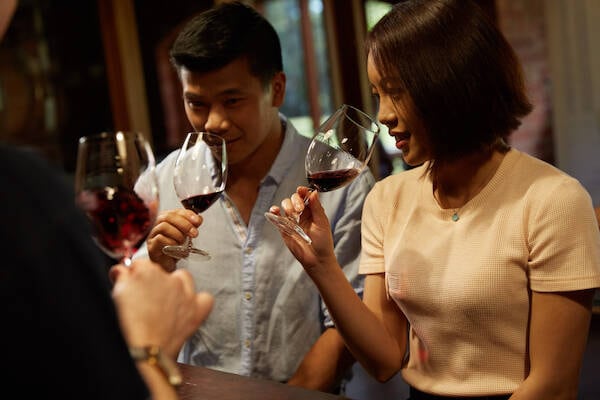 Photo by: South Australian Tourism Commission
McLaren Vale is famous for its shiraz, but here it's a little different to what's produced in the Barossa Valley. The Barossa is known for its impactful version – full bodied with loads of dark berries and chocolate – thanks to long, hot summer days and cold winters. McLaren Vale's Mediterranean climate produces a more subdued, approachable shiraz that still has plenty of complexity, with pepper, spice and red berries.
But when you're exploring the more than 80 McLaren Vale cellar doors, look also to the excellent grenache and cabernet, as well as Italian varietals such as fiano, vermentino, sangiovese and tempranillo.
Use this guide to create your own map of McLaren Vale cellar doors then get to collecting bottles to stock your cellar at home.
Lunch in the Vines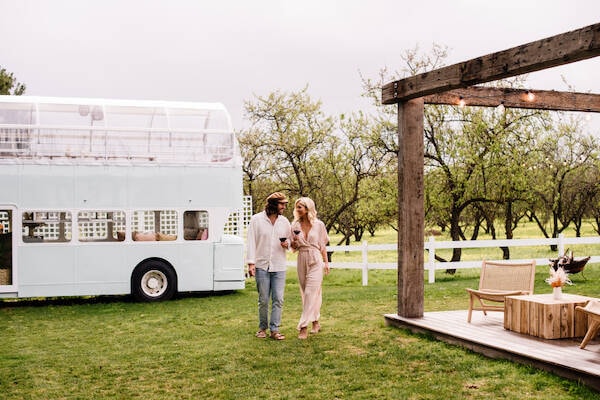 Photo by: Meaghan Coles
Down the Rabbit Hole is well known for its tastings held on a vintage double-decker bus, but it's well worth booking lunch, too. The stylish restaurant serves dishes made from local, seasonal produce – think the freshest organic vegetables, South Australian seafood and more. During the week, choose two or three courses from the à la carte menu; on the weekend, it's a generous set 'feed me' menu designed to be shared.
Looking for something light? At Beach Road Wines, team the Italian varietals – a glass of fiano or Nero d'Avola, for example – with a pizza from the wood-fired oven.
The kitchen garden is an important source of produce at Coterie, Woodstock Wine's restaurant. Combine small plates like grilled haloumi with citrus salsa with bigger dishes – Kinawooka mussels with riesling and butter sauce, braised beef cheek with cabernet sauce and garlic mash – and beautiful green sides. If you've got the kids with you, spend some time afterwards wandering around the property's wildlife sanctuary, where there are rescued kangaroos, koalas and emus.
For the ultimate celebration, book the eight-course degustation at d'Arry's Verandah Restaurant. Part of the d'Arenberg Estate, it's set in a restored nineteenth-century homestead with incredible views of the surrounding vineyards. The menu is seasonal – in winter, there are dishes like beef fillet with truffled potato galette – and matched to d'Arenberg's finest wines.
Tastings with a Side of Art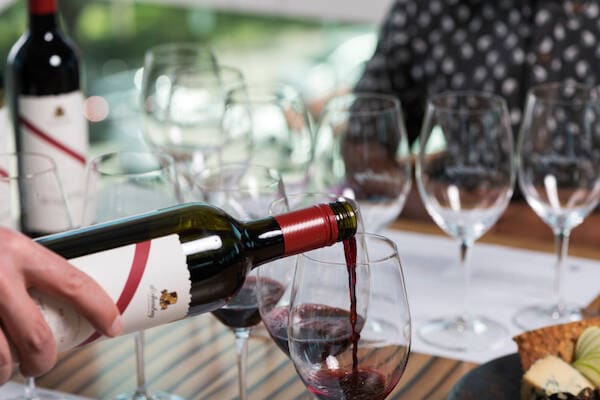 You'll likely have seen photos of it – a cubist fantasy erupting from vineyards. It's the d'Arenberg Cube, opened in 2017, and an instant McLaren Vale landmark. And while the structure may be new, d'Arenberg is a classic – the Osbournes have been making wines under the label since 1912, with Chester Osbourne the fourth generation of the family to create distinctive wines. The d'Arenberg cellar door is on the top floor of the five-storey cube – to make the most of the panoramic views to Gulf St Vincent – but leave time to make your way around the exhibition of Salvador Dalí's sculptures and artworks, the contemporary art space, and the Alternative Realities Museum, with its wine aroma room, virtual fermenter and other tactile experiences.
Fleurieu Arthouse shows the work of local creatives in a series of exhibitions, but you can also see artists at work in their studios and visit the store filled with locally made art, homewares and gifts. The gallery is on the grounds of Hardys Tintara, so grab a glass of wine from the cellar door and go for a wander.
Once-in-a-lifetime Cellar Door Experiences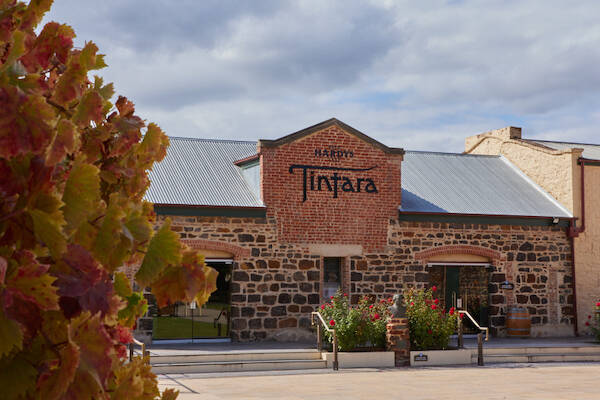 Photo by: Safari Global
Perhaps you're a connoisseur of wineries and are looking for a something a little different. You won't be disappointed, because McLaren Vale has one-off experiences, too.
If you've ever wondered how all the senses work together to create what we experience, book Tasting in the Dark: A Sensory Experience at Hardys Tintara cellar door. In the private cellar, guests are blindfolded and led on a tasting of four Hardys wines. Having your sight taken away allows you to focus on the tasting process and expand your knowledge and vocabulary.
Once a month at Gemtree Wines, Ngarrindjeri elder Mark Koolmatrie leads guests on a walk through regenerated bushland and along the Gemtree Eco Trail. Along the way, Mark explains the role of the wuldi (eagle) in the landscape, shares the stories of his people and explores the ways we can protect and nurture the land and waterways. Afterwards, at the Gemtree cellar door, there's the chance to chat more over a native food plate and a flight of the vineyard's biodynamic wines.
Over the years, you've likely imbibed a glass or two of Wirra Wirra Church Block, first made by winemaker Greg Trott in 1972. Trott used a blend of grenache and shiraz – now called the Original Blend – but it's now also commonly made using cabernet sauvignon, shiraz and merlot. If you're interested in the history of Church Block, join Trott's Tales at the Wirra Wirra cellar door, which includes a back-of-house tour followed by a seated tasting, accompanied by local cheese.
McLaren Vale Icons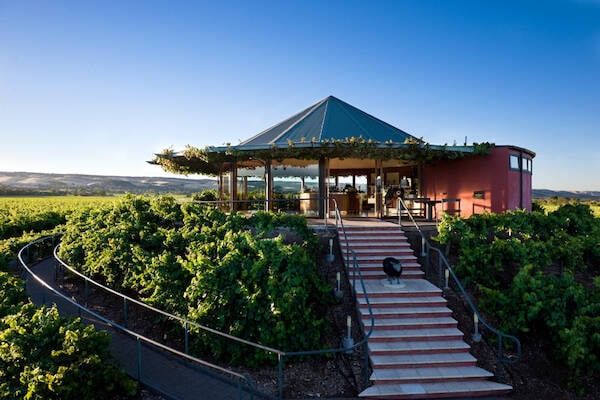 Photo by Hugh Hamilton Wines
It's one of Australia's best-known wine brands, and it all started here in 1878, when Thomas Hardy transformed a flour mill into a winery. With its incredible sense of history, a visit to the Hardys Tintara cellar door is about more than tasting the excellent wines with which you're likely already familiar. You can choose to sample cellar door-exclusive varietals, explore the history of the brand in the Fortified Room, or head onto the winery viewing platform to peer down at the plungers, basket presses and fermenters.
In 1890, the youngest sons of UK immigrants bought farmland in McLaren Vale and began planting vines. Bert and Fred Kay's first vintage in 1895 saw them produce 9,000 litres of a dry red wine for export to England. The Kay Brothers vineyards of mataro, grenache and shiraz continued to expand, and various members of the family took over as the years progressed. Book a guided tasting in the heritage cellar door – choose from Kay Brothers' hero varieties, its reserve range or fortified wines – or find a spot on the deck overlooking the vineyards and Mount Lofty Ranges for charcuterie platters with a glass of wine.
As you head up the stairs to the Hugh Hamilton cellar door, you'll pass a black sheep. The sculpture is a reminder that, although there is 180 years of serious wine-making history here, life is about having fun. Set amid the vines, the cellar door has 270-degree views of the winery and the landscape beyond. Here you can taste some of the wines for which Hugh Hamilton is famous, including its alternative varieties like saperavi, as well as the incredible shiraz and cabernet sauvignon.
The Lloyd family has been making wine for more than 50 years in McLaren Vale. Taste their wares, which run the gamut from chenin blanc to shiraz, at the Coriole cellar door. Set in a converted ironstone barn, it's surrounded by a vibrant cottage garden established in the 1970s.
McLaren Vale's New Breed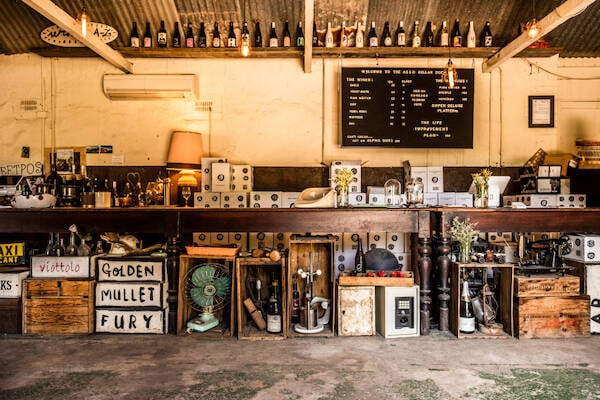 Photo by: Alpha Box & Dice
Being one of the country's oldest wine regions doesn't exclude McLaren Vale from innovation. At Alpha Box & Dice, there's a project called Alphabet of Wine, where each letter celebrates the diversity of styles found in South Australia. For example, M is for Mistress, a tempranillo that's a tribute to those who work during vintage and, in the words of winemaker Sam Berketa, "sacrifice family, friends and relationships to turn great grapes into fine wine". Taste the range at the cellar door, located in a heritage-listed barn, or buy a bottle and a platter and spread your picnic rug on the grass outside.
It has vineyards in two parts of McLaren Vale with very different terroir – sandy Blewitt Springs and rocky Tatachilla – and the winemakers at Dowie Doole have always used biodynamic techniques to ensure the land was protected for future generations. In 2019, they added the Tasting Pod, an eye-catching cellar door made from shipping containers, where guests can choose from three guided tasting flights.
Looking for premium wine you may not have tried before? French-born winemaker Emmanuelle Bekkers handcrafts small parcels of grapes grown by her viticulturist husband Toby to create (mainly) red wines available in very limited quantities at premium retailers, high-end restaurants and at Bekkers cellar door. Take a seat where you can enjoy the sweeping views and settle in for a guided tasting where you'll discover what makes McLaren Vale a world-class wine region.
Cycle the McLaren Vale Shiraz Trail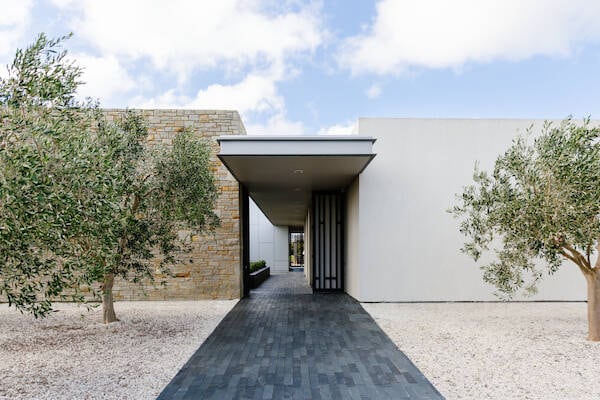 Photo by Josh Geelen Photographer
Add an element of adventure to your wine tasting by hitting the Shiraz Trail on two wheels. The eight-kilometre crushed gravel path follows the old rail corridor from McLaren Vale to Willunga. As well as beautiful countryside to ogle, there are plenty of vineyards to visit along the way, including Oxenberry Wines, d'Arenberg, Wirra Wirra and Hugh Hamilton Wines.
Be sure to stop at the Primo Estate cellar door, where the elegantly designed tasting room is exactly what you'd expect from the Grilli family. Plus, when you taste wine here it comes with fresh bread and Joseph olive oil, made from fruit grown on the property. Another Italian classic along the Shiraz Trail is Serafino Wines. Its cellar door overlooks a lake, vineyards and 200-year-old gum trees. There's an extensive range of shiraz available, as well as plenty of Italian varietals.
When you make it to Willunga, Hither & Yon has an intimate cellar door in what was once the town's butcher shop. There's a tasting list of six seasonally changing wines on offer.
If you haven't brought one with you, you can rent a pushbike from the McLaren Vale and Fleurieu Coast Visitor Centre.
Sleep Among the Vines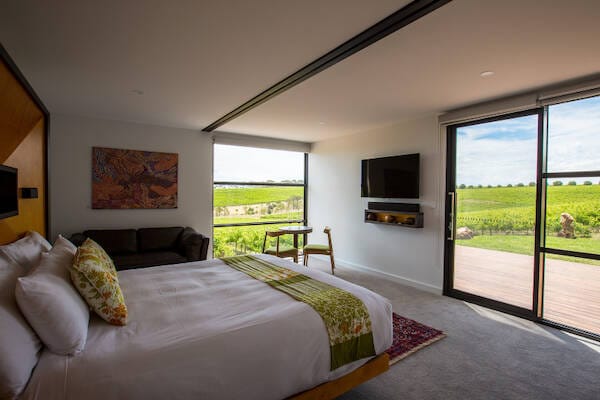 Photo by: South Australian Tourism Commission/Josie Withers
There's so much to do – and taste – in McLaren Vale, it's relaxing to stay for a night or two and explore even further.
At Inkwell Wines, settle into Hotel California Road. This micro offering has just three suites, each with a private deck overlooking the vines, custom-made king-size beds and bathrooms with a glass wall so that you can soak in the tub while staring at the landscape.
Serafino has 30 four-star rooms, including several deluxe spa rooms, set beneath towering gum trees. There's an onsite restaurant and cellar door, and the relaxing grounds are a haven for wildlife.
The Vineyard Retreat has six luxury guest houses, all with individual styles, set in vineyards. There are another two guest houses set on the main street of McClaren Flat. Each has a complimentary mini bar stocked with local provisions and there's a jacuzzi set high in the vineyard with views over the gulf. As you ease into the bubbles, a glass of local shiraz ready to go, you might never want to leave.