For the Instagrammer in all of us, we love the allure of photos and videos to tell our own story and to learn more about others, don't we? A quick check-in on 'the gram' is a diversion from the drudges of work and can lift our spirits for the rest of the day. No matter if you're travelling the far reaches of the world or seeing your own backyard for the millionth time, social media can encourage us to see things differently. Here are some of the most beautiful places in Adelaide that you'll want to tick off your list, and where you'll get the perfect shot for your feed.
For Insta romance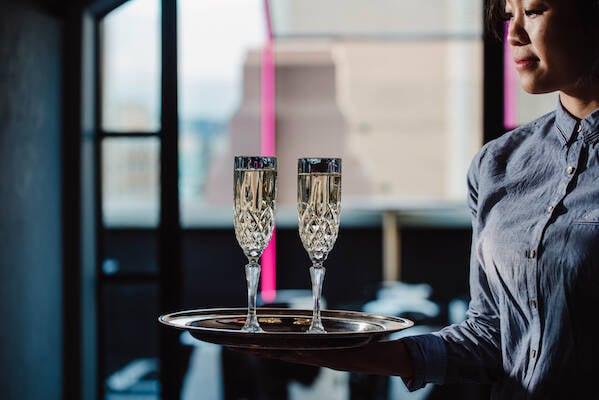 Photo by: Meaghan Coles, Hennessey Rooftop Bar, Mayfair Hotel
The best view of Adelaide? You might find it here. Scenery and seduction go hand in hand and what better place to ratchet up the amour than on one of the swoon-worthy rooftop bars with a crisp glass of bubbles? 2KW in the city centre proffers a chic terrace or dreamy LA-inspired private cabanas, both of which set the scene for some shameless flirting. Nearby, the Hennessy Rooftop Bar, melds heritage-listed elegance with a genteel lounge vibe, of finely veined marble and crystal chandeliers, perfect for taking in the sweeping views of Adelaide… and each other. As long as you're not leery of heights, the Merrymaker (the tallest rooftop bar in the city) might well be the choice for you. Reach up to the stars that blanket the sky and delight in brilliant pops of colour for vibrant backgrounds. Your perspective of the Adelaide Hills from this height is spectacular.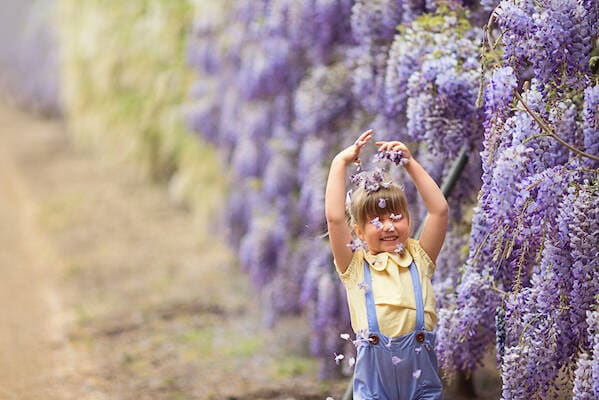 Photo by: Megan Crabb, Adelaide Botanic Garden
Let the littles run free amongst living specimens, smelling and feeling along the way. Greenery surrounds make for brilliant shots and everyone looks good in nature. At the Adelaide Botanic Garden, entry is free, and a convenient tram brings you all right to the Main Gate. The First Creek Wetland is not only beautiful, but functional, and the pathways along the pools lead to a collection of 20,000 plants, most which are Australian natives and many which are rare or endangered. Purpose driven, the Little Sprouts Kitchen Garden aims to help children understand where food comes from. Inside, find bee hotels, herb gardens, worm farms, compost heaps, fruit trees and the like. The photo ops are endless.
For Insta animals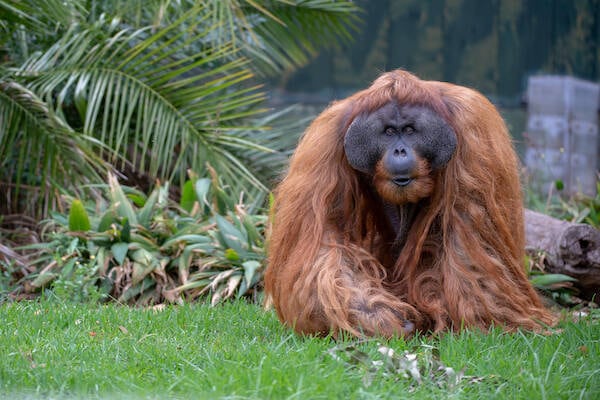 Photo by: Adrian Mann, Adelaide Zoo
Pop into the iconic Adelaide Zoo for a peek at penguins, pandas and more. A focus on conservation makes this institution a place for education amongst our living world. We recommend one of the Animal Experiences, where guests are granted up-close-and-personal facetime with zoo residents. There's lots to choose from including giraffe feeding, with their long purple tongues slobbering for your carrots, and meeting meerkats as they skitter over your lap for treats and play. Rotating pop ups, like the nocturnal light creatures and the Teddy Bear's Picnic offer year-round excitement and something for everyone. Keep you camera ready for unexpected moments.
For Insta beach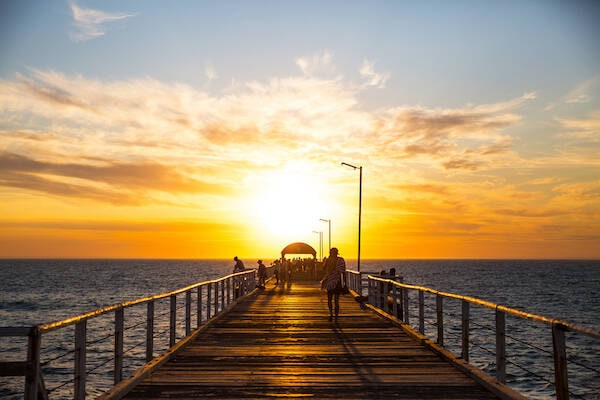 Henley Beach Jetty. Photo by: Josie Withers, South Australian Tourism Commission
Soak up the sun and forget everything that has you worried as you gaze into the deep blue yonder from the shores of Henley Beach right off of bustling Henley Square. Sophisticated and super friendly, waves play upon the sand from your spot of paradise, and it's a simple pleasure to relax into the rhythm of the surf. Build castles with moats, read the latest beach book or simply cover your face with your cap as you snooze to the soundtrack of seagulls squawking. The picturesque 139-year old Henley Beach Jetty, which received a major upgrade in late 2018, oozes with charm and practically demands a photo, so don't miss out on doing just that. At Second Valley beach, just a quick hour and twenty minute drive south, distinctive rock formations and calm snorkelling conditions next to Encounter Marine Park make for a delightful day.
For Insta bush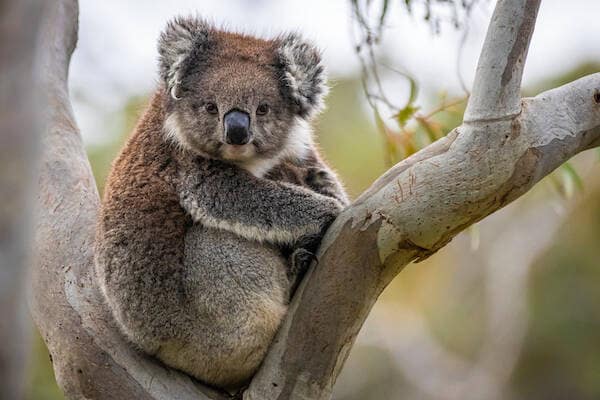 Belair National Park. Photo by: Brad Leue
Tie up your hiking boots and get into the bush. Nature is calling and she's ready to deliver. Belair National Park, just 13 km from Adelaide is a world away from the rush-rush of daily life. Choose from nine meandering trails surrounded by serenity and take in the natural flora and fauna like kangaroos, koalas, emus, echidnas and bandicoots. Grab snaps of soaring birdlife, the sheltering protective canopy of the gums and perhaps bring your own picnic basket to make the most of the lakes and creeks. South Australia's oldest national park, visitors to Belair can also enjoy inspecting the native plant nursery, Adventure Playground and, if you bring a torch, a walk through Echo Tunnel.
For the Insta foodie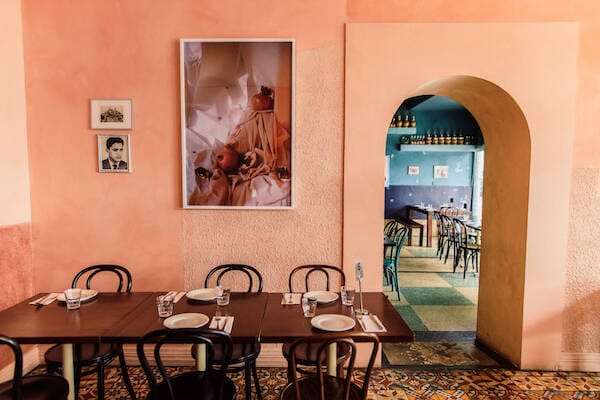 Parwana Afghan Kitchen. Photo by: Duy Dash
Don't mistake the approachable friendliness of Adelaide with a lack of refinement when it comes to the culinary and wine space; this is a city surrounded by 18 world-renowned wine regions. Some of the country's best restaurants and wineries are in South Australia, and the most difficult part of your itinerary will be choosing which ones to visit. In Adelaide proper, ethnic foods are legendary and diners are elated at their choices. Devour the best Algerian tagine of your life at Le Souk, twirl the MasterChef maven Laura Sharrad's pappardelle the Italian way at Nido and tuck into the beautifully delicious simplicity of Uyghur cuisine at Tangritah Uyghur Restaurant (Adelaide has the largest Uyghur community in Australia.) For those with deeper pockets or for special occasions, fine-dining here is a bucket list tick-off for many, and dishes are plated with thoughtful artistry. Prepare to have your senses awakened with the freshest hyper-local produce at Hentley Farm. A short distance away, d'Arenberg winery holds court with its iconic wine and art filled cube and lunch degustations are curated and clever at d'Arrys Verandah overlooking vineyards into forever. You're going to need your stretchy pants.
For Insta architecture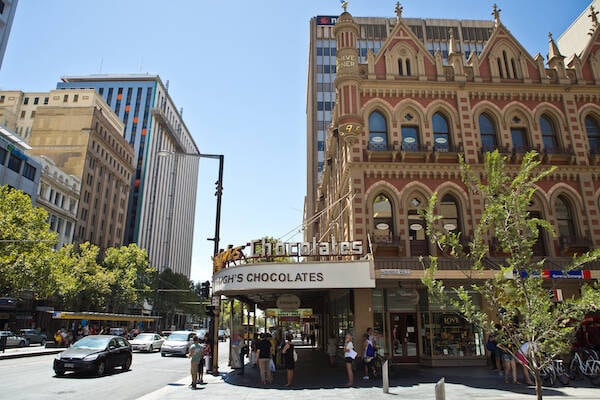 Rundle Mall. Photo by: Josie Withers, South Australian Tourism Commission
Modern structures built more for function and utility sit next to beautiful historic buildings in Adelaide, nicknamed, "The city of churches." Proud of its architectural heritage, there are organised tours visitors can take, though many prefer to stroll the sidewalks and see for themselves. Beehive Corner boasts a riveting gothic revival style facade that once housed a busy shopping area for Adeladians. Up top a gilt beehive adorned the entrance, and it's still a landmark today. Don't leave without purchasing some Haigh's chocolates in the prime corner spot. At Victoria Square, also known as Tarntanyangga, a number of the city's most prestigious buildings are on display including the Roman Catholic Cathedral Church of St Francis Xavier. In the Neoclassical style, Parliament House replaced one that was before, stuffy and too small for its citizenry. Impressive and imposing, the ten columns make a dignified statement.
For Insta culture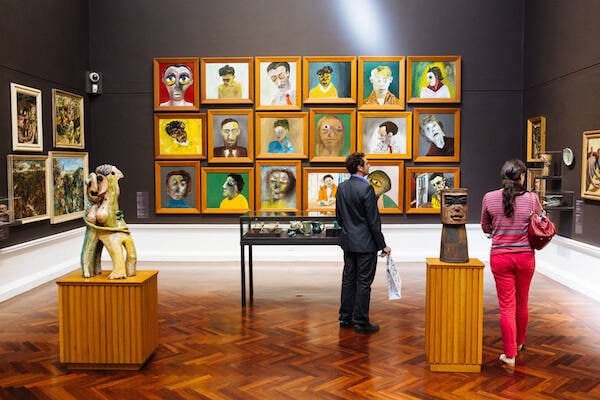 Art Gallery of South Australia. Photo by: Andre Castellucci, South Australian Tourism Commission
Free to enjoy and promising a day you won't soon forget, explore your inner art critic and fall in love with the Art Gallery of South Australia. More than just paint on canvas and look-don't-touch exhibitions, the experience here is one of immersion and process. Over 47,000 works of art spanning 2,000 years await your discernment, and special programming and performances ensure accessibility for everyone. Visitors are encouraged to take their time and wander at their leisure, and photos inside the museum are permitted provided there is no flash. Art gallery guests who are so inclined, can search the online catalog prior to their visit to plan their visit if they wish. For a different type of culture, check out the German-style town of Hahndorf, which lies just 30 minutes from Adelaide. Beautifully picturesque, you can also pick your own strawberries here at Beerenberg Farm from November to April.
For Insta pets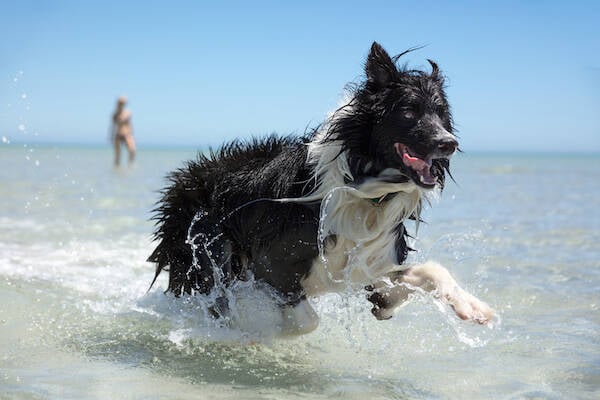 Coffin Bay. Photo by: Jem Cresswell
The pure pleasure of our pet's company is something we've all gotten used to over the last several years, and many of us now take them with us wherever we go. Options for accommodations that accept pets are on the rise, thankfully. The mainstream Hilton Adelaide will let you bring your best mate, as will the luxury hotel Mayfair and the boutique Adabco. Even cafes and pubs are getting into the trend with The Havelock Hotel (locals call it 'The Havey') going above and beyond with their doggie menu and special blankets. At Little Bang Taproom and Brewing enjoy your choice from the 21 selections on the rotating tap whilst your alcohol-free furrend judges you in silence.
For Insta baristas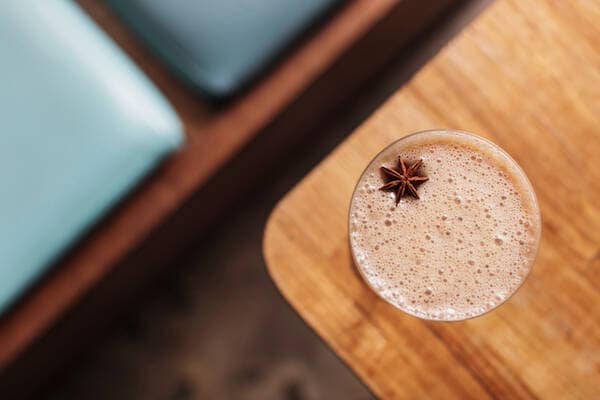 Gondola Gondola. Photo by: Lewis Potter, South Australian Tourism Commission
Appreciate the art of the perfect coffee at one of Adelaide's many cafes. Sidewalk seating brings the outdoors in at Exchange Specialty Coffee, one of the local's favourites that also puts out a great brekkie. In one big, light-drenched space, Elementary Coffee serves up what many call the best brew in Adelaide, and roasting is done on site for an aroma that will wake you up as much as your java does. A tip? Try the peanut butter and smoked hot chocolate smoothies – you're welcome. At Cafe Troppo, green space and warm woods make for a casual laid back vibe where plants burst from pots and sustainability is high on the list of priorities. It's a gorgeous space and just the place for some well-lit photos.