To help you curate your next great holiday getaway, we've put together a list of 25 incredible experiences, ideas and destinations that are set to define post-pandemic travel. Where will you go to first?
1. Marvel in the wonder of the Great Barrier Reef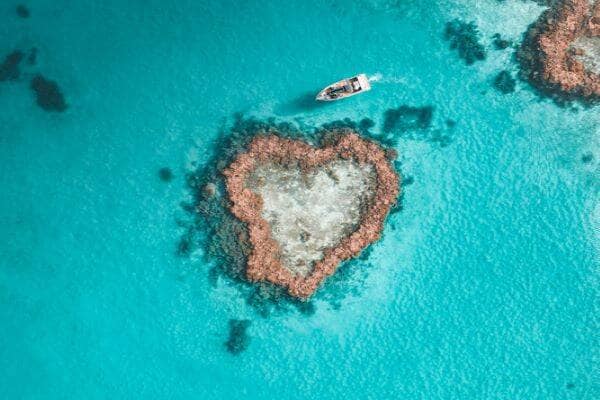 Heart Reef, Great Barrier Reef, Queensland. Photo by: Salty Wings / Hamilton Island
The best thing you can do for the reef in 2023? Go and see it! Every dollar poured into the region funds its future – even park entry fees go straight into reef care. But after a few years of no tourism, there is a lot of catching up to do. Karen McGhee, Australian Geographic's science and environment editor says, "It remains one of the most spectacular natural habitats in the world." McGhee's tip is to head south, around Lady Elliot, Heron and Lady Musgrave islands. "They are simply stunning places to dive and snorkel: crystal-clear waters and loads of marine wildlife, from manta rays to green turtles," she says. "There really is no better time to see the Great Barrier Reef than now ... but go lightly, and be sure to leave as little impact as possible."
2. Hit some of the best roads in Australia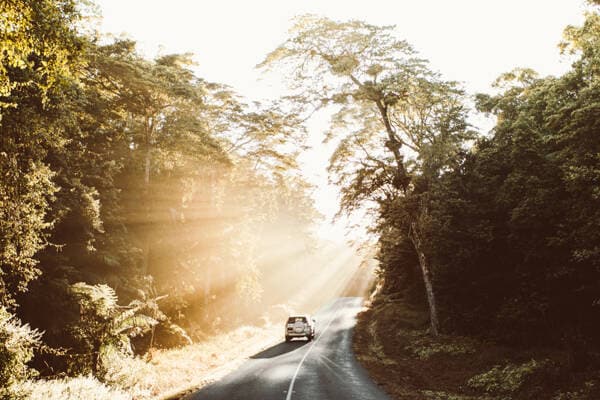 Road tripping the gorgeous Mackay region, Queensland. Photo by: Visit Mackay
While they might be the experts, road trips are no longer just for silver nomads. Travelling on four wheels provides the opportunity to explore off the beaten path and discover sights beyond the main sightseeing hotspots. Lee Atkinson explored the best Australian destinations for over-50s, but we think they're the best road tripping destinations for any age. Her tip? Discover the Pilbara – an often-overlooked and remote area of north-west Australia. "It gets my vote as Australia's most underrated landscape," says Atkinson. "See thousands of rock art engravings on the Burrup Peninsula, explore the gorges of Karijini and the Outback oasis of Millstream Chichester National Park. It's grander, more expansive and much more majestic than most people ever imagine. It really is the wild west."
3. Explore the accessible Great Ocean Walk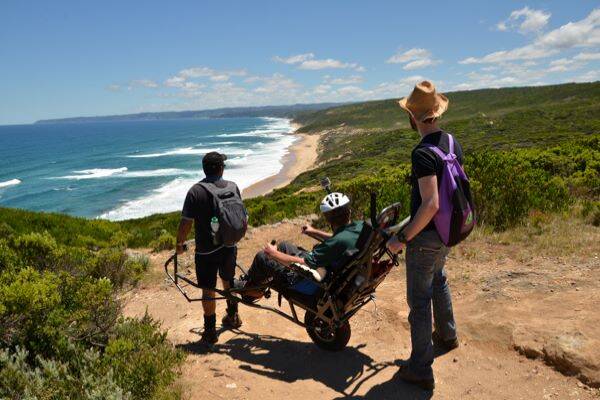 One of the fantastic TrailRiders being put to work on The Great Ocean Walk, Victoria. Photo by: Visit Victoria
No longer a sideline niche, accessible travel is worth a potential $8 billion to the Australian economy each year. And Parks Victoria is leading the way. Julie Jones of Have Wheelchair, Will Travel seeks out "exceptional accessible experiences" for her wheelchair-using son. "Parks Victoria's commitment to accessibility is extensive, with the free use of TrailRiders (all-terrain wheelchairs) and a unique Sherpa service to help use them within its parks," she says. "Exploring Australia's wilderness and providing the adventurous life our son craves is enabled by experiences like this."
4. Get cosmopolitan in Brisbane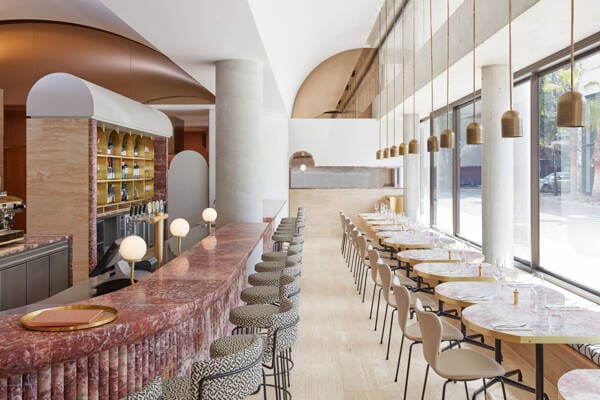 Pastel-splashed interiors at The Calile hotel, Brisbane. Photo by: Sean Fennessy, The Calile
After an influx of new residents from down south and the progression of development since the pandemic, QLD's capital is where it's at. Broadsheet's Brisbane editor, Matt Shea recommends setting foot in Fortitude Valley. "Explore the eateries and boutiques in Ada Lane opposite The Calile Hotel in the north, right down to star chef Ben Williamson's restaurant, Agnes." The old warehouse restaurant where everything on the menu comes smoked in their expansive wood fires is adding plenty of colour to the Valley's grungy heart.
5. Take in awe-inspiring views in Ubud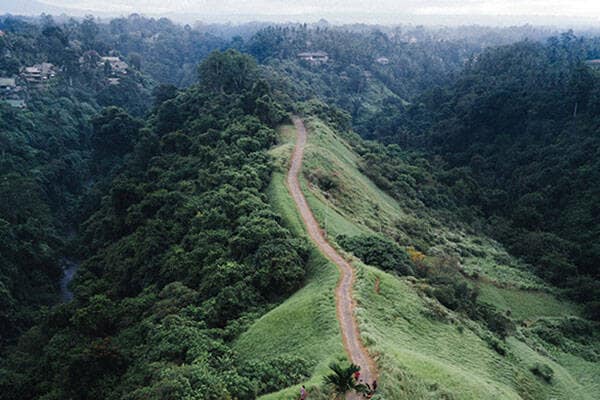 Campuhan Ride Walk, Ubud. Photo by: Justin Kauffman
Bali is more than just beach clubs and yoga retreats, and Ubud showcases the sheer magnificence of its verdant landscape. Find the ultimate tranquility and immerse yourself in breathtaking views on the Camphuan Ridge Walk. Only 2km long with a relatively easy and accessible path, you'll be gifted with sweeping vistas of greenery and rice fields. For an unforgettable experience, time your hike with sunrise or sunset to capture the picture-perfect golden hour lighting that adds a touch of magic to the already stunning scenery.
6. Discover the unexpected in Canberra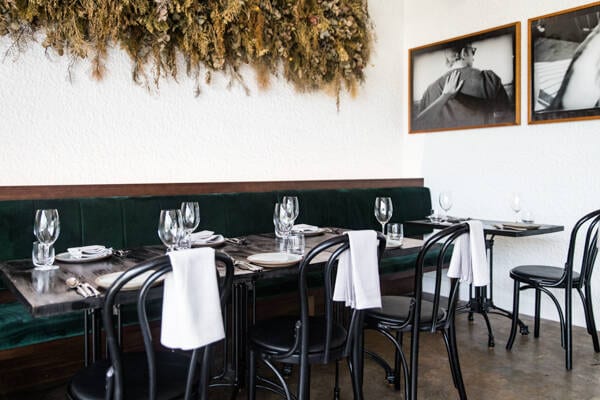 Pilot restaurant, Canberra. Photo by: Pilot Restaurant
Good Food Guide editor Myffy Rigby has dined at Australia's hottest restaurants. But her recommendation to visit Canberra might surprise you: "Ah, Canberra," she says. "The easiest city in the country to be indifferent about when it comes to anything other than wonderful schools and safe, steady jobs in the public sector." Rigby knows many might argue there are more dynamic places to drink and dine in Australia. "But it's an argument that isn't quite as easy to defend as it once was," she says. Visit Pilot or Rebel Rebel for a culinary surprise. Rebel Rebel's Sean McConnell's all-day menu features cacao pops' for breakfast, beef tartare and parmesan cannoli for dinner, and oysters with shiraz gin caviar to fill in the gaps. "The restaurant has rave reviews and has brought sighs of relief", Rigby says. "Add to that stayers like Bar Rochford and Temporada and you might press pause on that argument for good."
7. Travel, and improve your health while you're at it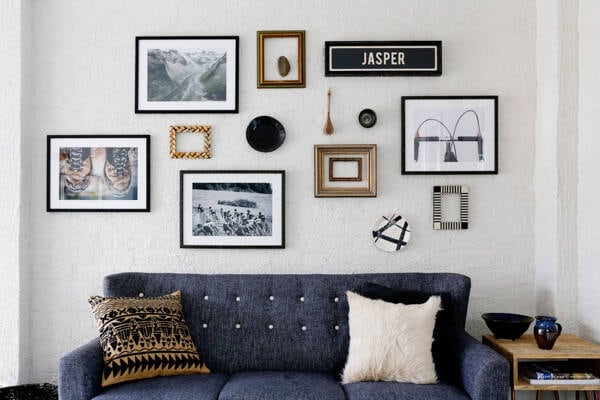 Retreat to the soothing interiors at Big Sky's Altitude suite, Victoria. Photo by: Altitude
As we all deserve a relaxing break from world events, we're expecting more from retreats than mere relaxation. Book yourselves a getaway to the Big Sky Retreat in Bright, VIC. "Its Altitude I villa offers a simulated high-altitude sleeping environment where the room is filled with 'filtered hypoxic air or a lower concentration of oxygen' to improve your athletic ability," says Marie Claire Australia wellness editor Lucy Cousins.
8. Treat yourself in a luxury hotel that embraces Aussie culture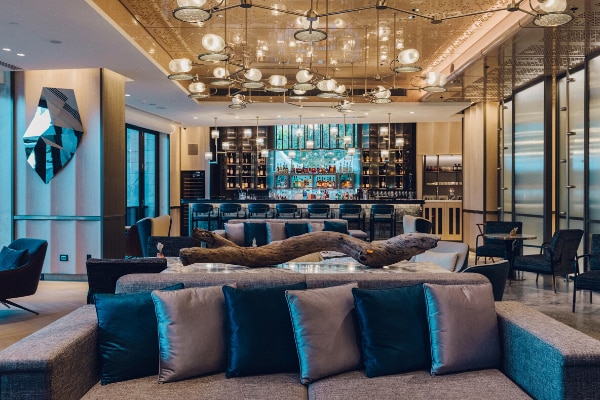 Ritz Carlton Perth, Western Australia. Photo by: Ritz Carlton
High-end hoteliers are making their way Down Under but, also brilliantly paying respect to Australian cultural sensitives. Ritz Carlton Perth is one of these, featuring locally sourced artworks and Kimberley-hewn sandstone walls. It's a perfect fit for the landscapes and character of Western Australia. Expect more from the brand shortly: Ritz Carlton Melbourne is due to open this year.
9. Admire our sacred Red Rock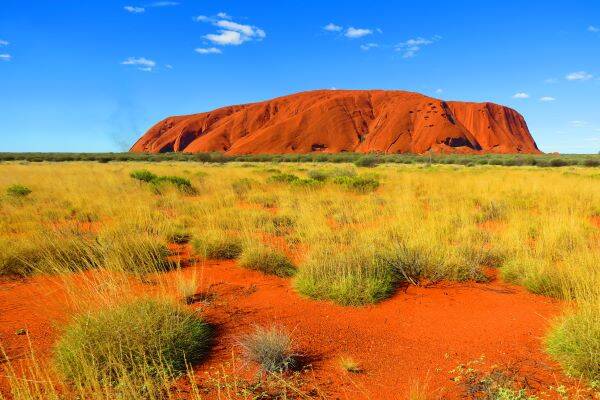 The intense colours of Uluru. Photo by: Meg Jerrard
Of course, one of the world's greatest natural wonders has made this bucket list. Visit Uluru at sunrise or sunset to admire Uluru transition from an incredible burnished orange to an intense red. 9Honey travel editor Kat Scott reiterates that "savvy travellers have long known the sacred rock is best viewed from a distance and don't get me started on the region's other oh-so-'grammable attributes, such as Bruce Munro's ethereal Field of Light (extended indefinitely) ... The Red Centre is just getting warmed up."
10. Watch a live tuna auction in Tokyo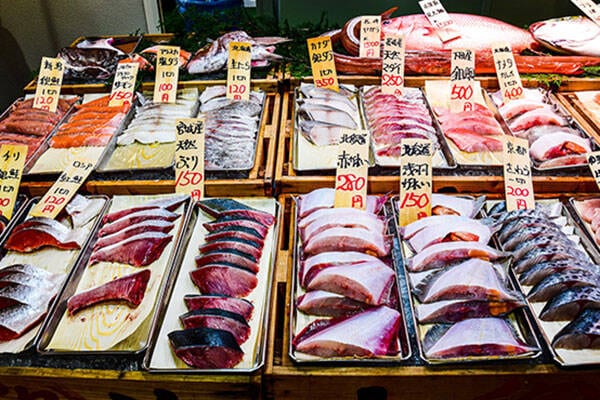 Tsukiji fish market in Tokyo, Japan Photo by: AXP Photography.
Tokyo is fast-becoming one of the hottest holiday destinations for Australians – not only for its vibrant neon-lit streets, high-energy atmosphere, and rich cultural heritage, but for its food, too. And while you'd no doubt fill your days sampling the sushi, ramen, yakitori, and tempura, there's no food experience more quintessentially Tokyo than the live tuna auctions. Held at Toyosu Market since 2018 (it was at Tsukiji Fish Market for 80 years!), watch the action from the passageway overlooking the hall or go to the special observation deck - make sure to apply for access early and set your alarm to get there for 5am.
11. Take the slow road (or rail)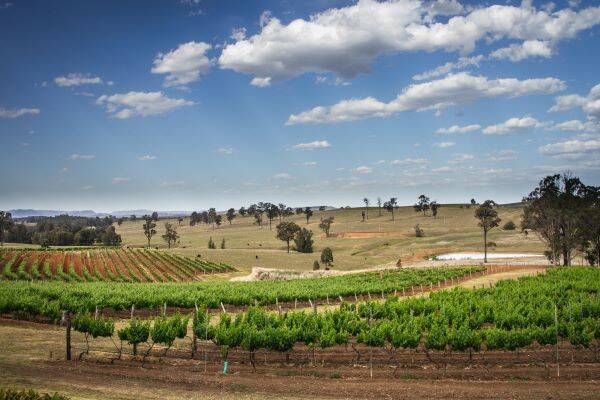 Hunter Valley vineyards. Photo by: Jennefer Zacarias
Slow travel is gaining popularity at lightning speed, and Australia's expanses are made for meanders. For Slow Travel author Penny Watson, train travel embodies slow principles. "Train travel is real escapism. It combines vast distances, unique landscapes and a hands-off approach ... you're at liberty to sit back, relax and watch the scenery roll by. That's a rare treat in this day and age." At the top of her list is the Great Southern by Journey Beyond – running for its fourth season this year, it is ran by the same company behind Australia's most epic train journeys, namely The Ghan and Indian Pacific. "Great Southern runs between Adelaide and Brisbane with eye-candy stops along the way including in the Hunter Valley in NSW, and the Grampians and Great Ocean Road in Victoria."
12. Take off to the Kimberley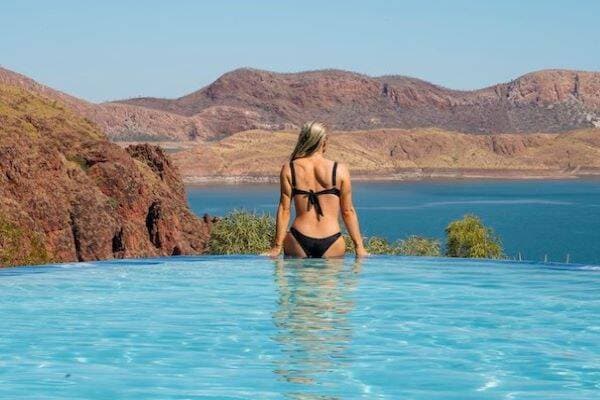 Views for days at Lake Argyle Caravan Park, near Kununurra, the Kimberley region, Western Australia. Photo by: Tourism Australia
This ancient landscape at the far reaches of northern WA is poised to enchant a new generation of fans. Until recently, most attention has focused on Outback beach town Broome, the traditional gateway to the region in the west, but Kununurra (found on the eastern side of the Kimberley, near the extraordinary Bungle Bungles) is set to change that. Fall in love with the quirky, relaxed town on the edge of the Ord River – and make sure you go for a swim at Lake Argyle Caravan Park's incredible infinity pool.
13. Swoon over The Swan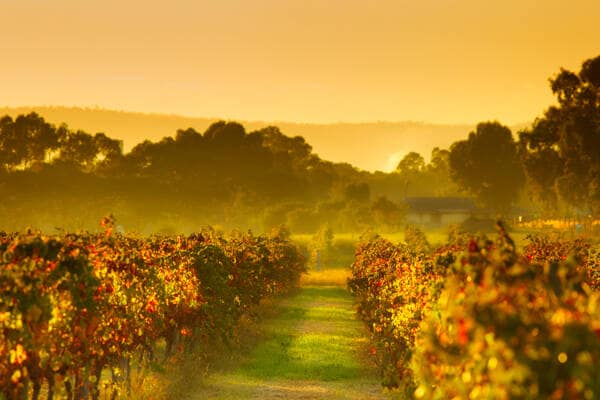 Morning mist at the Swan Valley wine region. Photo by: Tourism Western Australia
Swan River is a wine destination to watch, according to delicious. magazine's drinker-in-chief Mike Bennie. "Set on the banks of the Swan River and wedged below Perth Hills, Swan Valley is a charming district," he says. "The region celebrates old-vine vineyards, fortified wines and family winemaking, but is also revealing an undercurrent of lo-fi and natural-wine producers who are redefining the region." Bennie's new-breed picks include Swan Valley Wines and Vino Volta. "This emerging sect is drawing gaze through pet nat (naturally sparkling) fizzy wines, bright and fresh reds, white and red blends and orange wines (whites made like reds)."
14. Seek new frontiers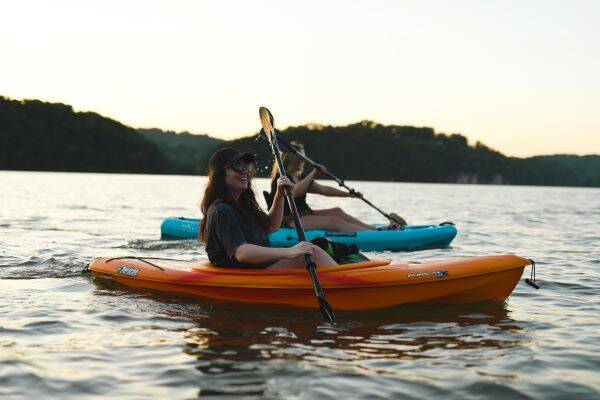 Kayakers enjoying the scenery. Photo by: Christian Bowen
After being locked in our homes for months on end, many of us are seeking new frontiers. The OG of chasing new horizons, Lonely Planet founder Tony Wheeler, wrapped an epic adventure researching his new book Islands of Australia. Of thousands of stops, he singles out the Bass Strait islands. King and Flinders islands often pop up on tourists' radars, but Wheeler went further. "The other islands tend to be forgotten, but there are about 50 of them including Deal – with Australia's highest lighthouse. We shouldn't forget Skull Rock (Cleft Island), with a cave big enough to pop the Sydney Opera House inside. Or Boundary Islet, where, due to some Colonial-era mischarting, Victoria and Tasmania share a land border," he says. "Flinders and King islands are certainly attracting more visitors, but getting to the other islands is not easy. The odd yachties turn up and, remarkably, kayakers. In the summer a number of intrepid kayakers make their way, island to island, across the 200km gap between Wilson's Prom and Tasmania. If you're looking for people chasing new frontiers in Australia, those strong-armed paddlers have to be leading the way."
15. Dive into crystal-clear waters in Samoa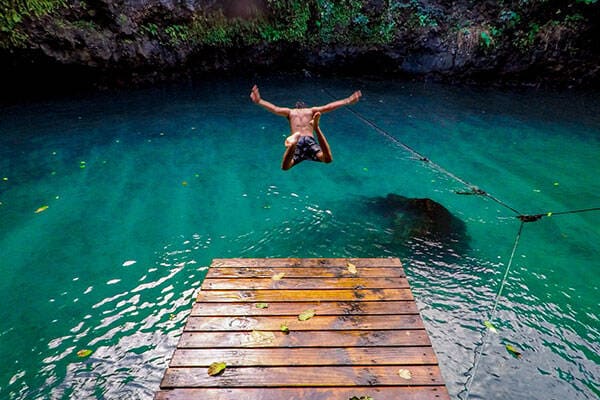 Man diving into To sua Ocean trench in Samoa. Photo by: Ethan Elisara
A tropical paradise of unspoiled beaches, lush rainforest and a vibrant Polynesian culture, Samoa is fast becoming the next 'It' island for Aussie travellers looking to escape, explore and relax. Those seeking a truly unique island experience will want to make the hour-or-so journey from Apia to To Sua Ocean Trench – a turquoise sinkhole and swimming pool nestled amongst dense foliage, only accessible by a charmingly rustic ladder. Breathtakingly beautiful from above, but making the descent into the warm, lapping waters promises a tranquil experience like no other.
16. Get rural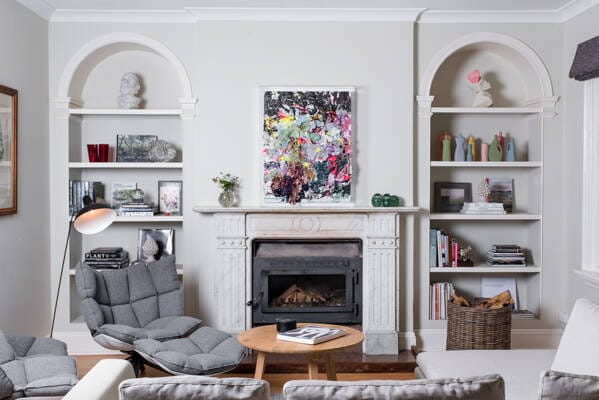 The Homestead, Mona Farm, ACT. Photo by: Mona Farm
With agritourism on the rise since Aussie's are seeking fresh, open air, rural Australia is stepping up. "A lot of micro-boutique hotels, especially farmstays, are opening," says editor-in-chief of Executive Style Michael Harry. "They're bringing glam to farms for city slickers, but via these ultra-boutique offerings, as opposed to the usual stays." His picks: Ross Farm and Polperro in Victoria, and ACT's Mona Farm.
17. Go outback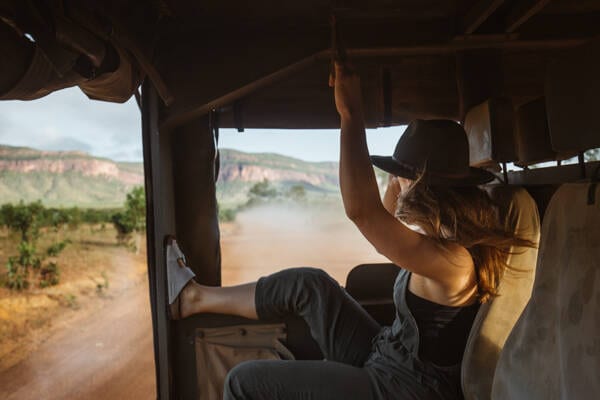 Adventures on the road at Mt Mulligan Lodge, North-Queensland. Photo by: Wilson Archer / Mount Mulligan
Australia's unique brand of barefoot luxury has been growing in international renown for the last couple of decades: but we can expect to see that approach further refined, as properties like Mt Mulligan Lodge in Outback QLD, cement their position in the market. Mt Mulligan has all the hallmarks of a luxury lodge, and then some. However it's not all relaxation and luxury, the lodge has its feet firmly planted in the red dirt of the cattle station it inhabits, with daily tours unpacking the region's tough and tragic mining history, with nods to the ancient Indigenous heritage of Ngarrabullgan mountain.
18. two wheel around Tassie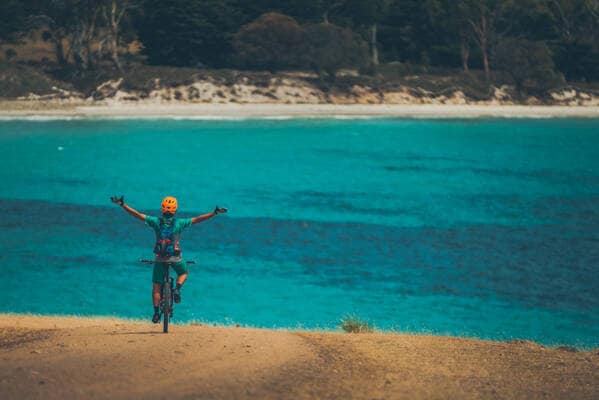 Mountain biking against a typically epic Tasmanian backdrop. Photo by: Tourism Tasmania
Tassie has been quietly developing a rep as an 'MTB' (mountain biking) hub for the past few years. Cyclist Magazine's Alex Malone raves about the St Helens Mountain Bike Trails. Created by the same team who transformed Tasmanian town of Derby into one of the world's hottest mountain biking hubs, the new trail is a promising development, Malone says. "Featuring over 100km of trails, including a 42km ride from the heights of the Blue Tier down to the beach in Binalong Bay, the huge network offers graded tracks for riders of all abilities."
19. Let the kids call the shots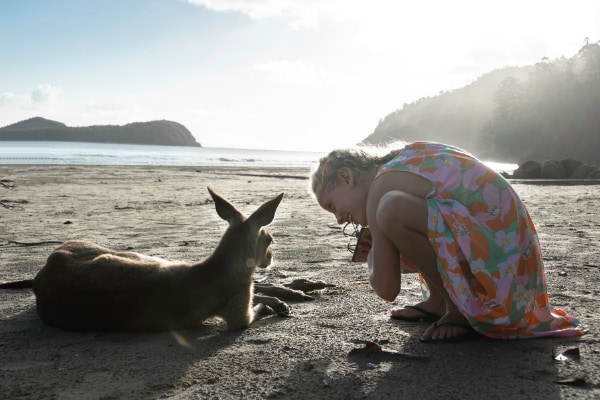 A friendly roo on the beach at Cape Hillsborough, Mackay. Photo by: Tourism and Events Queensland
Eco-minded kids are influencing travel plans like never before – it's what Holidays with Kids editor Aleney de Winter calls the "Greta effect". "As more and more kids become vocal advocates for the environment, family travel choices are becoming increasingly driven by the desire of children to travel responsibly," de Winter says. "From nixing straws and single-use plastics as they travel to undertaking spontaneous beach clean-ups, offsetting flights and choosing environmentally friendly tour operators, kids are holding their parents accountable." Her pick for the most underrated family destination? The clean, green Mackay region. "Often overlooked for its glamorous northern neighbours, QLD's Mackay region is the living embodiment of a David Attenborough doco, with wildlife- crammed rainforests, fish-filled reefs and extraordinary beaches without the crowds. Where else in Australia can you spot whales during the migration season, kayak through a dugong sanctuary, stroll through giant boulder-scattered rainforests, take a dip in a natural swimming hole, enjoy sunrise with wallabies, snorkel with turtles and play I Spy with platypus, all in the one place?"
20. Take to the skies in Queenstown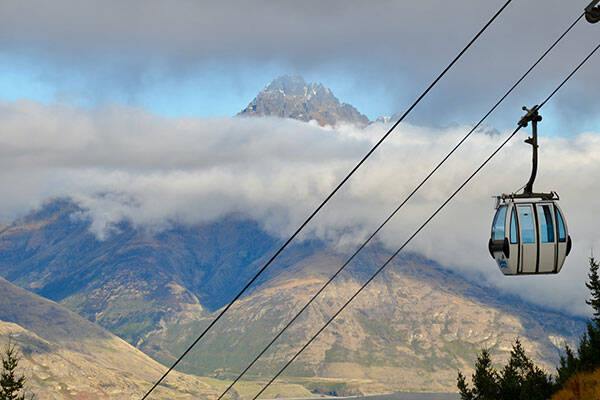 Skyline Gondola riding over trees and mountain, Queenstown. Photo by: David Maunsell
While our desire to see every corner of our sunburnt country holds strong in 2023, there's a whole world of wonder to explore across the Tasman Sea. Queenstown needs no introduction as New Zealand's adventure capital and one of the most picturesque parts of the Southern Hemisphere. A playground for adrenaline junkies, thrill seekers, and nature enthusiasts alike, there's no better way to truly appreciate majestic mountains and pristine lakes than from above. Take scenic a ride in Queenstown's iconic Skyline Gondola, where you'll be treated to jaw-dropping views of Lake Wakatipu, Coronet Peak, The Remarkables and beyond for an unforgettable experience.
21. Visit a 'Second city'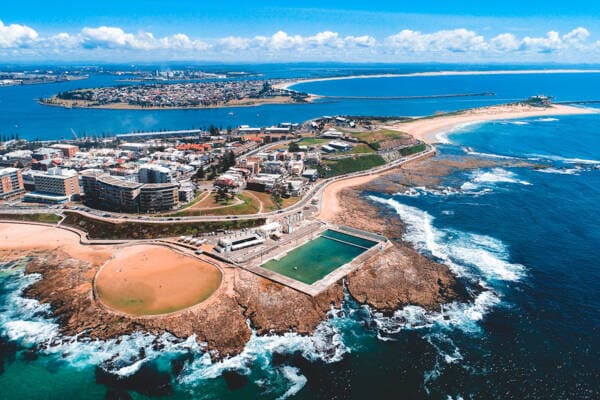 An aerial view of Newcastle's beach-lapped edges. Photo by: DNSW
In our quest to sidestep crowds, Australia's 'second cities' are emerging as first-tier destinations. NSW's second-largest city, Newcastle, is an intriguing example. The former industrial hub is starting to show off the results of a $1.4 billion revival. Co-founder of the region's top lifestyle guide HUNTERhunter, Alissa McCulloch, has watched 'Newy' evolve. "We are continually amazed at the level of investment being made by local businesspeople, which is in turn providing Newcastle with a really diverse and interesting offering, especially within the food and dining scene, that is now comparable to any other major city within Australia," she says. Like many locals, McCulloch is particularly excited about the soon to open QT Newcastle in Hunter St Mall, and the already open Newcastle's first five-star hotel, Crystalbrook Collection's the Kingsley.
22. Rent a convertible in the fleurieu peninsula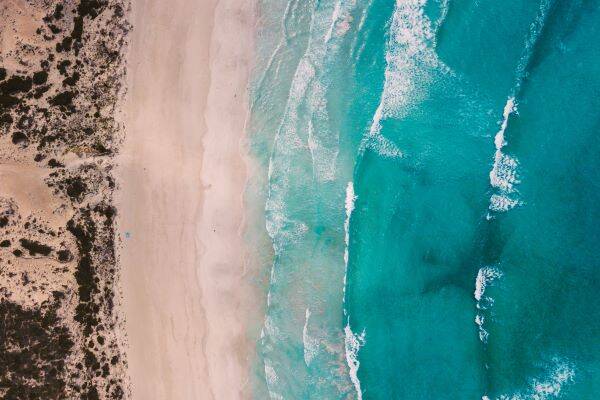 Fleurieu Peninsula from above. Photo by: Chaz McGregor
While the Barossa provides an exceptional amount of culinary delights to holidaymakers, South Australia has a new foodie hotspot on the block. Located on the coast a few hours East of Adelaide is this picturesque peninsula laden with divine restaurants and wineries. Our tip? Rent a convertible and wind your way through the coastal roads with the wind in your hair.
23. 4WD on the Fraser Coast
4WDing on Fraser Island. Photo by: Gawn Australia
Take the wheels for a spin on the world's largest sand island. The home to rainforests, mangroves, woodlands, an epic blue lake (Lake MacKenzie) and of course, a whole lot of sand. Stretching over 123 kilometres, there's so much to explore on K'Gari / Fraser Island. Embrace the fresh, sea air and camp along the long stretch of beach at one of the many offshore campsites, or live it large at the well equipped Kingfisher Bay Resort.
24. Swim with tropical fish at moreton island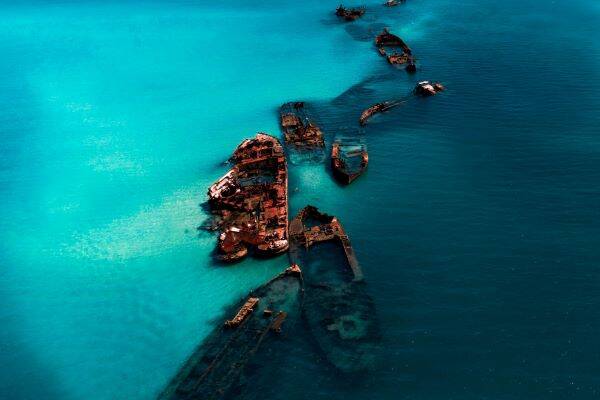 Tangalooma ship wrecks. Photo by: Guillaume Marques
Quite possibly the most underrated island of all is Moreton Island. Located a mere 75 minutes on the ferry from Brisbane, it's a wonder this island is not overpopulated. However, luckily for us it is almost all declared as national park territory. Swim in pristine blue waters, trek through lush rainforest, take the 4WD for a spin on the tracks, explore the shipwrecks and kayak over the most colourful, exotic fish. Our top tip? Take the 4WD to the very end of the island to find a shabby chic beach side bar, Gutter Bar.
25. Conquer in active volcano in Vanuatu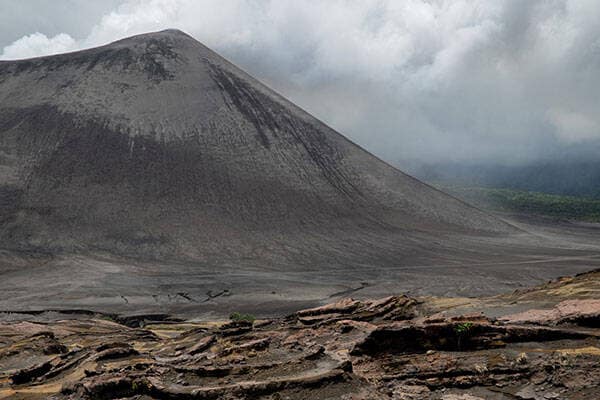 Active volcano in Tanna, Vanuatu. Photo by: Seiji Seiji
Australians have long loved the island paradise of Vanuatu, but in a post-pandemic world it's fast become one of the hottest holiday hotspots for intrepid travellers, nature lovers and adventure seekers. Lace up your sturdiest hiking boots and embark on the exhilarating ascent of Mount Yasur, an active volcano on Tanna Island. Not for the faint-hearted (or unfit), you'll not soon forget hiking through billowing smoke and bearing witness to bursts of fiery lava that create a mesmerising and ethereal glow. As far as bucket list items go, this might just be the pinnacle.