In the New Zealand town of Wanaka, it can sometimes feel a bit like adventure is everything. Here, ahead of the snow's arrival, you can leap out of planes from 15,000 feet, throw yourself off numerous bridges and hike up to alpine mountain tops before a two-wheeled descent at ludicrous speed. But this lakeside locale pours more than just adrenaline, with concoctions of a very different kind (and flavour) served in its cellar doors, craft beer breweries and distillery.
PICTURESQUE VINEYARDS
Elevated on Lake Wanaka's shores, along the road to Mount Aspiring National Park, lies Rippon Vineyard, surely the most picturesque in New Zealand and likely to be among the most spectacular on the planet. From the knoll on which its cellar door sits, vines creep down a gentle slope towards the shoreline. Rimmed by mountains, the water sits as calm and flat as pressed tin, its surface broken only by the tiny, uninhabited Ruby Island in the distance. During the days of prohibition back in the 1920s, a cabaret dance floor was built on the island, filling Saturday nights with reverie and illicit drinks for the town's more wayward, and thirsty, types.
Rippon not only offers the finest of panoramas, but also the easiest access. It can be reached from town on the lakeside Waterfall Creek Track, past the famed That Wanaka Tree (the much-photographed willow that peeps out of the surface of the lake). The property has been owned by the Mills family since 1913, with vines first planted in 1975 and the inaugural commercial vintage poured 14 years later. The 15 hectares of vines produce 10 different single-origin wines, including two varieties of Central Otago's signature drop: pinot noir.
Archangel, another of Wanaka's vineyards, claims one of New Zealand's most intriguing wine stories. The origin of the name dates back to 1940 and war-torn Europe, when two Polish girls — strangers — were exiled to a labour camp in the Russian city of Arkangelsk. Their parallel tales continued, without intersecting, for three years — first to Africa, then to the UK, where the women finally met in an RAF camp and developed a lifelong friendship. The daughter of one eventually married the son of the other, and that couple, Ian and Mary Zurakowski, moved to New Zealand where, in 2003, they planted the first Archangel vines. "It's a story of hope, love and survival," offers Mary.
The vineyard's cellar door proved another game-changer when it opened. Styled as a 'wine lounge', it offers a unique sense of sophistication, with leather chairs surrounding a pot-belly stove. There are also rotating art exhibitions, while Mary's dream is to add a sculpture park. Guests are also encouraged to wander through the vines, which are grown from root stock.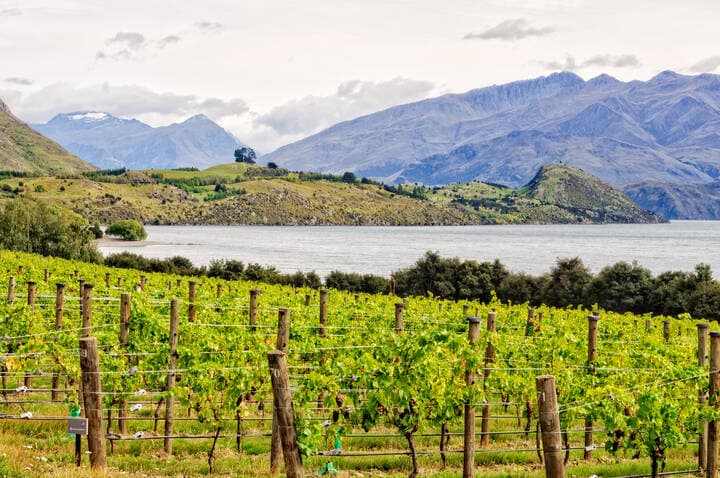 A GOOD BREW
Good things are also brewing on the Wanaka beer scene, and few global towns can match its brewery-to-head ratio. With half a dozen craft beer producers (including Maverick, Ground Up, Sidewinder, and Rhyme & Reason), it works out to be a brewery for every 1000 residents. Local ales and lagers are widely available in proudly parochial cafes and restaurants and are on tap at the Cardrona Hotel.
The most prominent local producer, Wanaka Beerworks, has an unusual tasting room, thanks to its unique location. Sharing its address with the National Transport and Toy Museum (about 10 kilometres from town), the Beerworks offers tours and tastings at 2pm each day (except Sundays), with the tasting room situated inside the museum — it's cap guns and Barbie bathrooms one step, pilsners and pale ales the next.
Wanaka Beerworks has been in the brewing game for 20 years and makes nine varieties (including a cider) across two labels: Wanaka Beerworks and Jabberwocky. Four beers are on tap in the tasting room, or you can skate across the range with a paddle that showcases six of the best.
SPIRITED AWAY
If Wanaka has long attracted wild spirits, it's also producing sophisticated ones now, too. The Cardrona Distillery opened in 2015 at the base of Cardrona Mountain — one of New Zealand's premier ski fields. The setting, pinched between open mountain slopes covered in yellow alpine grasses, was no accident — it was a scene that owners Desiree and Ash Whitaker viewed as being starkly reminiscent of the rugged beauty found in the Scottish Highlands.
The distillery's water is drawn from pure snow-melt on the Crown Range. The five-year plan is to create a paddock-to-product single-malt whisky, growing its own barley and building a malting plant. The first whisky is due out in 2025. In the interim, Cardrona makes a single-malt vodka, orange liqueur, cherry rose liqueur and its Source gin, which won gold at the 2016 New York World Wine and Spirits Competition.
Wrapped around a massive fireplace, Cardrona's visitor centre is a welcoming space for guests, with a cafe menu that changes daily, and an ever-evolving list of cocktails. Distillery tours are run hourly and guide visitors through the production process and into the barrel room, with a tutored tasting serving as the experience's finale.
"There is nowhere else in New Zealand you can come in and get right up close with a working distillery and basically touch the stills," says Whitaker. "We make and sell great spirits — that's what we're all about. Having that visitor centre is the cherry on the top. People come in and it looks like it could be straight out of Scotland, and they just go, 'wow'."
Words by Andrew Bain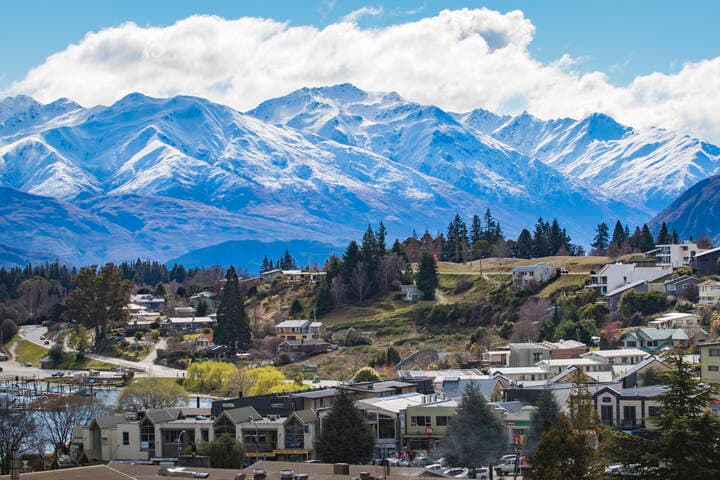 GETTING THERE
Make Queenstown and Wanaka your next holiday destinations and discover the idyllic scenery that surrounds these towns. Book holiday packages and flights to Queenstown through our website or by calling 13 67 89 (in Australia).