Your chance to win a prize, just for sitting in the middle
We know that not every seat is created equal. But we believe that every seat should be wonderful - even the ones in the middle.
That's why we created the Middle Seat Lottery. It turns the middle seat into a chance to win wonderful prizes, like Velocity Platinum Status and a million Points, Caribbean cruises with Virgin Voyages including return flights to the US, or even a custom artwork by an Australian artist.
Competition starts 24 October, 2022
Competition ends 23 April, 2023
Flown within the last 48 hours and ready to enter?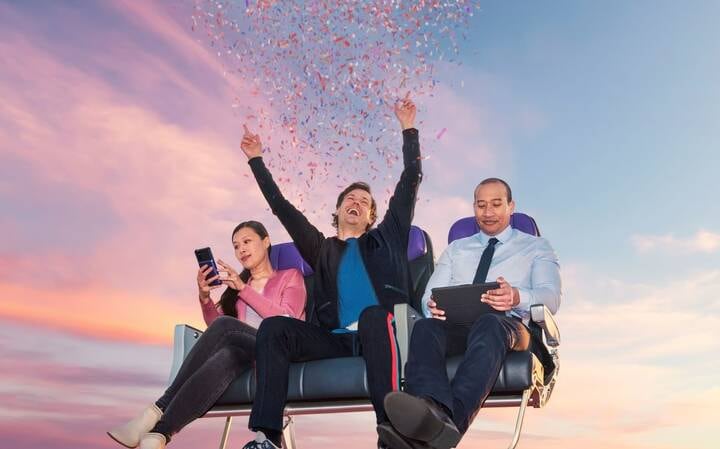 There are 26 wonderful prizes to be won
Click below for details, with more to come soon!

Fly in the middle seat between 23 - 29 January and you could win a

5-night cruise to Tasmania

Set sail from Melbourne to all the temptations of Tasmania aboard the wonderful Resilient Lady. Arriving in Hobart, you'll have time to explore the island's whimsical capital and the wild north-western shores of Burnie. 

Find out more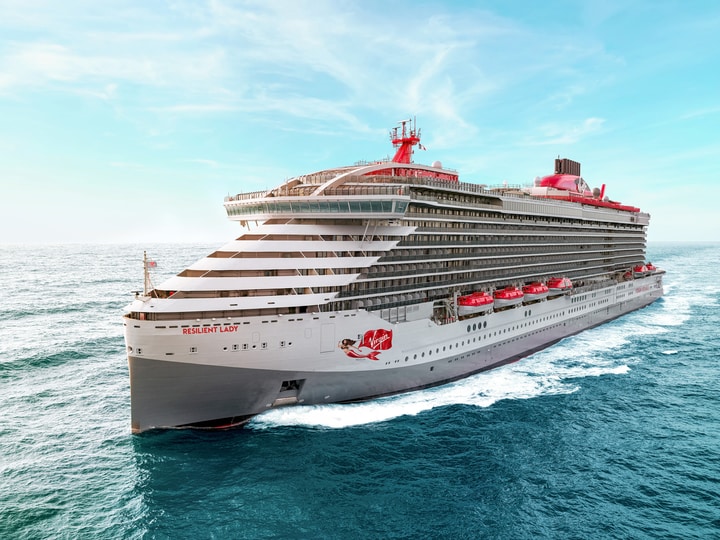 Prize courtesy of Virgin Voyages

Fly in the middle seat between 30 January - 5 February and you could win a

Sydney seaplane adventure

This is a real pearler of a prize. Feel lost for words on this Sydney escape as you stay overnight at Kimpton Margot Sydney, followed by a day trip by seaplane to Broken Bay Pearl Farm. Enjoy a tour and an immersive pearl grading experience, plus an exclusive picnic lunch. You'll even get your very own wonderful pearl to take home. 

Find out more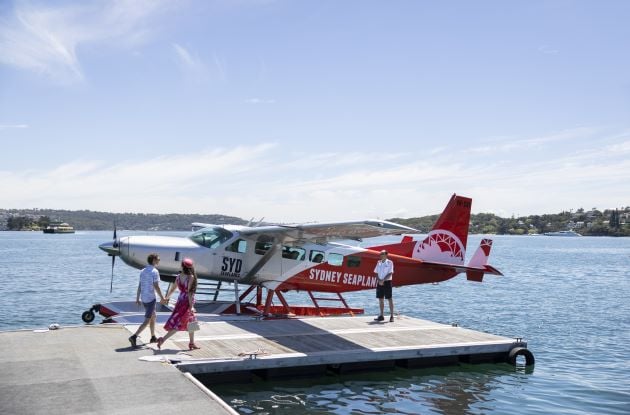 Prize courtesy of Destination New South Wales
Photo credit: Destination NSW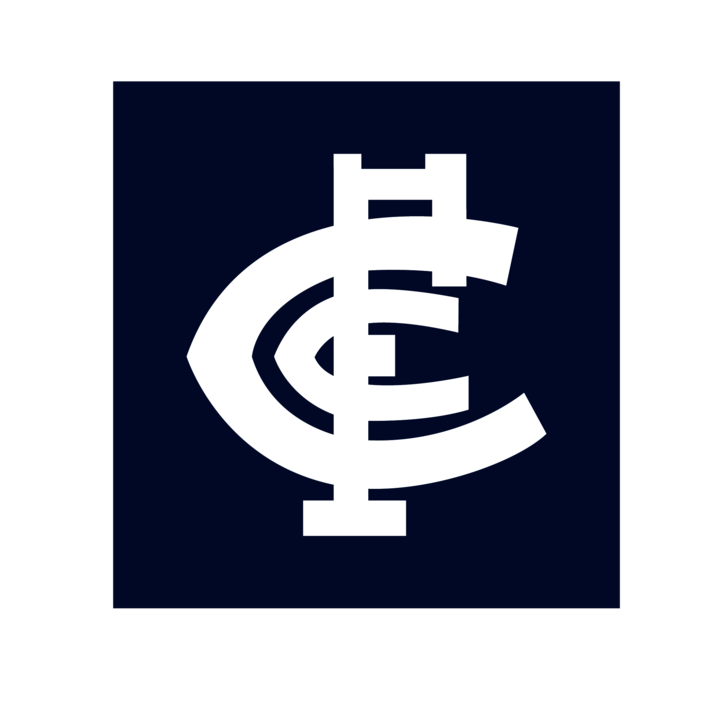 Fly in the middle seat between 6 - 12 February and you could win a

VIP Carlton Football Club Experience

Here's a prize that'll never let you down, for the team that never lets you down. You and 3 of your mates will get up close and personal with the 2023 Carlton Football team at one of their home games, as they run on-field and warm-up. You'll participate in the guard of honour for the team and enjoy reserve seats for the match. The winner will also walk away with a jumper signed by the 2023 team and a Carlton FC merchandise pack.

Find out more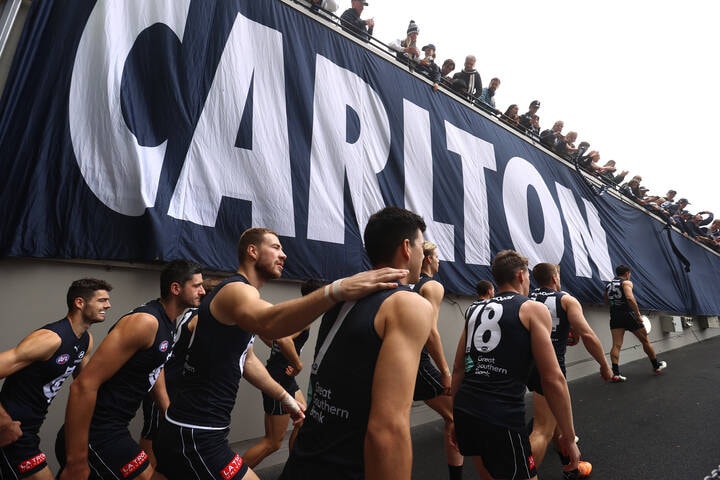 Prize courtesy of Carlton Football Club

Fly in the middle seat between 13 - 19 February and you could win a

Port Lincoln Shark Dive

This prize is truly one for the bucket list. Go diving with great white sharks for a once-in-a-lifetime shark cage experience in Port Lincoln. Enjoy a 2-night stay at the Port Lincoln Hotel and explore everything that the seafood capital of Australia has to offer. 

Find out more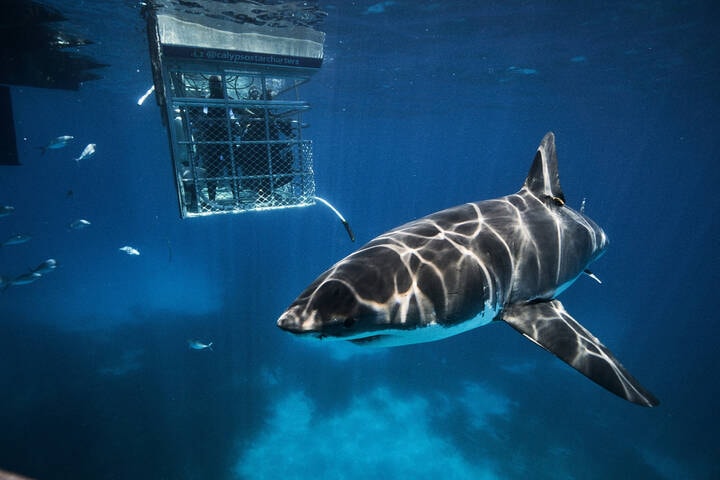 Prize courtesy of South Australian Tourism Commission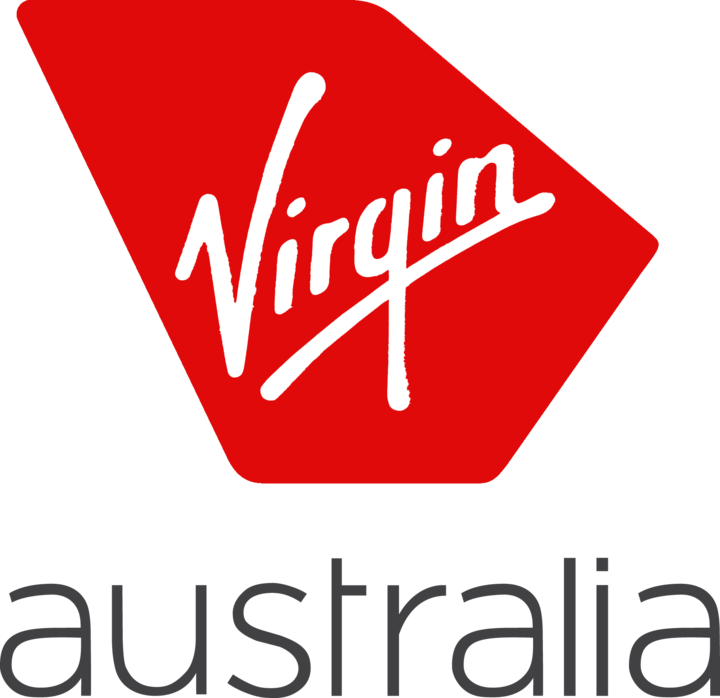 Fly in the middle seat between 20 - 26 February and you could win a

home cinema bar cart

Before you ask - yes, it does come with a popcorn maker. This one-of-a-kind Virgin Australia bar cart has been retired from its airborne career, and redesigned to make movie nights even more wonderful from inside your living room. 

Find out more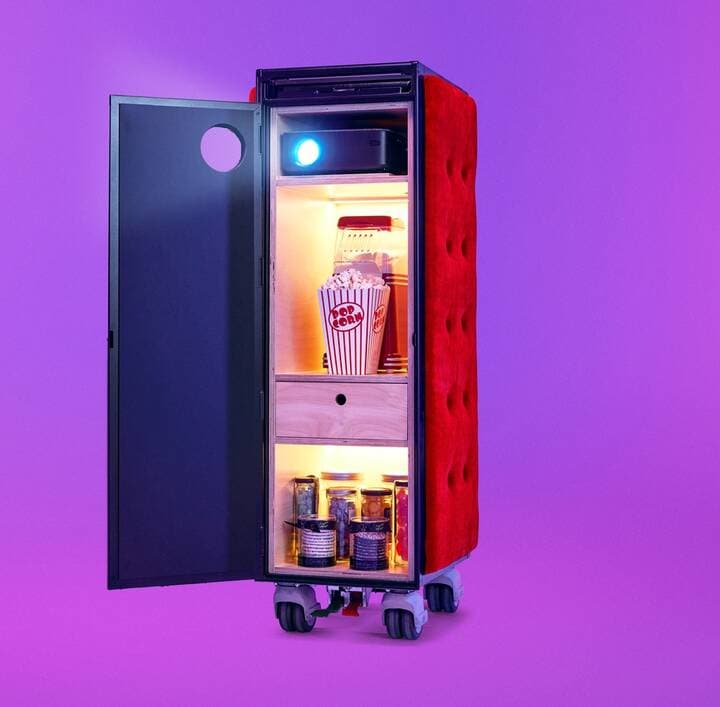 Fly in the middle seat between 27 February - 5 March and you could win a

Spicers Peak Heli Tour

You haven't seen Queensland until you've seen it via helicopter. Stay 2 nights at the Emporium South Bank and witness the wonderful sights of South-East Queensland from the skies, with a return scenic helicopter flight to the luxurious Spicers Peak Lodge, Maryvale. Take in the views of the World Heritage Listed national park backdrop and enjoy an award-winning gourmet dining experience at Restaurant Peak.

Find out more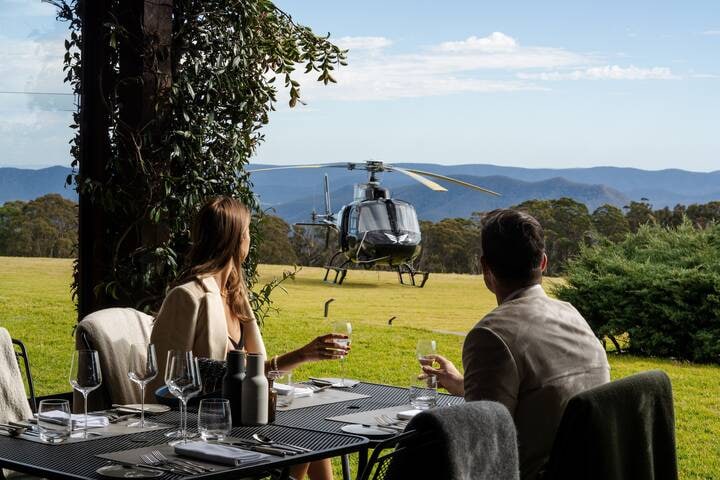 Prize courtesy of Brisbane Economic Development Agency.
Photo credit: Spicers Retreats
Fly in the middle seat between 20 - 26 February and you could win the 

Ultimate AFL Grand Final package

Win this one, and your team doesn't even need to be playing for you to enjoy this year's Grand Final.  Dine at the 'Before the Bounce' pre-game lunch, sit in AFL Grand Final seats, enjoy a pre-game boundary line experience, and get entry to the AFL Grand Final after party.

Find out more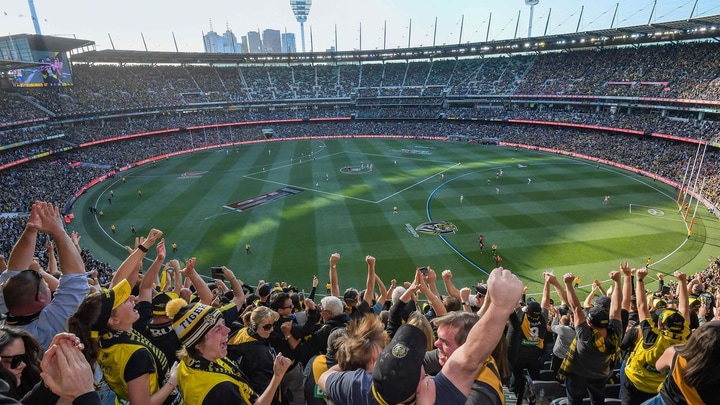 1. Check your eligibility
First things first, you need to have sat in a middle seat, as shown on your boarding pass. You also need to be a Velocity member, aged 18 or over and reside in Australia. If you're not already a Velocity a member, it's free to join.
2. Download our app
Open the Virgin Australia app and tap the Middle Seat Lottery tile to find your flight and enter your details. You'll need to make sure that you have the latest version of the app downloaded.
Download on your Apple device now
Download on your Android device now
You have 48 hours from your scheduled flight departure time to enter.
3. Wait and see if you're a winner!
Each time you fly in a middle seat, you'll be eligible for another entry into that week's draw. Winners will be notified by email with instructions on how to claim their prize.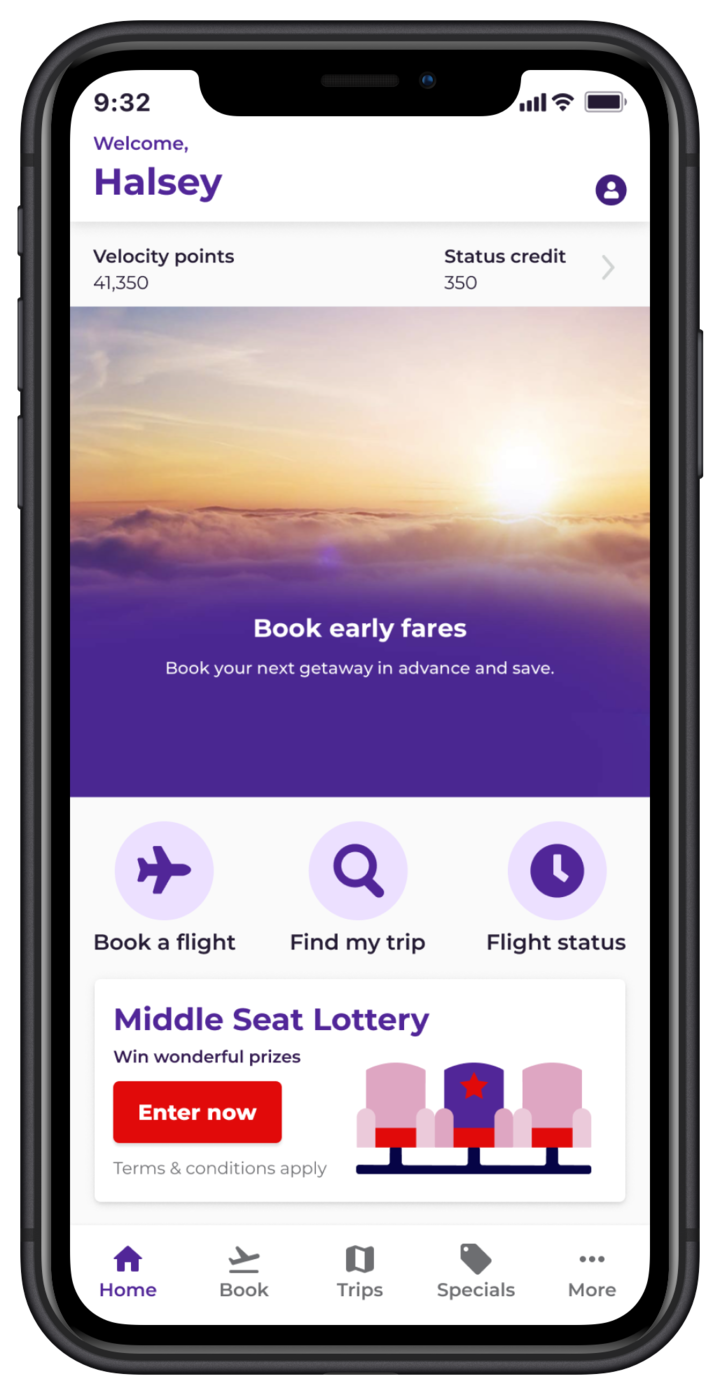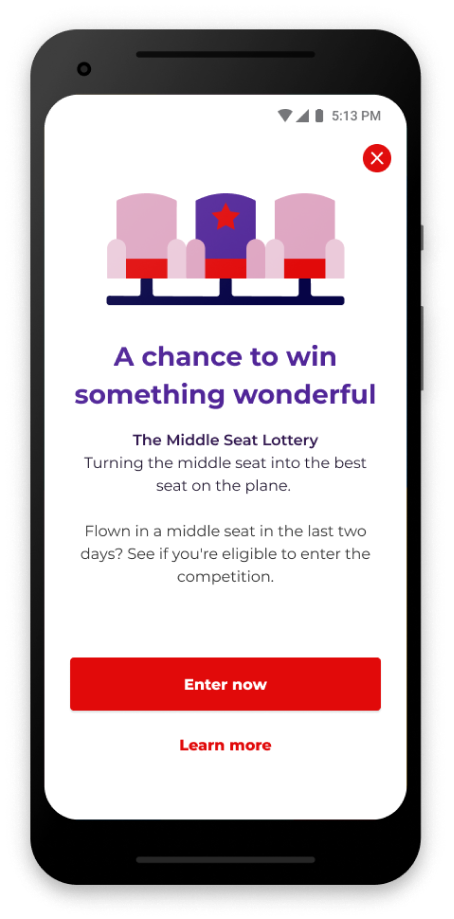 Prize winners
We have 26 incredible prizes up for grabs, check back again soon to see who won and what else was up for grabs.
Terms and conditions
For full terms and conditions, view here.

The Promoter is Virgin Australia Airlines Pty Ltd (ABN 36 090 670 965) of registered address 275 Grey St, South Brisbane QLD 4101. The Promotion commences at 12:00am AEST on 24 October 2022 and ends at 11:59pm AEST on 23 April 2023 (Promotion Period). 
Entry is open to Velocity members who are: (1) Australian residents, (2) aged 18 years or over and (3) Virgin Australia guests that have flown on an Eligible Flight ("Entrants"). An Eligible Flight is a domestic Virgin Australia-operated flight where the Entrant was seated in a middle seat as reflected on their boarding pass and in Virgin Australia's internal systems. The following are not Entrants: Virgin Australia Group employees (and their immediate families), employees of agencies associated with this Promotion, and individuals travelling on Staff Travel. To enter the Promotion, Entrants must, during the Promotion Period and within 48 hours after the scheduled departure time of their Eligible Flight: (i) navigate to the Middle Seat Lottery tile within the Virgin Australia app; (ii) select an Eligible Flight shown in the Virgin Australia app or retrieve the booking for their Eligible Flight using their Booking Reference and Surname; and (iii) select their name from the Eligible Flight booking, input their contact details and their valid Velocity membership number (if not pre-filled), and submit their entry. An Entrant will receive an Entry to the Relevant Draw Period based on the scheduled departure date of their Eligible Flight. Limit of one entry per Entrant for each Eligible Flight taken by the Entrant. There will be 26 Winners (one for each Relevant Draw Period). One Winner will be drawn for each calendar week (the "Relevant Draw Period") of the Promotion Period following the Relevant Draw Period and will be notified within 2 business days of the draw (as set out in clause 16 of the full terms and conditions).  Winners will be awarded the Prize that is assigned to their Relevant Draw Period (set out in clause 22 of the full terms and conditions). The total prize value is $237,132 AUD (including GST). The Prizes are not exchangeable and cannot be taken as cash. Prizes may be subject to additional terms and conditions of Virgin Australia, Velocity Frequent Flyer, or third-party suppliers. If you wish to be removed from the Promotion, please email info@velocityfrequentflyer.com and provide your full name and Velocity membership number. Full competition terms and conditions can be accessed at virginaustralia.com/msl-terms-conditions. Game of Chance: Authorised under NSW Authority No.: TP/ 01843. Permit No's: ACT TP22/ 00791 & SA T22/ 613.