Track whatever you pack with baggage tracking

What you pack in your bags matters to you, so it matters to us. That's why we're the first Australian airline to introduce baggage tracking.
To track your checked baggage when you fly with us, simply download the Virgin Australia app and enable notifications in your app settings. Once enabled, push notifications will be sent to your phone throughout your journey including when your bag has been accepted at check-in, it's ready to fly and upon arrival at your destination to let you know which carousel your bag can be collected from.
Baggage tracking is available on nearly all domestic and international routes.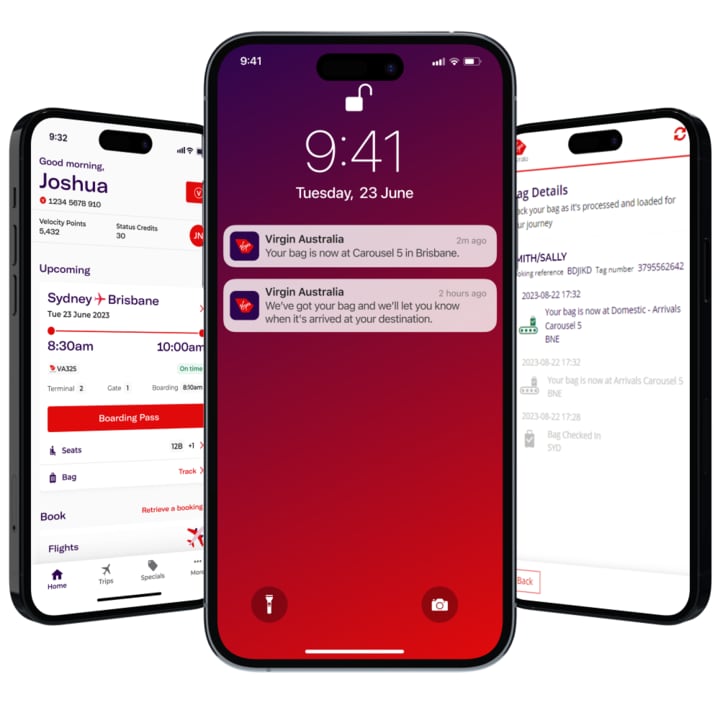 Frequently Asked Questions
Below are answers to a few common questions to help you get the best out of baggage tracking.
Terms and Conditions
*Bag tracking now rolling out across the Virgin Australia network and available on selected routes. Must be connected to the internet to receive tracking updates and notifications. Check the Virgin Australia app for eligibility.
The booking and carriage of Guests and baggage is subject to our Conditions of Carriage and Fare Rules. Use of the Virgin Australia app is subject to our Terms of Use.