Start planning your next getaway today with our top 5 things to do in Hunter Valley Wine Country. Visit winecountry.com.au for trip inspiration and be sure to book ahead and plan your visit before you arrive.
Enjoy a wine tasting and pairing experience at award-winning cellar doors

Dine on seasonal Hunter Valley produce in the region's best restaurants

Get active on an outdoor adventure horse riding, cycling or bushwalking

Relax at the gardens, spas and on the golf course

Soak up the scenic beauty on a hot-air balloon ride or helicopter flight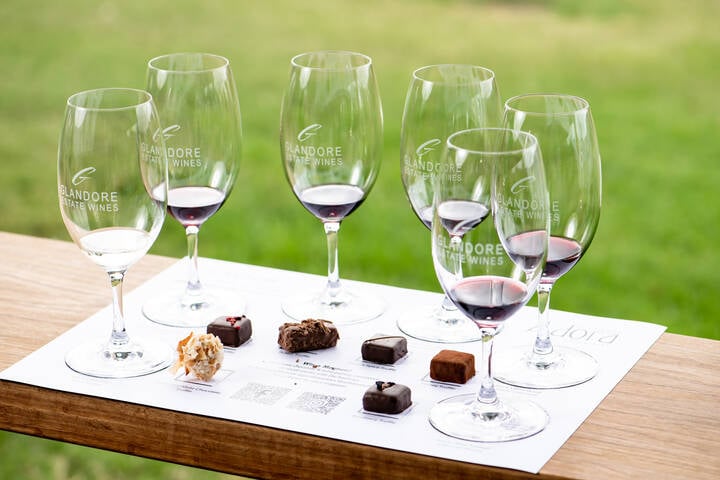 Glandore Estate Wines chocolate and wine pairing. Credit: Destination NSW
1. Enjoy a wine tasting and pairing experience at award-winning cellar doors
Nestled amongst rolling vineyards and olive groves, the Hunter Valley is home to some of the world's best wines. With over 150 cellar doors and a rich history dating back to over 180 years ago, our flagship wines of Semillon and Shiraz capture the spirit of the Hunter Valley in a bottle. The Hunter Valley is also home to more than a dozen other award-winning varieties from Chardonnay and Verdelho to Merlot and Pinot Noir, plus many more emerging varietals.
However, when it comes to wine, we love a good pairing. Sweet, savoury or something a little more hearty, take your pick or try them all.
Enjoy the classic wine and cheese pairing experience, with many of our Cellar Doors now offering tastings which include an add-on cheese plate. Check out our full list of local Cellar Doors and their opening hours here and be sure to book in advance to secure your spot!
Tackle the cravings with a wine and chocolate pairing experience. Open daily from 10am, Glandore Estate Wines chocolate and wine pairing takes you on a journey of discovery as you taste 6 of their handcrafted wines with each glass carefully paired with a chocolate truffle, lovingly made by Adora. Or take a trip to Wine House Hunter Valley where you can embark on a sensory experience in their wine lounge. Their winemakers have carefully paired four Cocoa Nib chocolate bon bons with four of their premium wines to give you the full tasting experience.
Upgrade your tasting to something a little more filling with a wine and food experience. From the Epic Tasting Experience at Hungerford Hill which is paired with a 5 course mini degustation from Muse Restaurant to the Brokenwood Wines Match experience where you can embark on a self-guided journey pairing 6 Brokenwood Wines to 6 delicious bite-sized food accompaniments from the Cru Bar + Pantry.
Looking for something unique to our region? Semillon and seafood makes for the perfect iconic Hunter Valley pairing so if you're a seafood lover like we are, be sure to pair your dish with a Hunter Valley Semillon.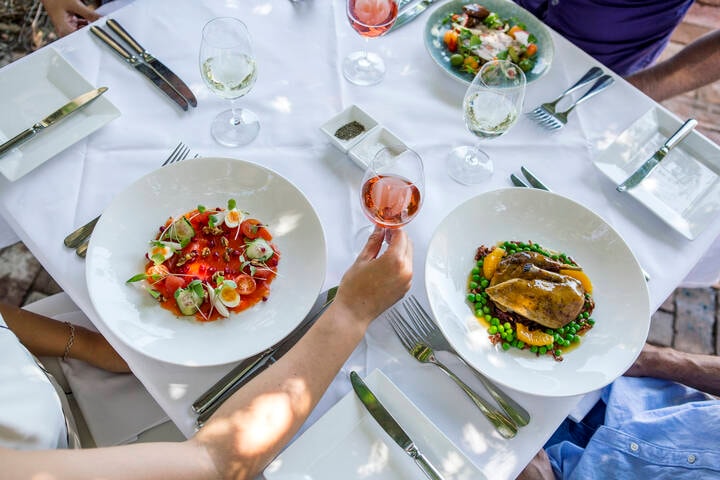 Award wining Bistro Molines
2. Dine on seasonal Hunter Valley produce in the region's best restaurants
From fine dining to casual eats, there's something for every foodie to enjoy. The Hunter Valley is filled with so many incredible food experiences, the biggest challenge is deciding where to go first!
With over 60 restaurants, cafés and eateries to choose from, you won't go hungry in Hunter valley Wine Country. Here's ones you've probably heard of before, from the iconic Muse Coconut dessert dish at Muse Restaurant to the stunning views at Bistro Molines, be sure to put these on your bucket list. That's not to say these are our only award-winning restaurants, we have nine hatted restaurants as awarded by the Australian Good Food Guide in 2021. So why not extend your trip and add some of our hatted restaurants to your list: Margan Restaurant; EXP Restaurant; Restaurant Botanica at Spicers Vineyards Estate; Redsalt Restaurant at Crowne Plaza Hunter Valley; and Muse Kitchen.
If you're feeling peckish, tackle the cravings and treat yourself to a decadent snack from one of our local cafés, produce stores or tasting rooms. Immerse yourself in chocolate heaven with a visit to Cocoa Nib or Hunter Valley Chocolate Company, or for the chocoholics, pay a visit to both.
Feeling something a little more savoury, we've got you covered with local cheese shops aplenty. Each with their own unique take on cheesemaking, keep it simple with crackers and bread at Binnorie Dairy and Hunter Valley Cheese Company or pair it with homemade gelato at Hunter Valley Smelly Cheese Shop and Hunter Belle Cheese Room & Café.
For something a little more filling, head to a local café. Keeping it casual, pop in to FAWK Foods Kitchen & Bakery, add a little uniqueness and pay a visit to Enzo Hunter Valley, for your eclectic one-stop shop call in to Worn Out Wares Café in Singleton, or experience something on the smoky side and try out Lovedale Smokehouse Café. If you're looking for something casual yet classy, head on over to The Deck Café, a newly refurbished dining establishment, or try Harrigan's Hunter Valley for your stylish pub feed.
Take the roads less travelled by bike. Credit: Hunter Valley Wine Country
3. Get active on an outdoor adventure with horse riding, cycling or bushwalking
Discover something new and take the road less travelled by horse, bike or on foot. Whether you're an experienced rider or never ridden a horse before, our horse-riding companies will have something to cater to everyone's ability. Slip on a pair of jeans and embark on a trail ride through the vines or put the feet up and enjoy a carriage ride as your tour the valley. Be sure to book ahead to save your spot with one of our local horse-riding companies. To experience the Hunter Valley on horseback, try Murchessons Equine Wine and Dine Tours or Hunter Valley Horse Riding & Adventures. For a carriage ride like no other book in with Hunter Valley Classic Carriages. Or to experience both from the same meeting point, Hunter Valley Horses offers both horseback trail rides and carriage tours.
Fancy something a little more active, take a ride on an electric bike, you'll have the ability to do all the work or let the bike do some of the work for you. Pedal with Sutton Estate Electric Bike Hire and explore the Around Hermitage Cycleway or add a transfer to your package and uncover other beautiful locations in the Hunter Valley. If pedalling isn't for you, try a different kind of wine tour with a guided Segway Tour by NSW Segway Tours in the Hunter Valley.
Looking to hit those step targets and embrace nature at the same time? Embrace the great outdoors at its best with breathtaking views from Finchley Lookout, Mount Bright Lookout, Bimbadeen Lookout or Pokolbin Mountains Road Lookout, all accessible on foot or by car.
Make the most of the surrounding countryside and explore some of our region's amazing national parks. More bushwalking trails await you at Yengo National Park, featuring tall rocky ridges and steep gorges as well as a number of Aboriginal sacred sites and rock engravings that have cultural significance to local Aboriginal communities. Meanwhile, just one hour from Newcastle is the beautiful Watagans National Park. Covering 7,798 hectares and with several marked trails taking in stunning rainforest and breathtaking views out over Martinsville Valley, it is an idyllic place to escape the city and experience some of Australia's best flora and fauna. Mt Royal National Park is also a World Heritage-listed park and adjoins Barrington Tops National Park. It is 30 minutes' drive from Singleton and takes you past the picturesque Lake St Clair - one of the best inland fishing hotspots in the region.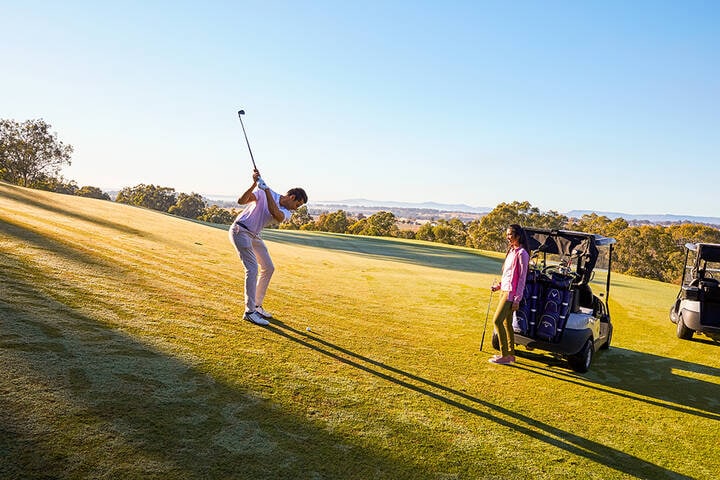 Take your mind off things with a round of golf Credit: Destination NSW
4. Relax at the gardens, spas and on the golf course
Hunter Valley Gardens is a must visit for those looking to slow down and enjoy the moment. Relax and explore Australia's largest display garden, spanning 14 hectares with 8km of walking paths to guide you. Discover hidden waterfalls, lookouts and pagodas as you immerse yourself in each of the 10 feature gardens. Showcasing the artistry and differences between gardens around the world, treat the senses to an experience like no other.
Let yourself drift away and truly relax with a visit to one of our incredible day spas. With plenty to choose from, you'll be sure to find a time that fits in to your holiday schedule. Make your getaway hassle-free and choose an accommodation option that has an on-site day spa such as The Spa at Chateau Elan Hunter Valley, Ubika Spa at Crowne Plaza Hunter Valley, Spa Anise at Spicers Vineyards Estate or Elysia Wellness Retreat at Oaks Cypress Lakes Resort. Or have your massage come to you with a treatment from Heavenly Hunter Massage, offering mobile treatments on request.
Block out all the noise and take your mind off things with a round of golf or have some fun and practice your skills with a driving range or putt putt course. The Hunter Valley features some top championship golf courses, from Crowne Plaza Hunter Valley Golf, Oaks Cypress Lakes Resort Golf & Country Club and the Greg Norman Golf Course at The Vintage Hunter Valley. Boasting a 5,000 square metre lake full of floating target nets to land your ball in, Hunter Valley Aqua Golf is the perfect combination of fun and skill. Plus there is also a Putt Putt course for the little ones or the big kids wanting to practice putting or just chill out and enjoy themselves.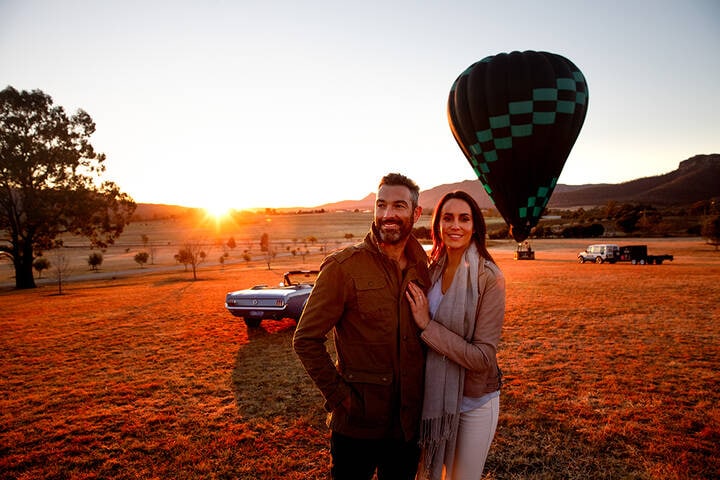 Soak up the scenic beauty on a hot air balloon ride. Credit: Destination NSW
5. Soak up the scenic beauty on a dreamy hot-air balloon ride or on an exciting helicopter flight
Explore Hunter Valley Wine Country from a different perspective as you fly amongst the clouds, above the vines and through the iconic Brokenback ranges. There's nothing quite like a Hunter Valley sunrise overlooking the vineyards but seeing the sunrise from a hot air balloon is a whole other must-do experience. With your choice of ballooning companies all offering a delicious Hunter Valley breakfast following the flight, the 3am start is definitely worth it. Fly with Balloon Aloft or Hunter Valley Ballooning and complete your experience with a champagne breakfast at Peterson House following the flight. Or fly with Beyond Ballooning and opt-in to have your package include the gourmet breakfast at Crowne Plaza Hunter Valley at the conclusion of your flight.
If a dreamy balloon flight isn't your style, why not try a flight of a different kind? We have helicopter and plane rides that take you on a scenic flight across the Hunter Valley that is just as surreal and entertaining. Experience a helicopter flight with Aero Logistics Helicopters or Hunter Valley Helicopters, take off in a plane with Hunter Valley Scenic Flights or learn to fly with Recreational Aviation Newcastle.
Hunter Valley Wine Country is bursting with experiences, activities, great wine and fresh local produce and we're waiting to welcome you. Ready to explore? Book flights to Newcastle with Virgin Australia now or read on for more information about flying to this incredible destination.