There's no better way to explore Australia than on two wheels. In fact, it takes around a year to cycle the entire country — a great feat and a mighty task. Maybe a bucket list goal? But in the meantime we've compiled a list featuring 10 of the best cycling trails that showcase the stunning beauty that is Australia. Coast to coast, mountain to valley, each tour offers something new and truly unique. Whether you're an adventure enthusiast or simple appreciate spending time in nature, these trails will inspire everyone. Let the ride begin…
Please note:
Always research and plan ahead before commencing your journey. Depending on the distance, ensure you have packed sufficient essentials, along with other important equipment.
RIESLING RAIL TRAIL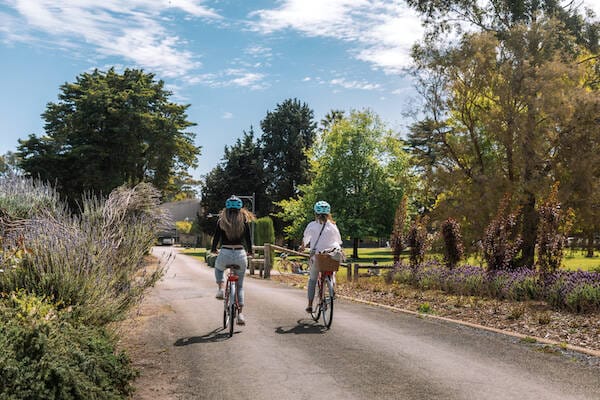 Location: Clare Valley, SA
Distance: 33km
Time: approx. 4.5 hours
Difficulty: Easy
From one quaint town to another, the Riesling Rail Trail is the ultimate wine and ride experience. The trail, which follows an old railway corridor from the 1860s, runs between the townships of Clare and Auburn. A flat, well-kept gravel track, this ride is suitable for most ages and abilities (even the kids). No bike? No worries! There are numerous bicycle hire services in and around the region, with a variety of options to suit you best. Along your journey, you will come across idyllic farmlands and vineyards sprawled over lush hills and valleys. A highlight is the section between Watervale and Sevenhill. Here you'll pass through historic Penwortham - the first European settlement in Clare Valley and the highest point of the trail, which boasts panoramic views of the picturesque landscape. They don't call it the Riesling Trail for nothing, so take a pit stop at one of the many cellar doors along your route for a wine tasting, or two.
MAWSON TRAIL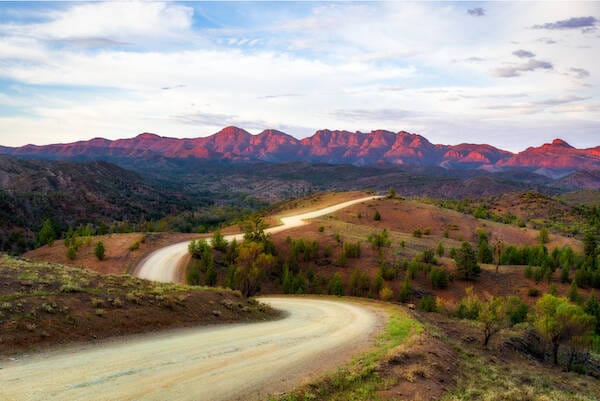 Location: SA
Distance: 900km
Time: approx. 2.5 weeks
Difficulty: Challenging
For those who are up for a challenge, look no further than the Mawson Trail. From Adelaide Hills to Blinman in the Flinders Ranges, this trail traverses some of the most remote areas in South Australia, going entirely off the beaten track. With its ridged terrain of fire trails and unmade roads, a mountain bike or touring bike is most appropriate for this ride. As this is a multi-day tour, having a bikepacking setup is essential. Be prepared to work up a sweat, as the trail features several steep ascents. But also, be rewarded by the sights as you pass through rural towns such as Birdwood and Burra, the renowned Barossa, the Bundaleer Forest, and the majestic Flinders Ranges.
SHIRAZ TRAIL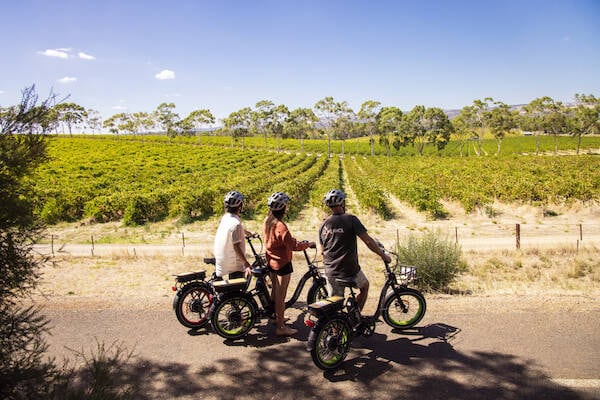 Location: McLaren Vale, SA
Distance: 8km
Time: approx. 2 hours
Difficulty: Easy
Soak up the sun and let the wind blow through your hair with a leisurely ride along the Shiraz Trail.
Part of the 35km Coast to Vines Rail Trail, it links 8km of flat, bitumen track from McLaren Vale to Willunga, and is loved by cyclists and bushwalkers alike - no athletic training needed. You'll get to pedal past the exquisite rolling vineyards that make McLaren Vale a world class wine region. As you make your way into historical Willunga, be inspired by its heritage and uncover its hidden gems. This is one ride you won't want to skip on a trip to the Fleurieu Peninsula.
Here's a speedy tip! Plan your ride along the Shiraz Trail for a Saturday and detour to the award-winning Willunga Farmers Market. It makes for the perfect pit stop and coffee break. Also check out the fresh regional produce and handmade finds. Just make sure to bring a backpack or basket if you're planning on buying some goodies.
ENCOUNTER BIKEWAY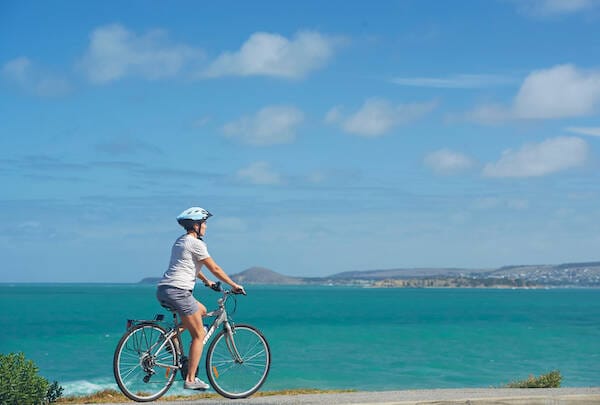 Location: Encounter Bay, SA
Distance: 31km
Time: approx. 4-7 hours
Difficulty: Easy
Weekending on two wheels alongside the stunning coastline of the Fleurieu Peninsula, now that sounds like fun! Just a 90 minute drive south of Adelaide, the Encounter Bikeway runs along the foreshore of Encounter Bay from Rosetta Head (The Bluff) to Goolwa. The bikeway features both on-road and shared use pathways, with a predominately flat, bitumen track. There are some slight rises, however nothing too extreme. Riders of all ages and abilities should feel confident cycling point to point. Got the kiddos in tow? Well good news, this trail is perfect for even the littlest of riders, with playgrounds (and toilets) located every few kilometres.
As you make your way around the bay, you will be greeted by the beautiful seaside towns of Victor Harbour, Port Elliot, Middleton and Goolwa - you'll definitely want to take some time to explore these postcard-worthy places. Keep an eye on the horizon, where you'll likely spot pods of dolphins in the summer and even whales from May to October. Once you arrive at Goolwa, why not try an alternate mode of transportation by boarding the historic Cockle Train for the way back.
GOLDFIELDS TRACK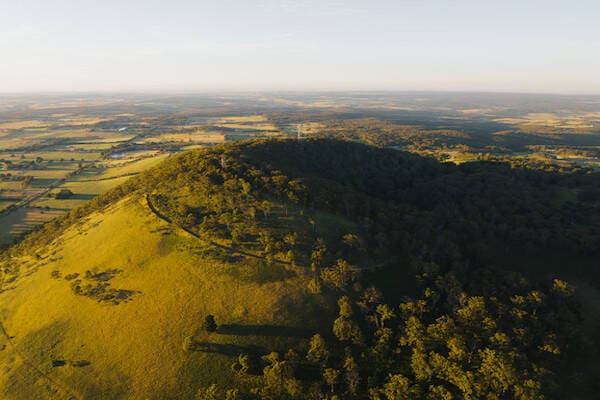 Location: Central Victoria
Distance: 210km
Time: approx. 3 days
Difficulty: Moderate to Challenging
Rich in gold rush history and natural scenery, the Goldfields Track is Central Victoria's treasure. From Ballarat to Bendigo, one goldfield to another, this trail is a challenging, yet equally thrilling ride. With its varying terrain and difficulty, the track is best cycled on a mountain bike. The trail is also a great introduction for those interested in bikepacking, as it doesn't journey too remote. Along your route, you will tour through scenic forests, farmlands and gullies marked with the remnants of the Victorian Gold Rush. You'll trail past old digging sites, mine shafts and abandoned railways, where you'll be learning just as much as you'll be riding. And who knows, you may even come across an artefact! The track also passes through numerous heritage hamlets — rest your legs at Creswick or Castlemaine and immerse yourself in the food, culture and yes, more history. And if you're looking to decompress for a day, be sure to check out the spa town of Daylesford.
THREDBO VALLEY TRACK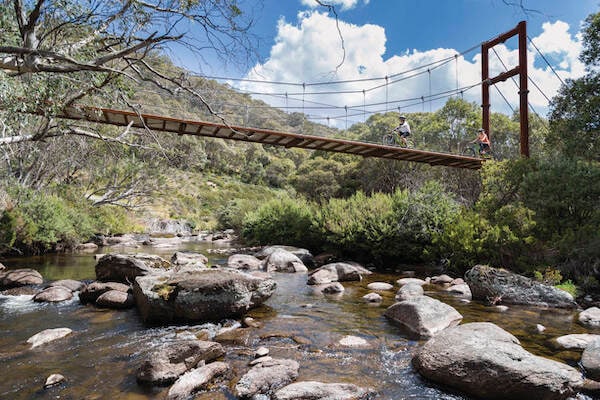 Location: NSW
Distance: 35km
Time: Varies depending on route. From 1 hour to 1 day.
Difficulty: Varying levels
Thredbo is best known for its ski slopes, but it also boasts an impressive cycling trail - Thredbo Valley Track (TVT). Open November to May, weather permitting, TVT takes riders on a picturesque journey through Thredbo Valley, along the Thredbo River, surrounded by glorious alpine landscape. This shared-use track runs a total of 35km from Thredbo Village to Garden Trout Hatchery. However, with multiple access points at Thredbo, Ngarigo, Thredbo Diggings and Bullocks Flat, you can control where you start and finish in a choose your own adventure type ride.
There are different sections of the track for a range of abilities and riding experience. The slight rise and falls (although predominately downhill) from Thredbo Village to Ranger Station is perfect for beginners and families. Venturing between Ngarigo and Thredbo Diggings campgrounds will definitely put your legs to the test with its rising contours. Bullocks Flat and beyond is a thrill seekers paradise, where the track becomes more technical with tight switchbacks, steep climbs and rocky terrain - experienced riders only.
Need a breather? Ngarigo and Threbdo Diggings campgrounds offer pleasant lunch spots. Or why not stop on one of the five suspension bridges along the track and marvel at the vistas of the valley.
SIMPSONS GAP BICYCLE PATH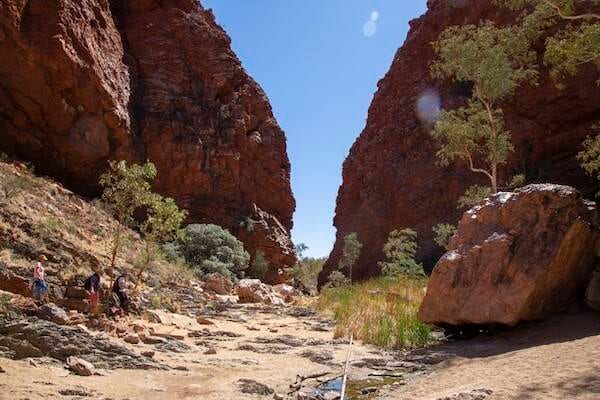 Location: Alice Springs
Distance: 17km
Time: approx. 1-2 hours
Difficulty: Easy
Take your two wheels to the Red Centre, specifically to the Simpsons Gap Bicycle Path, where tranquility awaits. Only a short, 20 minute drive from Alice Springs, the trail runs from Flynns Grave to the breathtaking Simpsons Gap in the West MacDonnell Ranges. A simple, leisurely ride on a sealed pathway, this track is the best way to experience the panoramic scenery of Alice Springs. Cycle past stunning vegetation of River Red Gum, Mulga and Witchetty Bush, past flowing creeks and unique rock formations, and if you're lucky, bump into some local wildlife. The highlight? Undoubtedly the final destination - Simpsons Gap. You'll want to take out your camera for this one.
BRISBANE VALLEY RAIL TRAIL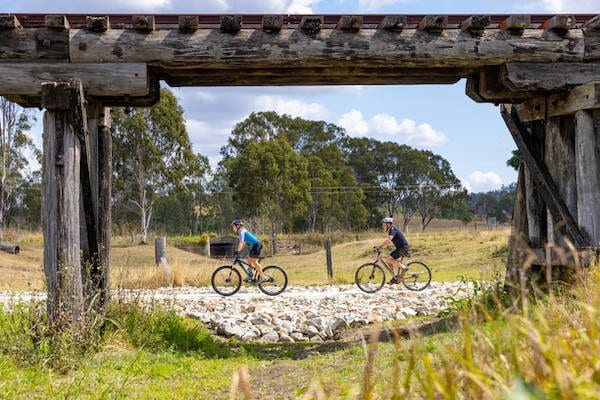 Location: Brisbane, QLD
Distance: 161km
Time: Varies depending on route. From 1 day to 1 week.
Difficulty: Easy to Moderate
The longest rail trail in Australia that's also rooted in more than 100 years of history? That's the Brisbane Valley Rail Trail! Be transported to the 1800s while you follow along the old Brisbane Valley railway line that begins at Wulkuraka in Ipswich and finishes at Yarraman. The trail is broken into sections, so you can decide on your start and end point. One day? One week? You take control of the map. A mostly gravelled track, with the odd rock-strewn zone, traversing on a mountain bike is best recommended. The farmlands in the south are characterised by gentle contours, whereas the forests in the north require some extra pedal power. Be captivated by the rural landscape and early settler history as you pass through quaint country towns, abandoned railway stations and heritage-listed sites of the Lockyer Creek Bridge (between Lowood and Coominya) and the Yimbun Tunnel (between Yimbun and Harlin).
MUNDA BIDDI TRAIL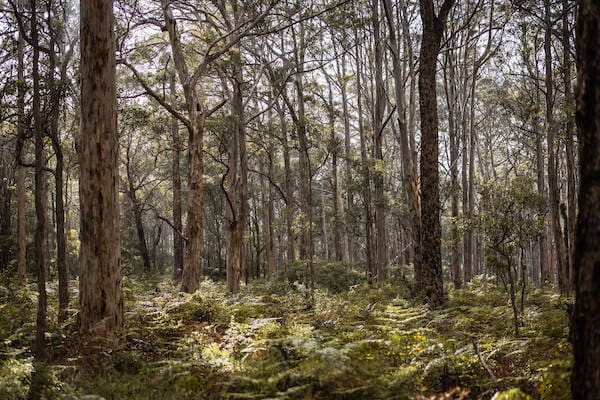 Location: WA
Distance: Over 1000km
Time: approx. 20 days
Difficulty: Challenging
The Munda Biddi Trail is said to be the longest off-road cycling trail in the world. No shortcuts here! Munda Biddi, which means "trail through the forest" in Noongar Aboriginal language, traverses over 1000km from Mundaring to Albany. A physically demanding and technical ride, this trail is definitely not for the faint-hearted. Point to point, expect to work those wheels on firebreaks and singletracks for approximately two weeks, where no two days will be the same. In the heart of the Darling Range, you'll be touring through a diverse topography of lush forests, the highlights being the Jarrah and Karri forests; undulating pastures; stunning river valleys in the Darling Scarp; and coastal climates with uninterrupted views of the Indian Ocean. With many natural and man-made attractions to explore along the way, be sure to slow the pace and really soak it all in. You'll find that the Munda Biddi Trail certainly lives up to its world class rating.
Bikepacking on this ride is essential. The trail accommodates overnight camping with 12 purpose built, shelters located every 35-40km.
FOUR MILE BEACH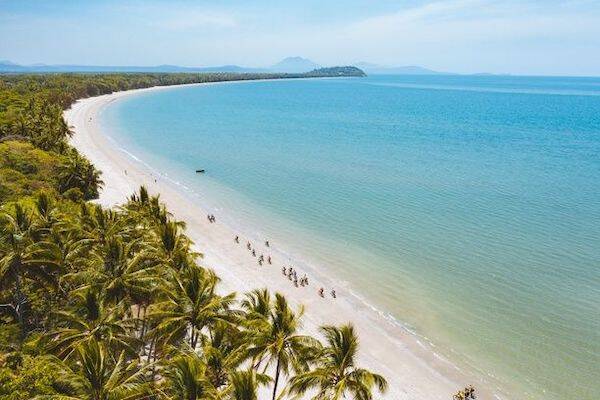 Location: Port Douglas, QLD
Distance: 9km one way.
Time: approx. 1.5 hours
Difficulty: Easy
Dare to be different and bring your bike to the beach. Yep, you read that right. White sand, crystal water and rows of palm trees, Four Mile Beach is one of the most pristine stretches of coastline in Australia. And with it's compacted sands, cycling this exquisite shoreline makes for a relaxed and totally unique experience. Get your wheels at bike hire services in Port Douglas and at numerous resorts. If you're heading into Port Douglas, this is the ultimate scenic route. The beach has several access points and is easily navigated. Once you've arrived at the northern point of Four Mile Beach, why not continue your ride through the township of Port Douglas? Or push those pedals to Flagstaff Hill Lighthouse. We promise the views are worth the climb.