Beep beep, beep beep. Your early morning alarm strikes again! Some of us love it, while for others, getting those feet onto the floor can be much more challenging. Especially if an early wake-up isn't part of the normal routine.
But when there's an early flight to catch, getting into the right mindset can set you up for success. Suddenly, your day runs smoother – and being up before the sun is no longer a chore.
Start by getting organised: mentally
Don't leave it until the morning to start your day. Run through your schedule the night before. You'll awake better prepared, not stressing about what's on the agenda.
In fact, when you do arise, take a few minutes for yourself. Forget the calendar, and think about the day ahead more broadly. Stand, stretch your legs, and rehydrate. Trust us, it beats wearing out the snooze button and dashing out the door!
Again, the day before an early morning flight is where the action happens best. Have your bag packed, gadgets charged, and your outfit selected (and ironed) well before bedtime.

Be even more prepared by pre-booking your parking or airport ride.
With a passion for mindfulness, avid traveller and personal growth blogger Jennifer Lion agrees that ahead of an early flight, "the most important thing of all is the preparation you take beforehand. When you have everything set up, you have enough time and space both at home and at the airport."
So, when that alarm goes off, your day begins better. Calm vibes ahead!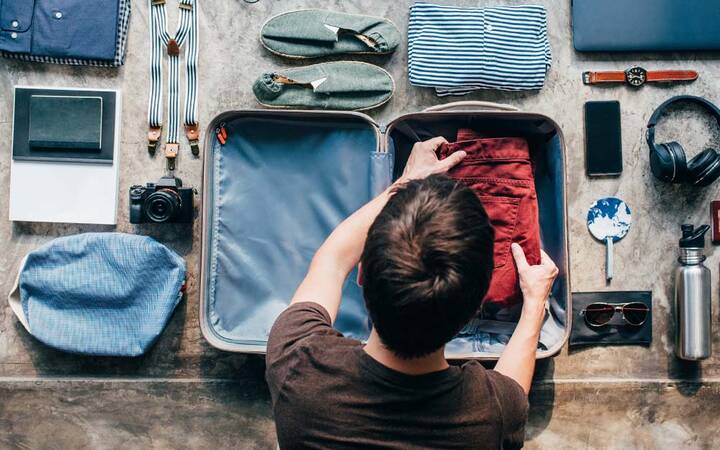 Ponder the day's purpose
You didn't book a 6am flight just for the fun of it, right? Remind yourself why today is worth the early wake-up.
Wooing a new client? Focus on that goal, and set yourself up for success by visualising the result. It's a great activity to save for the flight itself, as a good night's sleep is important too.
And of course, you're travelling with Virgin Australia. We're always there to help you feel revived and refreshed, with free tea, coffee and water on every flight.
Make time for 'me'
You've run through your business schedule and objectives for the day – but don't forget about 'me time'.
"On the day of the flight, I make time for a five-minute meditation before leaving the apartment," Jennifer shares with us. It's a routine she has down pat, having lived (and flown) across both Australia and Europe. This "makes my morning much more relaxed, mindful and enjoyable."
Keeping a journal of your positive intentions for the day, what you're looking forward to and what you're proud of can also centre your focus. 
Think about your game plan
Some travellers like to land just in time for the business day to begin. But that often means a rushed morning. Dashing to the airport, to the lounge, to the plane – and straight to the office: in peak hour. All before 9am.
Instead, why not take the flight before the one you'd normally book? Build some wiggle room into the schedule, kick stress to the kerb, and your mind will be clearer to focus on the day ahead.

Virgin Australia Business Flyer terms and conditions

1 Virgin Australia Business Flyer membership is available to businesses with an active ABN/ACN and an Australian business address that spend less than $300K per annum on flights with Virgin Australia. The business cannot be a Superannuation fund, travel agent, travel management company, travel wholesaler, air travel consolidator or anyone re-selling air travel. For more information please see the Virgin Australia Business Flyer and Loyalty Terms and Conditions
2Virgin Australia Business Flyer Members can earn up to 1,000,000 Points from Virgin Australia, airlines partners and Virgin Australia codeshare flights only, per annum, based on the rolling 12 month period from when the Member joins Virgin Australia Business Flyer. Points aren't earned on certain fees, taxes, or charges. Virgin Australia Business Flyer and Loyalty Terms and Conditions and Velocity membership Terms and Conditions apply. 
3The Fare Advantage Discount of 4% applies to domestic Flex fares (L, K, H, B, Y class) and 6% applies to domestic Business Class fares (D, C, J class) and is available to Virgin Australia Business Class members.  The Fare Advantage Discount levels are subject to change without notice. Please check our website for current discount levels.  Fare Advantage Discounts can only be booked through the Booking Portal, our Guest Contact Centre, or a registered self-ticketing Travel Management Company (TMC) or travel agent and are not available through the public Virgin Australia website. If your TMC or travel agent is not registered to process Fare Advantage Discounts, please instruct your TMC or travel agent to contact the Virgin Australia Business Flyer team at businessflyer@virginaustralia.com.  Fare Advantage Discounts cannot be used in conjunction with any other offer or discount and cannot be combined with any other Unpublished Fares or Promotional Fares. Fare Advantage discounts do not apply to any bookings made via the Virgin Australia conference and group travel area, sale fares or other tactical fares offered from time to time, and bookings for children and infants. If you have any questions regarding the application of Fare Advantage Discounts, please contact the Virgin Australia Business Flyer team.  Virgin Australia Business Flyer and Loyalty Terms and Conditions  apply. 
4Discounted Lounge Memberships: Usual annual Lounge Membership Fee is $399 (as at 17/6/2022). Discounted Membership Fee is available for the Virgin Australia Business Flyer member's Key Contact, Account Administrators, Travel Bookers and Travellers. Subject to the Virgin Australia Business Flyer and Loyalty Terms and Conditions, Virgin Australia Lounge Terms and Conditions and Virgin Australia Lounge rules. Virgin Australia Lounge entry is subject to space availability.