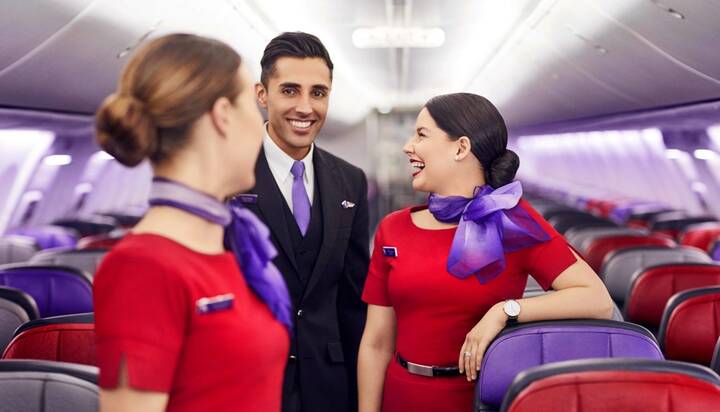 Virgin Australia Cabin Crew are responsible for providing a highly polished and professional service to ensure the highest levels of onboard safety and care for our guests. The role of Cabin Crew is diverse and includes duties such as conducting safety briefings onboard, assisting our special needs guests, administering first aid, preparing and delivering food and beverage services and providing exceptional customer service to ensure we exceed our guests' expectations onboard our aircraft.
The nature of the aviation industry means that Cabin Crew can be affected by factors outside of their control. To enjoy this job and be successful, you'll need to be adaptable, resilient and able to work under pressure – with the ability to deliver Virgin Australia's award-winning service.
Why join
We're committed to looking after you, with some of the best benefits and conditions in the industry – including (but not limited to):
Heavily discounted air travel for you and your loved ones (including $1000 worth of travel credits per year)
Six weeks annual leave
Plenty of opportunities for career progression
Extensive training (No experience? No dramas!)
Free onsite physio
Full uniform and staff parking
Recognition program Virgin Flair program with ability to earn Velocity Points
Family friendly policies
And a lot more…
Eligibility requirements
To be successful in your application, you must be able to demonstrate a genuine passion and enthusiasm for creating memorable, quality experiences and meet the minimum requirements, listed below.
To be eligible to apply to join our Cabin Crew, you should:
Be a minimum of 18 years of age
Be an Australian or New Zealand citizen or permanent resident
Have extensive customer service experience in a premium environment and recent experience in a face-to-face role
Have a valid passport with at least 18 months validity 
Be able to demonstrate a competent level of written and spoken English
Have an Australian Apply/Provide First Aid Certificate
Be able to commit to a full-time role working a varying 24x7 roster
Be able to get from home to the airport and sign on for duty within two hours when on call 
Be able to reach 180cm on flat feet
Have demonstrated computer skills
Be prepared to adhere to strict grooming standards.
Apply Now
Click your preferred port below to start your application.
Virgin Australia Domestic
Our Virgin Australia Domestic Cabin Crew operate the Boeing 737 aircraft on our domestic and short-haul international network. Virgin Australia Domestic Cabin Crew bases are Adelaide, Brisbane, Melbourne, Perth and Sydney.
Virgin Australia Regional Airlines (VARA)
Our Virgin Australia Regional Cabin Crew operate the Fokker 100 and Airbus 320 aircraft and travel on our regional routes. The main Virgin Australia Regional Cabin Crew base is in Perth.
The recruitment process begins with your application, which must be submitted online through the Virgin Australia Careers website. In the online application, you'll be asked to provide information about your professional and educational background to demonstrate that you meet the requirements of the role. It is also important that you take the time to read the position information carefully to make sure that your experience and skills match the role requirements.
If your application meets the minimum requirements and is short-listed, you will be invited to attend a Recruitment Day at the base you have applied. Further information about the recruitment process will be provided at the Recruitment Day.
Please refer to our Frequently Asked Questions (FAQs) for further information about the recruitment process.