Experience award-winning service and great value with Virgin Australia

For the very first time, from 28 June 2023, Virgin Australia will offer daily return flight services between Tokyo (Haneda) and Cairns.
Cairns is the home of World Heritage Sites, the Great Barrier Reef and Daintree National Park, and a convenient gateway to many wonderful destinations across Australia.
We look forward to welcoming you onboard Virgin Australia soon.
Daily, year-round service will commence on 28 June 2023 with over 2,000 seats every week between Tokyo (Haneda) and Cairns.
Aircraft seating consists of three classes: Business Class, Economy X (extra leg room Economy seating), and Economy, offering the choice and value of services and fares that suit your personal preferences.
Flights will be operated with brand-new, fuel-efficient Boeing 737-8 aircraft, reducing carbon emissions by approximately 15 per cent per flight.

Book flights to Australia
 
We have partnered with ANA, All Nippon Airways to offer our guests greater flight access between Japan and Australia. Guests can visit ANA website to book codeshare flights operated by Virgin Australia online. 
Reciprocal loyalty benefits for members of Velocity Frequent Flyer and ANA Mileage Club frequent flyer programs will be introduced later in 2023.
How to manage your booking

To make changes to your reservation and you have booked through a Travel Agent, please contact your original booking agent.
If your booking was made directly with Virgin Australia, please call Virgin Australia on:
+61 7 3119 7089 (From anywhere in the world on any network. International call charges may apply.)
Things to know when visting Australia
 
To ensure you have a wonderful holiday in Australia, here are our practical tips and some helpful things to know before you travel. 
Language
Australia's official and most commonly spoken language is English.
Seasons and weather
Australia is the perfect place to visit all year round with many different climates, weather patterns and time zones across our six states and two territories. In the Southern Hemisphere, the seasons are opposite to those in the Northern Hemisphere.
Money and currency
In Australia, we use Australian dollars (AUD). Coins are available in 5c, 10c, 20c, 50c, $1 and $2 denominations and notes are available in $5, $10, $20, $50 and $100 denominations. Keep in mind that 100c = $1.
Currency exchange is available at banks, some hotels and international airports. ATMs are everywherewidely available, banks link can be found in most main streets and credit cards are widely accepted.
Taxes
Most travel and tourism activities within Australia, such as domestic air travel, accommodation and care hire attract a goods and services tax (GST). This tax is included in the cost of these goods and services. You may be able to claim a GST refund for some goods bought in Australia which you are taking out of the country with you. You will need to submit your claim for a refund at the airport upon departure through the Tourist Refund Scheme.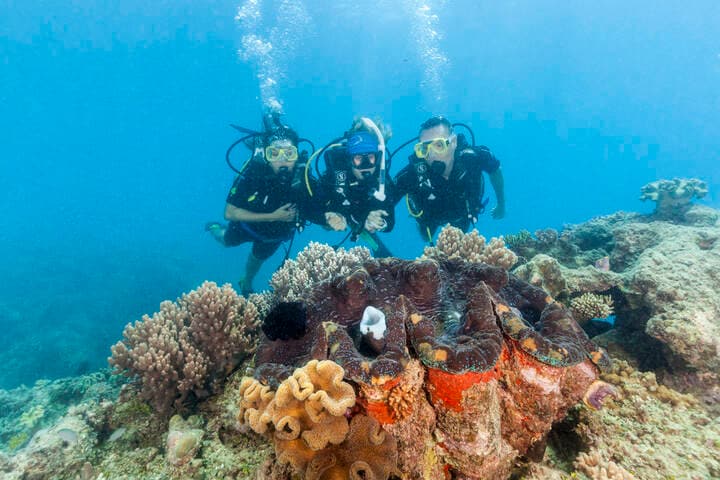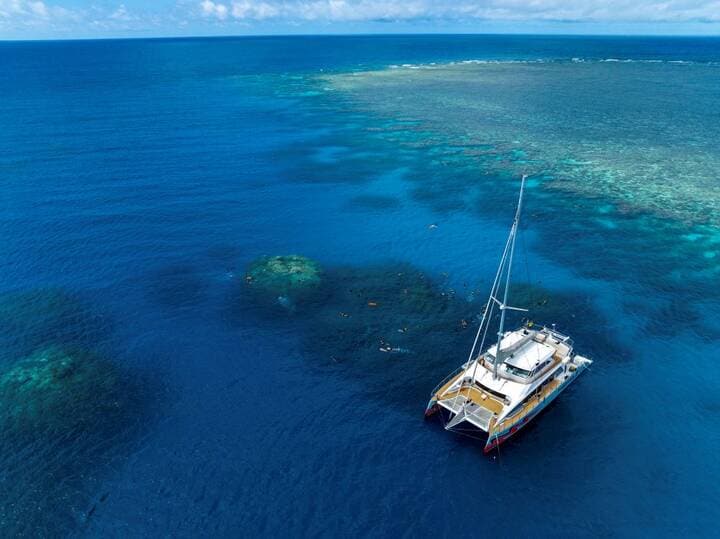 About Cairns and Great Barrier Reef 
 
Cairns is located in the northern most part of Queensland, a short 7.5 hour flight from Tokyo with only a one-hour time difference. It is home to the iconic Great Barrier Reef and Wet Tropics World Heritage Rainforest, but the city itself is also a must-visit.
Weather
The climate is one of the best things about Cairns with warm days all year. The average high temperature in winter is 26 degrees (July) and 31.5 degrees in summer (January) with replenishing tropical rains over the warmer months.
Getting around
There are plenty of ways to get around including car, bus, taxi, train or even jumping on a tour – with most tours offering pick-ups from your hotel.
If you're planning to see as much as possible in your own time, car hire is the best option. You can hire a car at Cairns Airport or at many other locations within the city.
Things to do
There are so any incredible things to do for all types of travellers right across the region.
For the adventurers, snorkel or dive at Australia's greatest natural wonder, the Great Barrier Reef, hike through the rainforest to discover hidden waterfalls or pitch your tent and spend a night in the outdoors. Make sure you look out for the thousands of unique species of wildlife that live in the rainforest, outback and the ocean.
If you're looking for something a little more laid-back, there are food and wine trails, fascinating museums, local markets and some of the best spas and wellness retreats in the country. It's also a place to learn about Indigenous culture so book an experience or tour and listen to enchanting narratives of the rainforest.