Supersize bites – the biggest meals in L.A.
America is known for its supersize portions, and Los Angeles is home to many monster serves. Curb your cravings and challenge your friends with these All-American gastronomic experiences.
Randy's Donuts image by John Mueller, CC BY 2.0.
Breakfast at The Griddle Café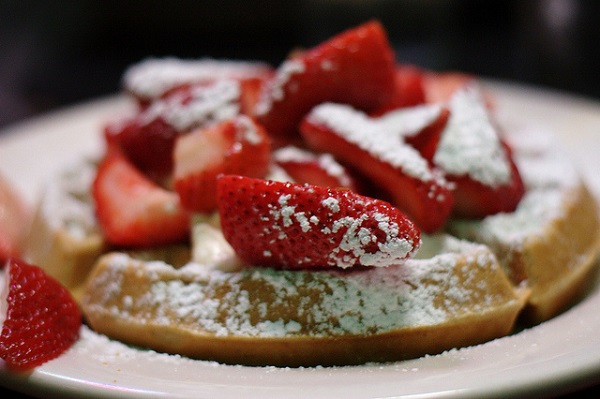 Image by Mark Kjerland, CC BY-SA 2.0.
Start the day right at The Griddle Café on the Sunset Strip. This all-day breakfast spot is featured on just about every list of L.A.'s best breakfasts, and for good reason; hearty comfort food, huge portions, famous pancake stacks and creative sweet treats that are as Instagramable as they are delicious. Bring along your mates and divide and conquer with a few generously-sized portions of eggs with various sides, before tackling the sugar highs delivered by the red velvet pancakes, Nutella-stuffed French toast and Oreo-filled flapjacks. If you're still jetlagged after your flight to L.A. and your stomach can't quite figure out what time of day it is, meet in the middle with a chicken and steak omelette stuffed with cheese and chili, topped off with avocado and fresh salsa. T
he Griddle Café, 7916 Sunset Blvd., Hollywood, CA 90046
The Godmother at Bay Cities Italian Deli & Bakery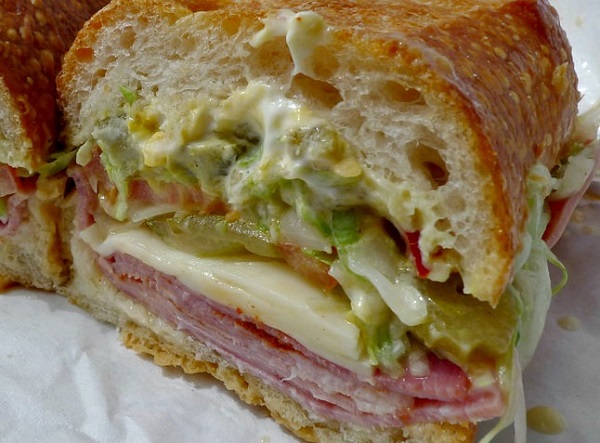 Image by Rob Dollete, CC BY-ND 2.0.
You'll know you've arrived at Bay Cities Italian Deli & Bakery when you see the tell-tale line of hungry customers snaking down the sidewalk. There are plenty of homemade Italian specials to pick up at Bay Cities Deli, from hearty pastas to house-made cannoli and speciality goods from the European grocery section. However, the main event here is the famous Godmother sandwich. This supercharged take on the classic Italian deli sub is stuffed with just about every lunch meat imaginable, plus cheese, mustard and all the trimmings, wrapped up in fresh, crusty bread. Share it with a friend or wrap it up for later – however you tackle it, just make sure you don't miss out on one of L.A.'s most famous sandwiches.
Bay Cities Italian Deli & Bakery, 1517 Lincoln Blvd, Santa Monica, CA 90401
The Giant Sicilian at Big Mama's & Papa's Pizzeria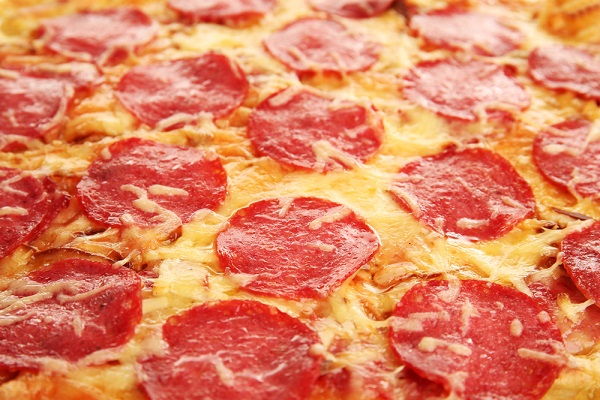 2916 square inches. 1.9 square metres. 200 portions. However you choose to slice it, the Giant Sicilian pizza at Big Mama's & Papa's Pizzeria is not for the faint of heart. Weighing in at nearly 11kgs, the world's largest deliverable pizza contains over five kilos of cheese and requires a special roof compartment to be delivered to your feasting arena of choice. Big Mama's suggests this pizza is suitable for 200 people – but if you and your mates fancy a challenge, there are cash prizes for groups of eight or less who can finish the Giant Sicilian in under two hours. Just saying…
Big Mama's & Papa's Pizzeria, various locations
Wendy's T-Rex Burger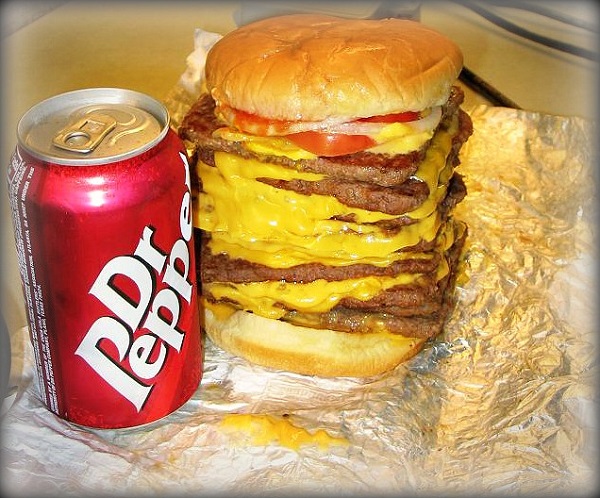 Edited image by Alex Kostibas, CC BY-SA 2.0.
The fabled T-Rex Burger from Wendy's has become the stuff of legends ever since a rogue franchisee in Canada added it to their menu, creating a viral sensation. Wendy's management has since banned the item from appearing on menus, however Americans are not ones to let rules get in the way of a good feed. Customers at Wendy's can still add as many extras as they wish to their meals – and this particular burger is simply made up of nine patties and nine slices of cheese. Coming in at 3360 calories, you might want to hold the fries with this one.
Wendy's, various locations
Manuel's Special at El Tepeyac Café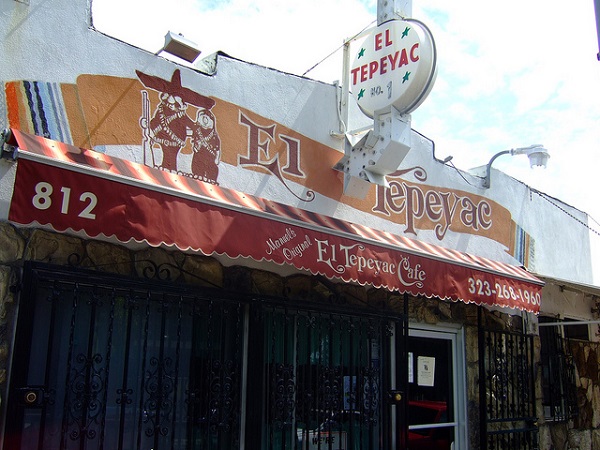 Image by yosoynuts, CC BY-SA 2.0.
Mexican food is a big deal in California – and there's no better way to embrace that than with an oversized burrito from the iconic El Tepeyac Café. This East L.A. hole-in-the-wall has been serving up monster eats for decades, and is a staple of the city's Mexican restaurant scene. Indeed, it has barely changed since the 1950s, so prepare to wait in line with hungry regulars and savvy tourists for one of the few tables. Once seated, however, your stomach will thank you for the wait. Order a Manuel's Special and don't be distracted by the free chips and salsa – this foot-long burrito consists of over two kilos of pork, rice, beans, cheese and chili verde. If that sounds like a little too much for you and your group, order one of the "regular" menu items instead. The original Hollenbeck burrito is a local favourite and comes with seared pork meat simmered in traditional chili verde and rice. Spoiler alert – it's still huge.
El Tepeyac Café, 812 N Evergreen Ave, Los Angeles, CA 90033
Fat Sal's Sandwiches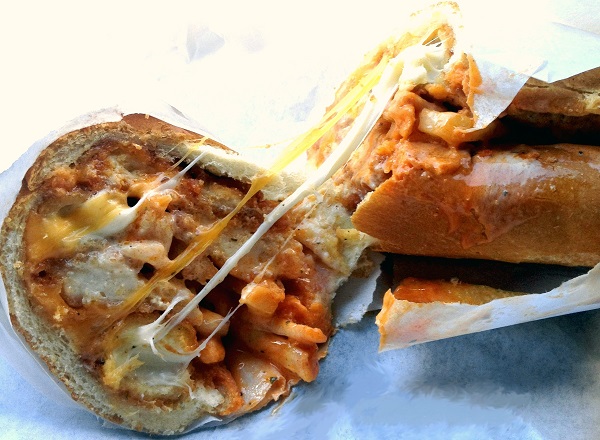 Edited image by L.A. Foodie, CC BY-SA 2.0.
There are plenty of creative and colossal sandwiches on offer at Fat Sal's, but if you're a group that's really up for a challenge, go straight for the aptly-named "Big Fat Fatty". Including five cheeseburgers, a mountain of cheesesteak and pastrami, chicken fingers, mozzarella sticks, jalapeno poppers, fries, onion rings, chili and a packet of bacon jammed into a 27-inch extra wide garlic bread roll, this really pushes the definition of "sandwich" to the extreme. The best part is, if you complete this food challenge within a set amount of time, your meal is free and you'll be honoured with creating your very own Fat Sal's sandwich. But be warned – only a couple of people have ever achieved this feat. Luckily, Fat Sal's locations in Hollywood and Westwood are open late into the night, meaning you'll have plenty of time to work up your hunger (and courage).
Fat Sal's, Westwood: 972 Gayley Ave., Los Angeles, CA 90024; Hollywood: 1300 N. Highland Ave., Los Angeles, CA 90028
Randy's Donuts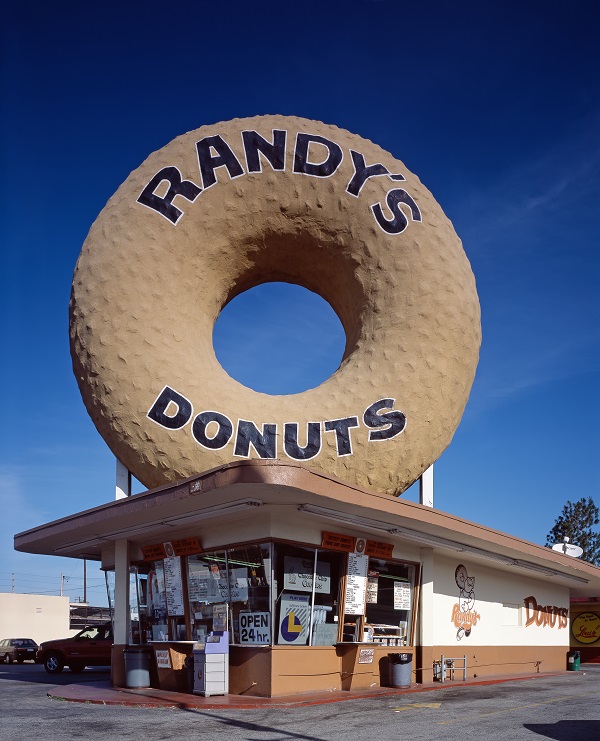 Recognisable from various Hollywood movies, including Entourage, Iron Man II and our very own Crocodile Dundee in Los Angeles, the iconic giant rooftop doughnut at Randy's Donuts is, unfortunately, not to scale. The regular-sized, no-nonsense doughnuts at Randy's, however, are just as famous as its super-sized façade. Laying claim to the best doughnuts in the world, Randy's has been creating handmade doughnuts using the same methods for 60 years – and they'll set you back no more than a little spare change. If your trip to Los Angeles has left you and your friends entirely disinterested in normal-sized portions, Randy's has previously created the world's biggest doughnut – so maybe they'll do it for you too if you ask nicely. Randy's Donuts, 805 W Manchester Blvd, Inglewood, CA 90301
Ready to eat up a storm in Los Angeles? Gather your hungriest friends and book Mates Rates sale flights with Virgin Australia today.