If there was one person up for the challenge of discovering Melbourne's coolest rooftop bars, our Flying Foodie, Alana Lowes is our "it" girl. Check out her picks of sky-high bars in Melbourne.
Melbourne is well known for its laneway bars and hip eateries, but if you raise not only your glass, but your eyes, you will see Melbourne's rooftops are now heaving with cocktail sipping guests.
With top-notch bars filling every spare space across the city, Melbourne is going sky high with beats, blends and laid back vibes.
Here is my ultimate rooftop bar hop:
Siglo
2/161 Spring Street Melbourne 
Start your afternoon at Siglo's rooftop terrace with views over Spring St and the gorgeous Parliament House. With its casual yet elegant feel and the neighbouring Princess Theatre providing a dramatic side of ornate features and domed roof, you could be mistaken for relaxing in a warm European afternoon as you sit on the French inspired café chairs.
But enough about the surrounds, it's the cocktails I am here for. The list is filled with interesting and unique spirits and liqueurs, blended with the likes of crystalised ginger, habanero shrub, rosemary and tonka beans and names like Hippocrates' Tears and Twisted Dragon. The Twister Dragon is definitely my kind of tipple, a shaken drink of gin, Shiraz syrup, elderflower liqueur and grapes - the perfect balance of sharpness with a dash of sweet and oh so fresh!
Loop Roof
23 Meyers Place Melbourne
From Siglo's, wander downtown to Loop Roof at Meyers Place. It's cool and breezy with a succulent garden and green walls and huge coloured balls hanging overhead. With it's lush tropical feel, you are whisked away to to an exotic tiki bar with a South American twist, but it is the views across the tops of the Melbourne skyline which firmly cements its place in this vibrant city.
Cocktails are free flowing and fun with my pick of the frozen blend "Pisco Sour" (tequila, cassis, ginger and lime) perfect for the late afternoon sunlight. By now, your tummy might be rumbling. The nachos or the spiced fried cauliflower is a great cocktail bar hop choice.
Rooftop at QT
133 Russell St, Melbourne
Our final stop is the oh so fancy Rooftop at QT. Bathed in sunlight with an expansive outdoor area, the Rooftop at QT is fancy schmacy and is filled with a busy after-work crowd. It's sleek and shiny with house tunes playing. Low set lounges are there to perch on and people watch and see the high rise buildings across the way change a kaleidoscope of colours as the sun dips behind the horizon.
The cocktails are definitely worth splashing your cash. Pop your card behind the bar and just let you taste buds do the ordering. There is absinthe, spiced rums and housemade elderflower syrup concoctions. My tastes points me in the direction of a Caipirinha, but not just your average Caipirinha, a blend of Pineapple Cinnamon Sagatiba Cachaca, fresh lime, sugar, a cinnamon quill and pineapple slice. Deliciously tangy and sweet with the right hit of cool.
The food is funky Asian eats meets American comfort. The Hokkaido Milk Damper Buns with a panko crumbed wagyu burger and melted cheese with a Japanese mustard is juicy, with loads of flavour and another perfect snack on your rooftop bar tour.
---
More about Alana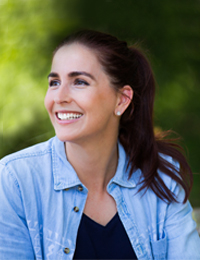 Alana Lowes is a celebrity cook of MasterChef pedigree, and has travelled the world as The Flying Foodie for Virgin Australia. Read more of her articles on The Flying Foodie homepage.
She also launched the Alana's Pantry range of products and is the Editor for lifestyle magazine, Life Begins At.
To see where Alana is jetting off to next or what is on her dinner plate, follow her on Instagram and Facebook