The Pursuit of Hoppiness – The best craft beer bars in Wellington
It's hip, without being totally hipster, it's cool with giving you the cold shoulder. Wellington, New Zealand's capital, is leading the charge when it comes to hoppy brews, according to Alana Lowes, The Flying Foodie.
Avant-garde in their approach to craft beer, just purely calling it "beer", as the locals like to refer to it, Wellingtonians are as passionate about their hoppy beverage as they are cool funky places to serve it.  With a huge number of craft beer bars in the city, you can easily fulfill your love of beer all within an easy walking distance of your hotel.
If you are lucky enough to hop on the short flight to Wellington in August, pencil in Beervana, the largest craft beer event in New Zealand and the start of Wellington on a Plate festival.  There will be incredible collaborations between top restaurants and the best brewers, including a contingent from Australia and Oregon. 
Here are my choices for a year round beer crawl:
No it has nothing to do with the crazy sport of free diving, the name refers to its well-worn, unglamorous appearance and regular clientele devotees – a hommage to the dive bar scene in North America.  The "Free" meaning, their own choice of liquor to serve, no big corporations telling them otherwise!  Beer is their highlight, with seven taps on rotation showcasing the best beers available including local craft beer star, Parrot Dog.  If you are feeling a little peckish, you can order traditional Napoli pizza from across the laneway at Pomodoro and they will deliver it to you table. 
Sink below the street level and you will discover a Japanese bar, done Wellingtonian way.  This cult beer bar has taps filled with the best New Zealand beer on offer and there are plenty of imported brews from around the globe.   With it's groovy Japanese vibe, cool music and a great selection of Japanese style tapas, this is what a true Asian/Kiwi bar is all about.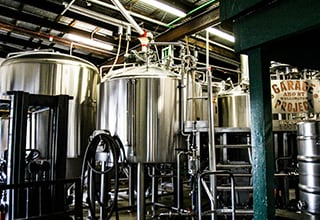 Pushing the envelope with every beer they brew, the team behind the Garage Project brewery use catchy blends mixed with incredible artwork to snatch customers.  Think the use of volcanic rocks, cereal milk, champagne yeast and aging beer in tequila barrels and you have Garage Project summed up.  Their unique flavours might initially have you skeptical, but their passion  obsession is with ensuring each brew is well balanced and palatable.  A great example of this is their rosewater and fairy floss brew.  While you couldn't polish off an entire schooner, a small midi glass is enough to appreciate the work that goes into each and every brew. 
For the newly initiated to drinking beer, the Hops on Pointe brew brings a level of higher sophistication to the beer industry.  Brewed initially for the Royal New Zealand Ballet, the brewers finished the malt and hops with a champagne yeast, resulting in pale gold lager with a crisp effervescent champagne mouth feel.
Visit Garage Project Apo Bar (just across the road from the brewery) and be amazed by the equipment in use.  A hot soldering iron is used to caramalise the milk sugars in the cereal milk stout.  Rich, smooth with a lovely roasted character, this was a definite favourite of mine.
---
Craft beer, sorry, just "beer" goes beyond passion to obsession in Wellington, head to www.visaWOAP.com to discover all about the upcoming Beervana festival.
Alana Lowes was a guest of Wellington on Plate, Virgin Australian airlines partner Air New Zealand and The Intercontinental Hotel.
Words by Alana Lowes
- Published
July 2016