5 Foodie Must-try in Hong Kong
With so much food on offer in Hong Kong it can be a little overwhelming deciding what to try.
Eat like a local
Yum Cha at Lin Heung Tea House
Be prepared to battle for shabby seats and shared tables in this historic teahouse. If you are going to only have dim sum once during your stay in Hong Kong, then this is the place to try it.
Be prepared for very little, if any, English to be spoken so it's best to just jump in and be adventurous or go with an Cantonese-speaking friend. Also, don't sit back and wait for the ladies with the food cart to come around, the best dishes are battled out at the back of the restaurant, get in and start pointing to what you want.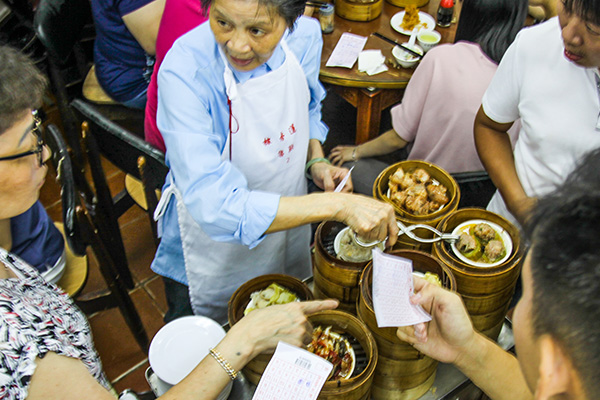 Durian flavoured cocktail
Settle in at the underground neon vibe of Happy Paradise, where it feels like Tron meets 50s diner and be treated to modern Cantonese cuisine. Manning the kitchen is Australian Executive Chef, John Javier and head mixologist is Chanel Adams. The cocktail list is innovative and features ingredients such as syrups and herb extracts all made in house, which results in some extraordinary flavours. The Durian Painkiller is a blend of toasted coconut cream with freshly squeezed pineapple and durian infused rum. If you have been avoiding taste testing durian, this cocktail will have you sniffing you way around the city to find some more.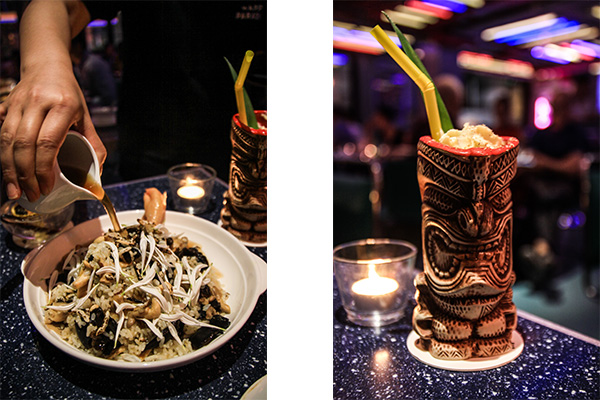 Desserts
There are many sweet snacks you must try in Hong Kong – pineapple buns, egg puffs, hot tofu puddings, red bean soups and not to forget egg tarts. The smooth, bright yellow egg custards wobbles inside a sweet flaky buttery crust. Always sampled them freshly baked, hot and straight from the oven.
Barbecue Iberico Pork
The contemporary Chinese restaurant, Mott 32, serves up the most stunning barbecue pork I have ever tasted.  You can sample barbecue pork right across Hong Kong, but this signature dish at Mott 32 is made from Pluma Iberico Pork from Spain that naturally feeds on acorns, grass and herbs. The meat literally falls apart and is so succulently soft. The pork is cooked with glazing of Yellow Mountain honey giving it that traditional "char" texture.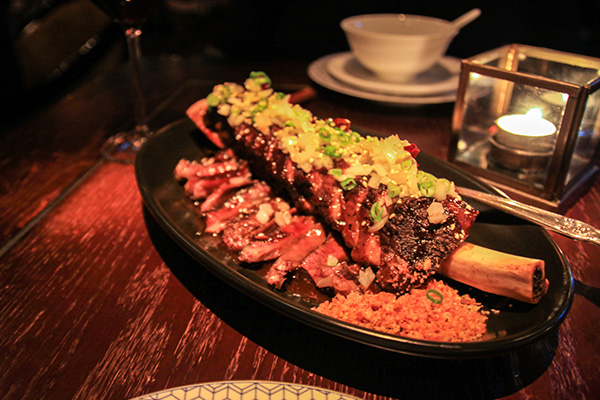 Food Festival
Hong Kong Great November Feast
A month long festival of indulgence to set your tongues salivating and fill your rumbling stomachs. The Hong Kong Great November Feast is filled with culinary activities and events for both food and wine lovers. There are fine food dining experiences and street food celebrations, whatever you like, this is the month to indulge in Hong Kong. Interested in a food tour? Take a walk through Sham Shui Po with Hong Kong Food Tours – read all about my experience here.
Alana Lowes was a guest of Hong Kong Tourism and Virgin Australia and stayed at Cordis Hotel in Mongkok
---
More about Alana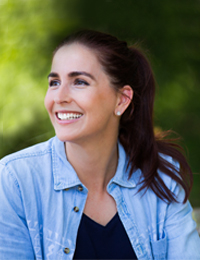 Alana Lowes is a celebrity cook of MasterChef pedigree, and has travelled the world as The Flying Foodie for Virgin Australia. Read more of her articles on The Flying Foodie homepage.
She also launched the Alana's Pantry range of products and is the Editor for lifestyle magazine, Life Begins At.
To see where Alana is jetting off to next or what is on her dinner plate, follow her on Instagram and Facebook